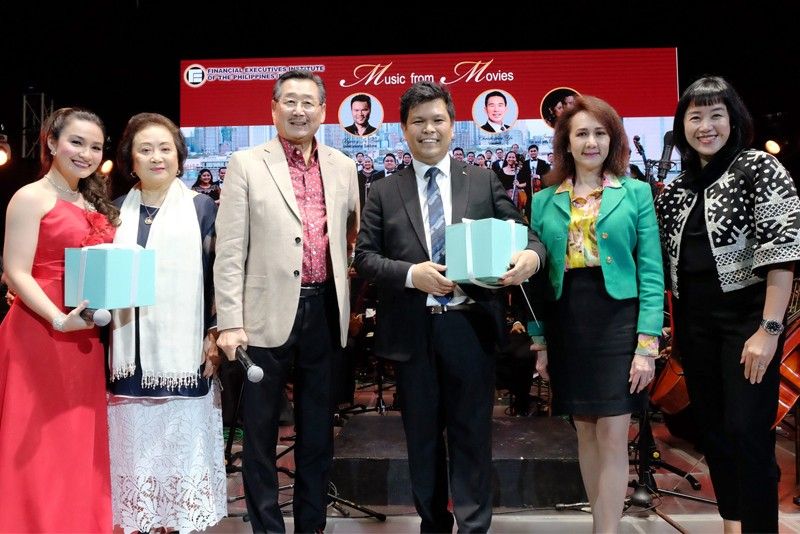 MSO conductor Jeffrey Solares and Gerphil Flores receive special Tiffany's surprise gifts donated by Rustan's chair Zenaida "Nedy" Tantoco — as a secret arrangement engineered by executive producer Eduardo Yap of FINEX. The ladies at right are Grace Palma Tiongco (in green) and Eddie's daughter Joy Yap-Siao.
"Music from Movies" — a concert tribute to 50 years of FINEX service — proved to be a magical night under the baton of executive producer Eduardo Yap, Financial Executives Institute of the Philippines (FINEX) National Affairs Committee chair and former president of the Rotary Club of Makati. Held at the Samsung Hall of SM Aura on Aug. 8, it had the Manila Symphony Orchestra conducted by Jeffrey Solares playing memorable film themes over the past several decades.
Featured performers were crossover artist Gerphil Flores, baritone Byeong-In Park, violinist Princess Ybañez, vocalist Christopher Yu, and tango dancers Jang and Jenn Lopez. ?The program started with M. Rózca's Parade of the Charioteers from Ben Hur serving as a grandiloquent orchestral preview in lieu of an overture. Followed another entirely instrumental piece, the Out of Africa Love Theme by J. Barry, before Cristopher Yu soloed with This Is the Moment by F. Wildhorn, from Jekyll & Hyde.
Princess Ybañez then did a violin solo of Somewhere in Time by J. Barry from the film of the same title, with dancers Jang and Jenn Lopez providing visual excitement onstage. Byeong-In Park was next to perform, singing the Toreador March of G. Bizet from Carmen.
With all the performers having done their first numbers, it was the MSO's turn once again to essay a familiar piece on its own, this time The Theme from Moulin Rouge by G. Auric.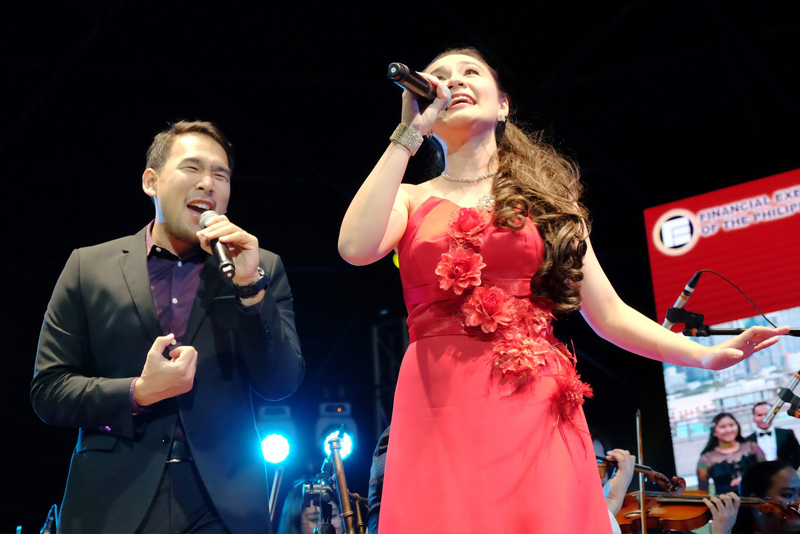 Christopher Yu and Gerphil Flores with their encore duet of A Whole New World
The German-Filipino soprano and classical crossover singer Gerphil Geraldine Flores took her second turn with Speak Softly, Love by Nino Rota from The Godfather. This was the very song that Gerphil had initially offered in the inaugural season of Asia's Got Talent in 2015, earning praise from Canadian musician and record producer David Foster, and eventually gaining her the second-runner-up spot. Born in Hamburg, the 28-year-old Gerphil, dubbed "Asia's Golden Girl," is a UP Diliman cum laude graduate. She has also earned an ALIW Award nomination as Best Actress in a Musical Play, and won as Entertainer of the Year.
For his part, Korean baritone Byeong-In Park had studied in Stuttgart, Germany under the great tenor Francisco Araiza, and has appeared in various roles in opera. For his second solo, he sang Vesti la Giubba from R. Leoncavallo's 1892 opera Pagliacci, which was turned into a 1948 film by Mario Costa.
The next number, the 1976 disco instrumental hit A Fifth of Beethoven (from Symphony No. 5), as re-arranged and recorded by Walter Murphy and the Big Apple Band and featured in Saturday Night Live, showed executive producer "Eddie" Yap's creative hand.
Before violinist Princess Ybañez transitioned to the rock beat of the 5th, she stripped off her long skirt with her right hand and threw it on the floor to reveal her leather tights, just as Eddie had suggested. As he would proudly acknowledge after the show, Princess executed his direction very well, considering that it was her first time to do the piece, not to mention the dramatic act.
Gerphil's third solo was Never Enough by L. Allred from The Greatest Showman. After an intermission, the MSO restarted with You Only Live Twice by J. Barry from the James Bond film. This was followed by Gerphil's memorable rendition of Don't Cry for Me, Argentina by Webber & Rice from Evita, then Princess on the violin for Mia & Sebastian's Theme by J. Hurwitrz from La La Land, with Jang and Jenn Lopez performing another dance number.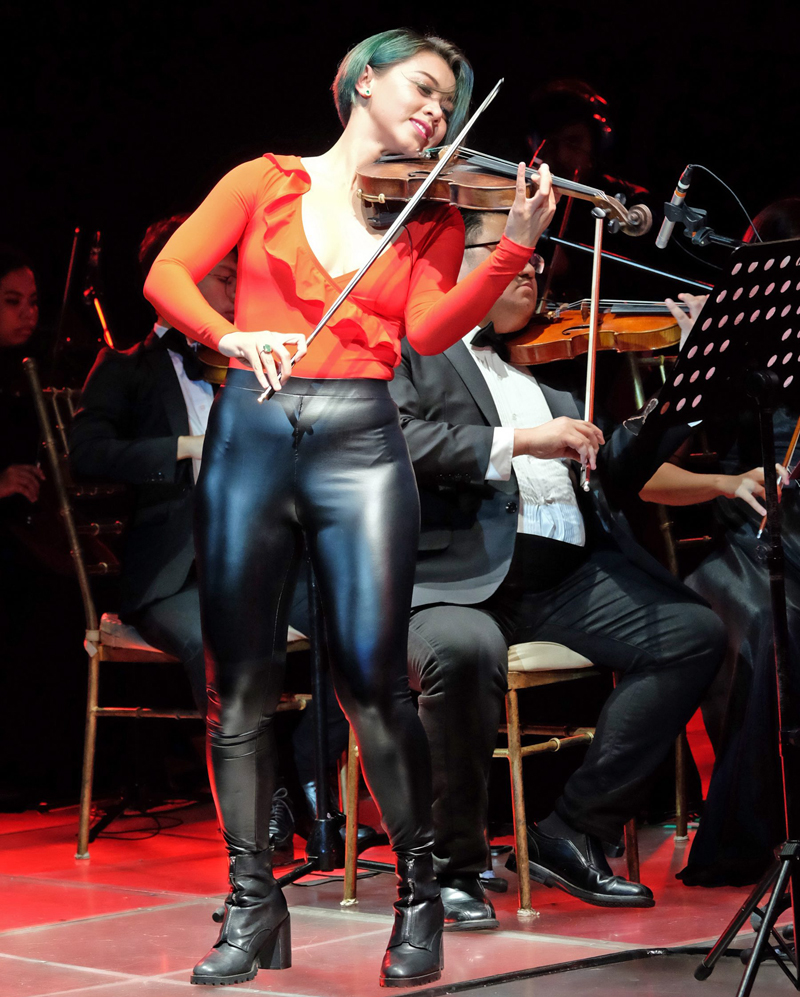 Violinist Princess Ybañez transitions to a disco rock version of Beethoven's Fifth.
The rest of the repertoire had Byeong-In Park with If Ever I Would Leave You by F. Loewe from Camelot, Gerphil with We Are the Champions by Queen from the recent film Bohemian Rhapsody, and the MSO with the Game of Thrones Theme by R. Djawadi for the HBO megahit series, and the Star Wars Theme by John Williams.
A special "Tribute to Audrey Hepburn" featured Gerphil's final solo, Moon River by Henry Mancini from Breakfast at Tiffany's. To add a special touch to the tribute, Eddie had requested Nedy Tantoco to donate and present a couple of Tiffany gifts — one for Gerphil and another for conductor Jeffrey Solares — instead of the usual flowers given to artists in appreciation. The gifts were special items not available at the Tiffany store, and were kept a surprise between Eddie and Nedy for dramatic effect. No one else from FINEX knew about it until the gifts were presented on stage.
And for an encore, Gerphil Flores was joined by Christopher Yu for A Whole New World by Akan Menken from Aladdin.
The magical musical tribute to 50 years of the Financial Executives Institute of the Philippines also honored 46 past presidents and 12 CFO awardees.
It wasn't the first time that the Manila Symphony Orchestra had thrilled local music lovers with a night of familiar melodies by way of movie soundtracks. In November of 2017, it also performed in the same venue, for "Movies in Concert with Orchestra."
Nothing like humming along to magical memories. Eddie Yap should make the experience an annual affair.