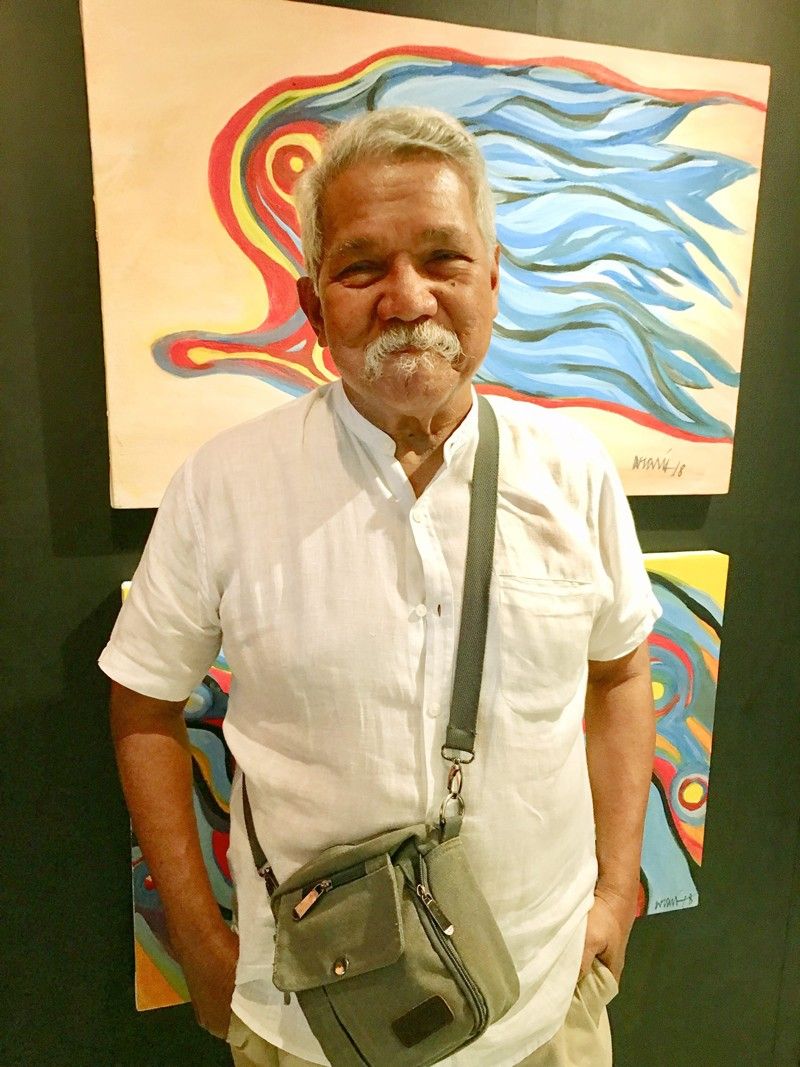 Tikoy Aguiluz before one of his oil paintings in color
Tikoy Aguiluz's art of waves, whorls and wings
A fortnight after joining a group show at Sining Kamalig, Tikoy Aguiluz had his first one-man show at Kanto Gallery in Makati Central Square. Billed as "Rara Avis," the exhibit opened on Saturday, June 8, with Virginia R. Moreno cutting the ribbon with the assistance of Jun Factoran. Another guest of honor, Nestor Vinluan, came a little late for the opening rite.
Other artist-friends in attendance included Pandy Aviado, Heber Bartolome, Gus Albor, filmmaker Onin Delotavo Tagaro, who co-directed the Urian award-winning documentary, Yield, and filmmaker/producer Toshihiku Uriu, owner of the gallery and the Tiu Theater (with a screening room and a sound stage) also at Makati Central Square. Uriu is also the co-producer of Aguiluz's film-in-progress, Pisonet.
Tikoy, a.k.a. Amable R. Aguiluz VI, who has won various awards for his notable documentaries and feature films, started with his recent spate of artworks in late 2017 when he took a three-month residency in Sri Lanka.
He says he made it a daily habit in the beginning of 2018, producing what were basically sketches for oil paintings, but that these developed a life of their own. For these sketches, he used a Bic ballpen and different kinds of Pentel pens, mostly black but sometimes blue.
"Whenever I liked a particular drawing, or if it generated enough 'likes' when I posted them on FB, I tried to translate the drawing into oil on canvas, a medium I had always used for my paintings."
He adds that he hasn't relied on any more influences at this stage — not consciously, anyway — since he believes he evolved his own style, and that it simply it remains to be seen if people will like his works.
In his much younger years, he had admired Jaime de Guzman, who had trained in mural painting in Mexico, where the famed artists counted Diego Rivera and Jose Clemente Orozco, Tikoy's own idols. And when De Guzman came back to his hometown of Liliw in Laguna, they shared another fascination, that for Mt. Banahaw, which became the subject of Aguiluz's first award-winning documentary.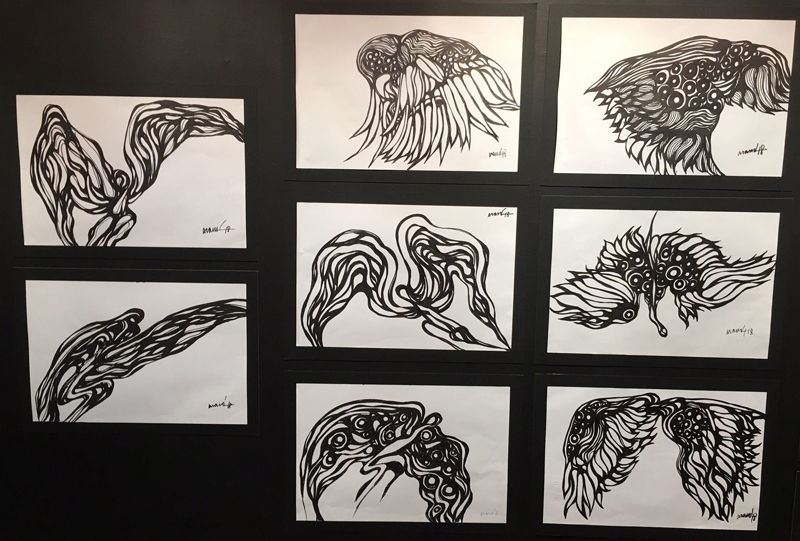 "Rara Avis" sketches in black-and-white
While in college in Ateneo, Tikoy submitted artworks to the literary journal Heights. He also did portraits, among them one of poet Emmanuel Lacaba, which was eventually used in Eman's posthumous collection edited by his brother Jose "Pete" Lacaba: Salvaged Poems.
I recall that in the late 1960s, we took to hanging out over weekends at the den in the Aguiluz residence on Panay Avenue in Quezon City — Eman, Freddie Salanga and I. Tikoy had turned the den into his own "pad," where we slept overnight after discussing girls, poetry, philosophy, film and art, not necessarily in that order, while also enjoying booze and herbal intake.
Tikoy had a hearty chortle, and loved to interject with a one-word commentary whenever Eman and Freddie argued lengthily over Sartre, Buber et al. The word was "bizarre." Otherwise, he contented himself with feeding us and sitting behind a desk where he quietly "doodled."
Eventually, Tikoy sat in on the art classes of Bobby Chabet, and joined exhibitions curated by the progressive mentor. In 1976, Amable R., Aguiluz VI was selected by Rey Albano for the 13 Artists award and exhibit at the CCP. In that group was Gus Albor.
Tikoy now recalls that Albano's basis for his choice must have been Aguiluz's participation in Chabet-curated group exhibits at Sining Kamalig and the CCP. As a member of the Chamber Film Group, Tikoy had contributed mobile standees like those featured in the lobbies of movie houses.
A few years later, when Tikoy resided and took up film in New York, the Big Apple's vibrant art scene became a major part of his self-education.
Come to think of it, one of the larger pieces in his "Rara Avis" show looks like a standee, with a pair of cutout holes for faces within the vertical frame that is an oil painting in color.
Most of the other works on display are his selection of black-and-white drawings from among the hundreds he has produced to date. A characteristic leitmotif is the abstracted, organic form of an object in apparent flight, or in preparation for flight. The strokes echo a personalized code of spirals, undulations, waves, whorls and wings.
They're all rare birds of a distinct caliber of wonder, of non-pareil marvel, one of a kind — a curiosity, an oddity, a rarity, and a singularly imagined access to flight.
Tikoy Aguiluz creates these squadrons of delight whenever he finds himself in between film projects. It must be the restless auteur in him having to take to solo flight.
Together with the Kanto Gallery group, he had started an indie film over a year ago. They had finished shooting half of it, but had to take a break due to Tikoy's film residency in Sri Lanka, as well as other scheduling problems. But he intends to finish the film Pisonet within the year.
Wikipedia says that "A pisonet is an arcade-style computer unit used as an internet or gaming vending machine. Originally invented in Pangasinan as response to Dagupan's booming internet cafe industry, it later spread in Pangasinan and later Metro Manila and Metro Cebu."
How intriguing. If this is the same subject that inspires Tikoy Aguiluz's film project, we can rest assured that he will rely on his aeronautical imagination (read: favored flights of fancy) to test the demands of mundane gravity.