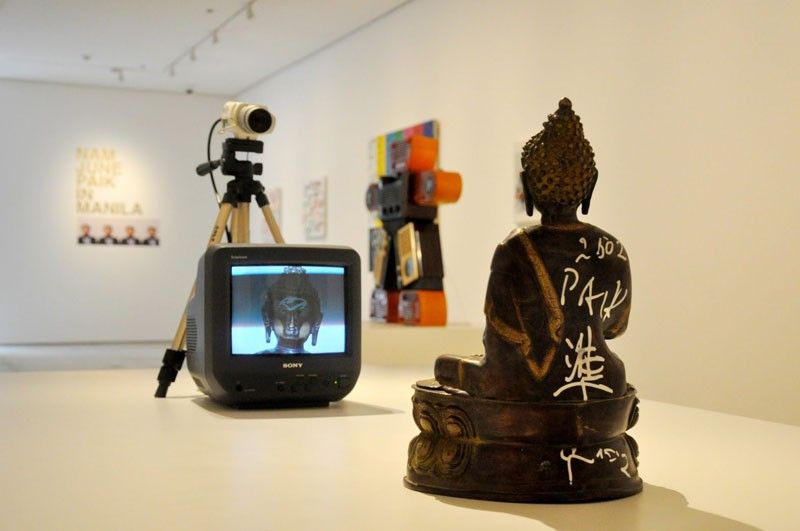 TV Buddha by Nam June Paik
Market in flux: 'Nam June Paik in Manila' at León Gallery
Last week, León Gallery opened an exhibition in collaboration with the international gallery, Gagosian. This landmark exhibition, meant to introduce the renowned "Father of Video Art" to the Philippines and Southeast Asia raises more questions than answers.
Nam June Paik was born in 1932 in Seoul, South Korea. At the outbreak of the Korean War in the '50s, Paik and his family fled to Hong Kong and later on Japan, where he pursued his bachelor's degree. After graduating, Paik moved to Germany where he met many avant-garde artists influential to his practice and in 1964, he emigrated permanently in New York.
Paik's artistic practice for the earlier part of his career was mostly informed by his own experience as a classical musician. When Paik moved to Germany, he was greatly inspired by experimental musicians such as John Cage, who famously utilized sound elements from reality to integrate in his compositions. Influenced by artists like Cage, Paik and his work inevitably became associated with the 1960s international avant-garde Fluxus movement.
Fluxus was an interdisciplinary group of artists, designers, composers, and poets from the '60s and '70s. Their work is characterized by an overt distrust of the art world, often creating with a clear intent of non-commodification. Lithuanian-born artist George Macuinas put into words what Fluxus stood for in a simple one-page manifesto. He wrote: "Purge the world of bourgeois sickness, 'intellectual,' professional & commercialized culture, PURGE the world of dead art, imitation, artificial art, abstract art, illusionistic art, mathematical art, — PURGE THE WORLD OF 'EUROPANISM'!"
Fluxus embodied a rebellion that refused to cater to the needs of the market. They integrated art and life, removing art from the hands of those who could only afford such luxuries. Fluxus held events where Yoko Ono would invite viewers to cut her clothing. Their work was absurd, yet still pointed, and still very much relevant to the art world today.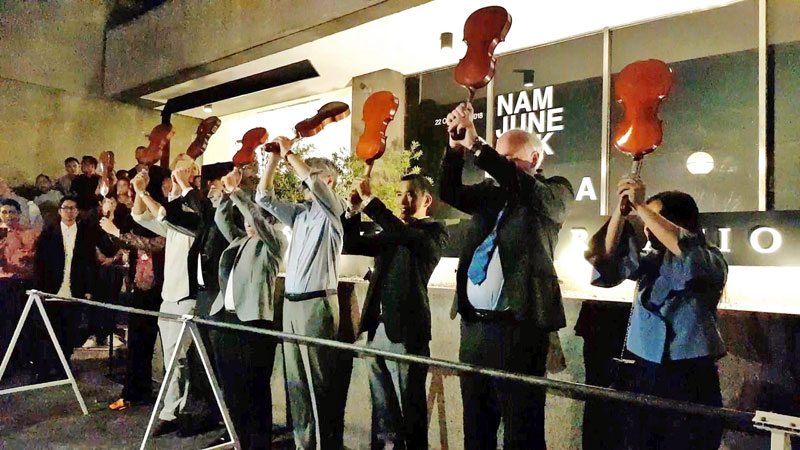 "One For Violin Solo" performance with U.S. Ambassador to the Philippines Sung Y. Kim, Nick Sumonovic (managing director, Gagosian Asia), Ken Hakuta (Nam June Paik estate), Jon Hoffman (curator), Jaime Ponce de Leon (Leo?n Gallery International), Lina Juntilla (Leon Gallery International), Lisa Guerrero Nakpil (Leon Gallery International) and Marcel Crespo at "Nam June Paik in Manila." Photo courtesy of León Gallery
At the height of Fluxus, Paik was at its forefront. Paik is known to be the pioneer artist to deal with the television and video cameras as his medium. He created these works in an opportune time where, with the advent of video, the world became drowned in a constant surge of imagery.
"Nam June Paik in Manila" was an interesting conglomeration of Paik's body of work. Aside from having exhibited some of Paik's videos, this exhibition also showed his lesser-known works on canvas, where he would paint the color bars you would see on your television when there was no signal. For the ribbon-cutting of the opening of the gallery, the organizers of the event performed Paik's "One for Violin Solo," where he smashes a violin for his performance.
This exhibition marks the transition of León Gallery from merely an auction house to an exhibition space. I really enjoyed the exhibit and Paik's work — it was the first time for me to see them. I chuckled when I saw a lit candle in a TV, and zeroed in on small screens embedded in a canvas. I enjoyed the cacophony of imagery when I looked around, like there was a certain aura that somehow transported me to New York City in the '60s, where The Velvet Underground blasted through the speakers and Fluxus was still active.
However, thinking more about the exhibition made me feel more uneasy than reminiscent. It is a fact that art is commodified, and it will always be. Artists will always need patronage to survive. But there was just something very unsettling to me to think about Paik's work being taken out of the context of the spirit of Fluxus, which for the most part, it has always been. This ultra-consumerism is what Fluxus was against, yet Paik was introduced to Manila by a mega-gallery. It was especially odd to see a signed "TV Buddha," a work Paik began in the '70s, where a Buddha statue sits in front of itself being projected on a television, when earlier iterations would just leave the Buddha sitting there unsigned.
Paik died in 2006, so of course, I can't know for sure what Paik was thinking about his art in those years, but I can't help but think about how much context affects the way that we approach artworks — what does it mean for us that Paik was introduced to Manila in this way? Perhaps I am expecting too much from our institutions to introduce artists to us past its commercial value and clout, but I would have hoped that we would have been able to experience Paik the same way that he entered the art world.