Pintô brings Filipino art to New York City
October 1, 2018 | 12:00am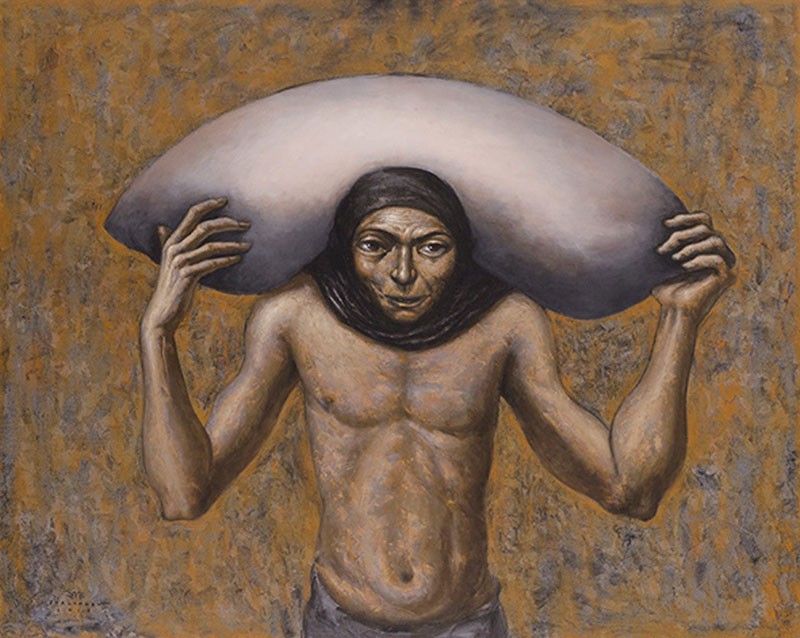 Perhaps, there is no context more powerful than New York in which artists can exercise their craft. Since after World War II, when the arts' center of gravity shifted from Europe to the United States, artists of all stripes have been flocking to the city to try their luck, hoping to establish a sustainable and successful creative practice. The iconic song about the city still holds true: if you can make it in New York, you can make it anywhere.
It is within the centrality of New York in the life of the imagination that Pintô International is once again staging an exhibition that will shine a spotlight on the works of our homegrown artists. That the organization has just recently staged a similar venture with "Pintôkyo" in Japan midway this year proves that Pintô International, the global face of Pintô Art Museum, is possibly the only local institution that could pull off a show of such staggering scale and magnitude abroad.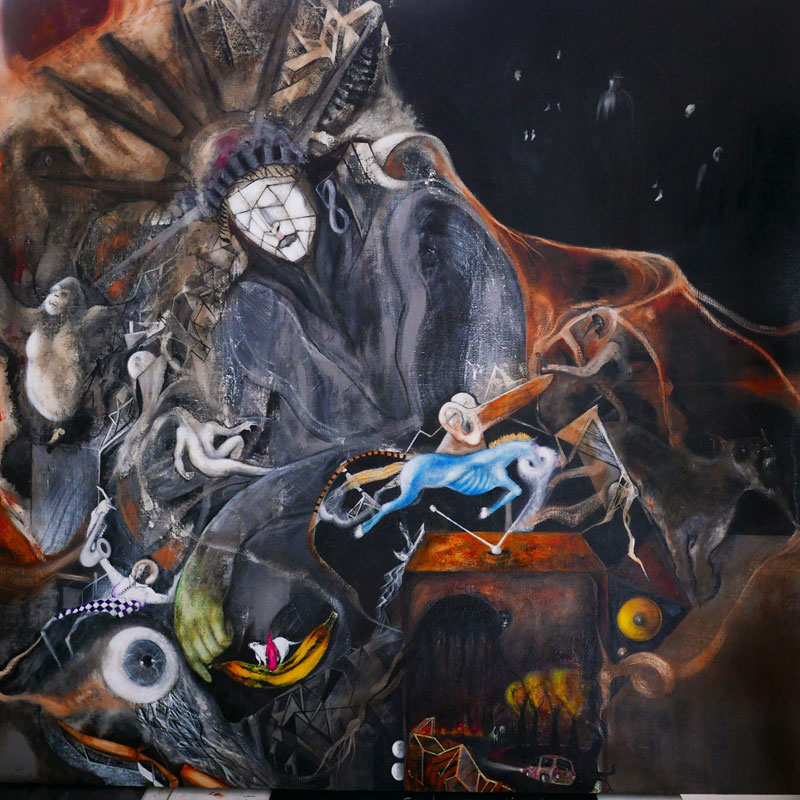 "United States of Allegory" by Igan D'Bayan
For this recent iteration, Pintô International will feature more than 40 artists of different stylistic persuasions and temperaments. This will be the second time that Pintô will hold a show in New York City. Its initial salvo, "Pintô Manhattan Manila," held at the East Village last year, asserted the presence of Filipino artists in what is considered as the world's capital. It's logical to call the current exhibition "Pintô Manhattan Manila 2," as it shares the same spirit as the first, except that it will be held in a different venue and season.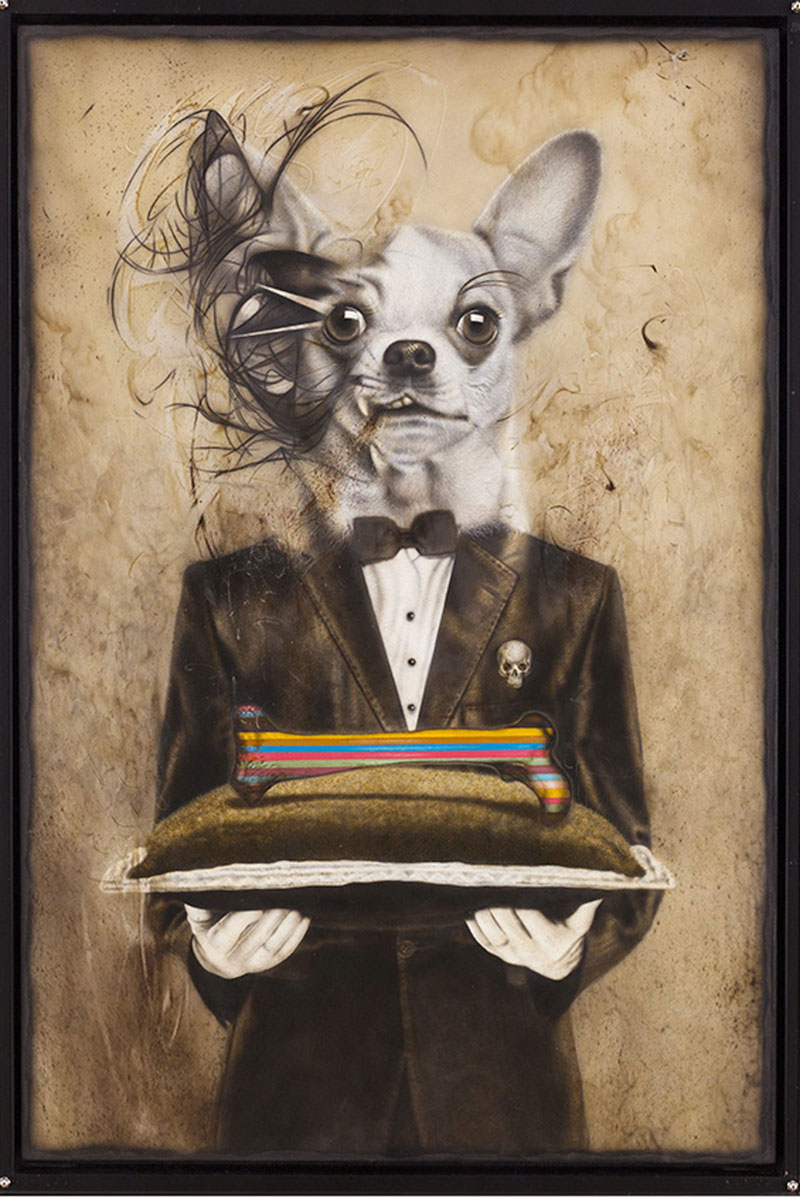 "Rainbow Bone" by Ronald Ventura
Opening this Thursday, Oct. 4, 6 p.m., at 74 Franklin St. in the swinging area of Tribeca in New York City, "Pintô Manhattan Manila 2," which will benefit the Asian Cultural Council and Pintô Art Museum, is set to repeat the success of the previous shows as it will offer the same eclectic selection of works ranging from forays into hyperrealism to conceptual experimentations, from contemplations of social reality to lyric evocations of the materiality of art. The curatorial stance of Pintô International has been clear since the beginning: to present, in the broadest possible view, the wildly diverse practices of contemporary Filipino artists.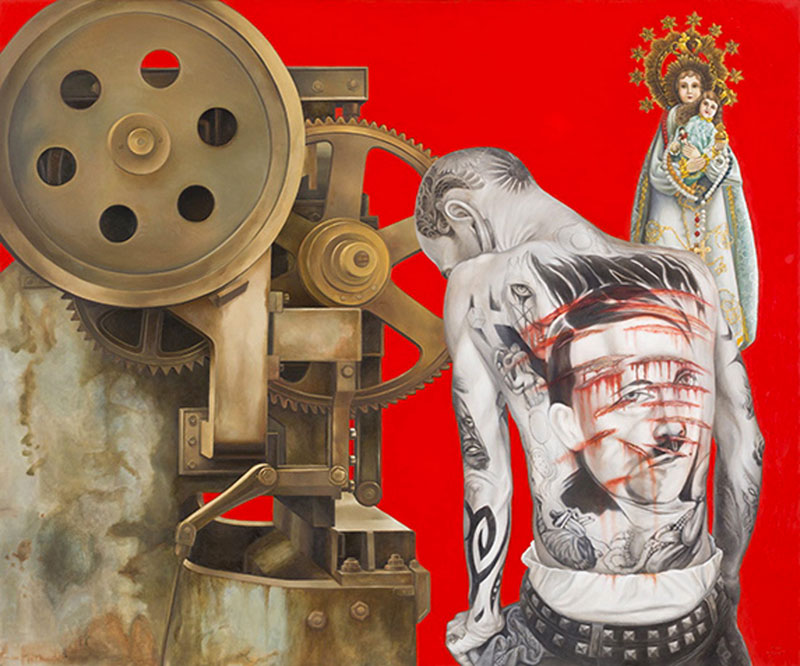 "Kubakub" by Renato Habulan
Participating in "Pintô Manhattan Manila 2" are Agnes Arellano, Elmer Borlongan, Gino Bueza, Zean Cabangis, Aba Lluch Dalena, Igan D'Bayan, Anton del Castillo, Lec Cruz, Cian Dayrit, Antipas Delotavo, John Paul Duray, Alfredo Esquillo and Anthony Victoria (who have turned in a collaborative work), Mark Andy Garcia, Emmanuel Garibay, Renato Habulan, Johanna Helmuth, Riel Hilario, JC Jacinto, Winner Jumalon, and Antonio Leaño, who will be curating the show.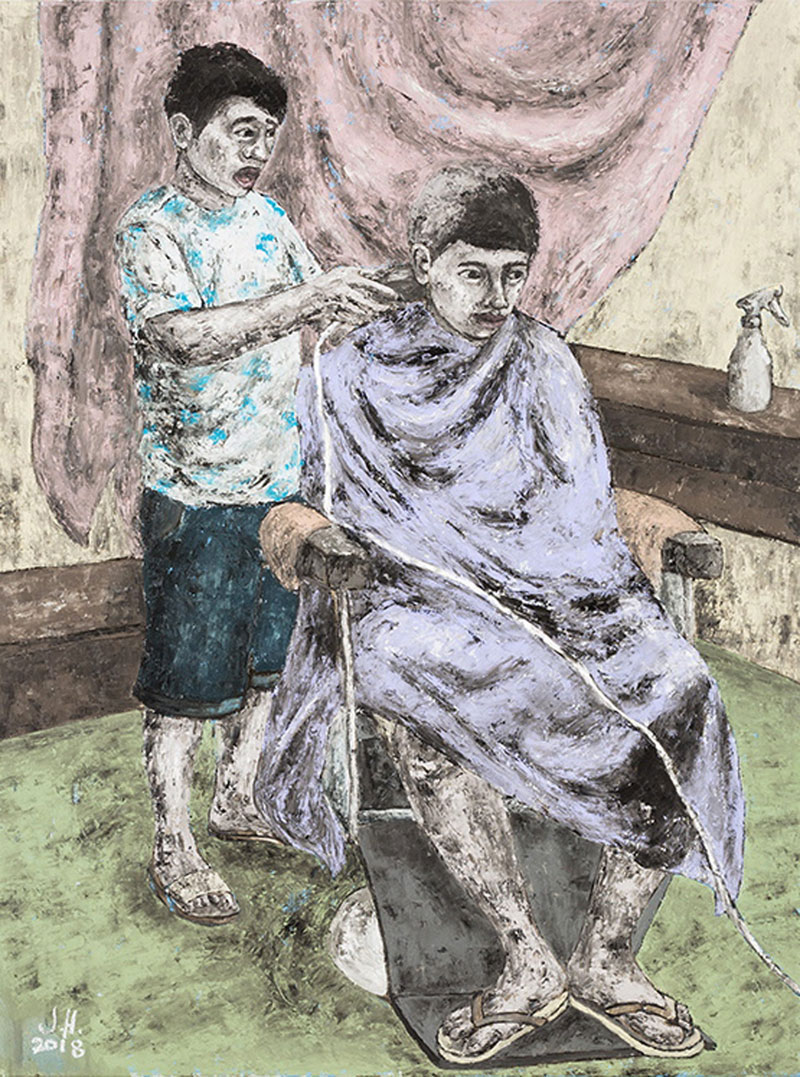 "The Mistaken Barber" by Johanna Helmuth
Completing the list are Keiye Miranda, Miquel Miro, Jayson Montinola, Raffy Napay, Jayson Oliveria, Jim Orencio, Bernardo Pacquing, Anthony Palomo, Lynyrd Paras, Ian Quirante, Pogs Samson, Arturo Sanchez, Yasmin Sison, Dexter Sy, Wire Tuazon, Wesley Valenzuela, Ronald Ventura, Ryan Villamael, Cris Villanueva Jr., Miles Villanueva, and Jay Viriña.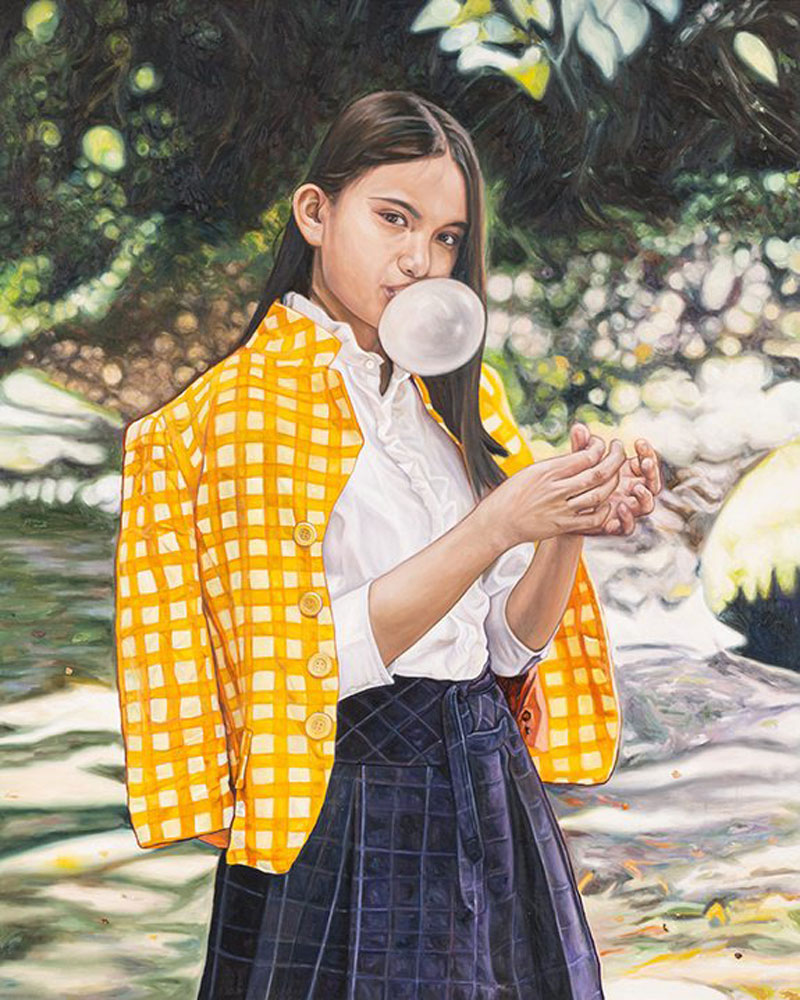 "Mika in her Orange Coat" by Yasmin Sison
While the lineup features seasoned veterans, many of the artists are in their 20s and 30s. This emphasis on providing the platform for these bright young things is the vision of Dr. Joven Cuanang, director of Pintô International. "My choice was to go ahead and feature the young artists who are now, more or less, at the verge of Philippine art," Dr. Cuanang says. "That's really my interest. Being a teacher, in that particular sense, I like to see the young talents emerge."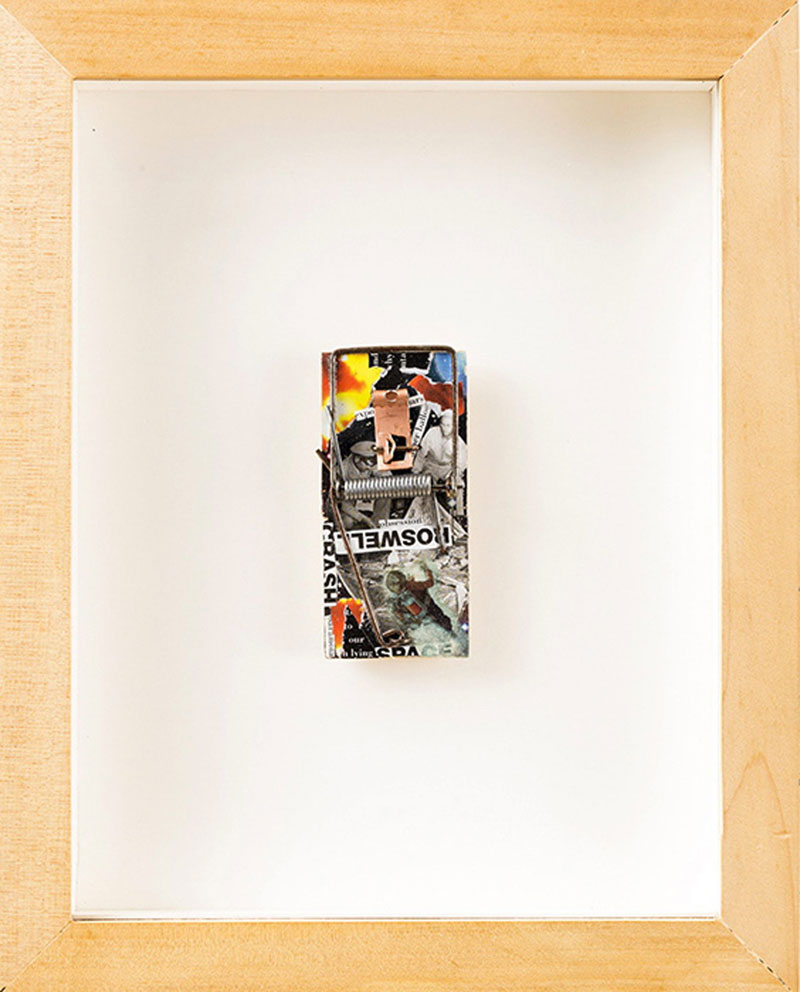 "Deathtrap" (4/20) by Miles Villanueva
Helping Dr. Cuanang is Dr. Luca Parolari, co-director of Pintô International and the organization's point person in New York. He oversees Pintô NYC, both an exhibition space as well as a salon where conversations about and beyond art take place. These regular events help generate an international audience for what the Filipino talent richly offers. "What we want to do is… have a space where the international community in New York can come and is attracted because it is fun, there's interesting conversation going on, and meanwhile they get exposed to Filipino art and culture," he said in a previous interview.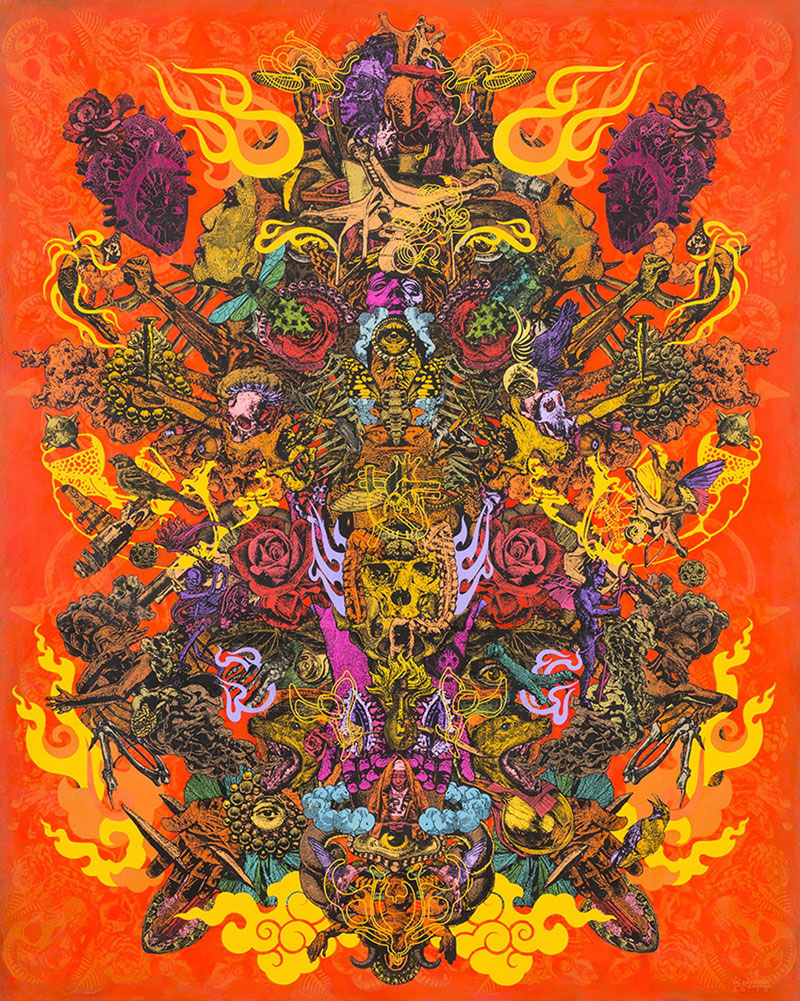 "An Instance of Consciousness" by Wesley Valenzuela
For Dr. Cuanang, "Pintô Manhattan Manila 2" materializes and affirms his belief that Filipino artists can stand shoulder-by-shoulder with practitioners from other parts of the globe. By bringing their works to the most important artistic center of the world, he hopes that many more people can get to see the crackling brilliance of the Filipino talent that he himself witnessed decades ago when he opened the door of his own home for artists in search of camaraderie and community.
* * *
"Pintô Manhattan Manila 2," is on view until Oct. 15. To know more information or to RSVP, message 0917-9291925 or email [email protected]
Recommended