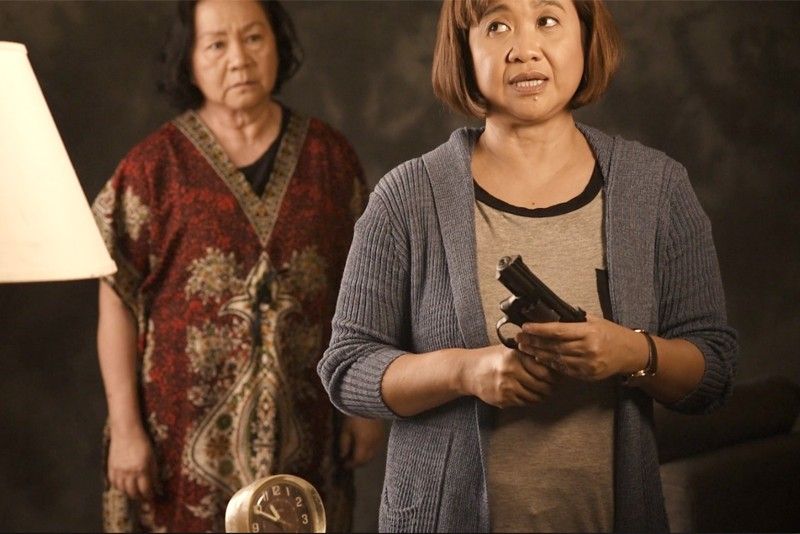 Sherry Lara as Thelma watches as her daughter, Jessie (Eugene Domingo) cleans a gun for her planned suicide in PETA's Night, Mother. Photo courtesy of PETA
PETA'S 'Night, Mother' and the things we should be talking about
ART DE VIVRE
(The Philippine Star) - February 19, 2018 - 12:00am
A monumental set greets you at the PETA Theater for Night, Mother, the season finale for a yearlong 50th anniversary celebration. We have seen sets of this magnitude in their past history of presenting grand narratives — many of them lavish musicals — but this time, it's a one-act play with just two characters. Why, you may ask, did they invest so much in such an intimate drama? Well, less is definitely more here and this is an important play that just had to be produced with the same resources and standards of excellence that they would maintain for their "bigger" productions.
First of all, playing mother and daughter in outstanding performances are top-rate actresses Sherry Lara and Eugene Domingo. Lara has delighted theater and movie aficionados with her many memorable, award-winning roles through the years. Domingo may be more famous now as the star of comedy movies like Ang Babae sa Septic Tank for which she won awards in film festivals here and abroad but she is actually an accomplished dramatic stage actress who won the 2012 Philstage Gawad Buhay Award for Outstanding Female Lead Performance in a Play for the title role in PETA's Bona, a stage adaptation of the iconic Lino Brocka movie.
Eugene Domingo as Thelma, a divorcée living with her mother, Thelma, played by Sherry Lara. Photo by Ricky Toledo
For these two thespians, nothing could be more challenging than a play by Marsha Norman, one of America's most talented playwrights who won the Dramatists Guild's prestigious Hull-Warriner Award, four Tony nominations, the Susan Smith Blackburn Prize and the Pulitzer Prize for this unsettling and emotionally complex but tautly crafted drama. Ian Lomongo who has adapted plays like Rolando Tinio's May Katwiran Ang Katwiran for Tanghalang Pilipino translated and reworked Norman's work into a Philippine setting and context.
A cubist collage of boxes in varying sizes and depths are stacked on top of the living and dining quarters of a house in deepest Fairview, Quezon City, where Jessie (Domingo), a divorced woman suffering from epilepsy, lives with her widowed mother, Thelma (Lara) who is dependent on her daughter to take care of all the quotidian details in her life. The set, perfectly executed by production designer Ben Padero of the acclaimed movie Heneral Luna, looks like a house sliced in the middle and opened up to give the audience a feeling of "getting inside a neighbor's house and listening to their intimate conversation or gossip," says director Melvin Lee. "We had to construct with attention to every detail making sure that everything is working, including the appliances in the kitchen," according to Padero. This was crucial to the realism that was achieved as Jessie methodically goes around the house making sure that everything is in place.
The opening scene appears to be just another ordinary day in their humdrum existence with Thelma oblivious of Jessie's movements and preoccupations. Even when Jessie brings out her father's gun for cleaning, Thelma doesn't seem to find it anything to be concerned about. She only finally snaps out of her stupor when her daughter makes the announcement "Ma, today I am committing suicide." She doesn't even believe what she is hearing, dismissing the statement with semi-nervous laughter and telling her daughter that the bullets in the gun are old and will misfire, only causing her to live life as a vegetable. But Jessie's revelation that she has procured new bullets makes it clear that she is serious about her plan. She even made a checklist of what Thelma should do after her death, including all the household chores and how to inform relatives. She wants to set her mother's house in order one last time and make their last day together a most pleasant one.
What ensues for the remaining part of the 90-minute play has you on the edge of your seat in a rollercoaster ride of emotions as mother and daughter slug it out as to why Jessie should or should not end her life. From Jessie's point of view, there was never much to live for: Epileptic seizures plagued her all her life. Divorced from her husband, she raised a son who turned out to be a loser — a drug addict and petty thief who is a prime target for tokhang and EJC. Thelma counters that Jessie is actually doing much better now with her new medication. Jessie agrees that it is indeed the "best" time of her life when her mind is so clear — she was never as sure as now that suicide was her best option: "My life was always out of my control. Ending it now is the only thing I have full control of."
The sets of Night, Mother at PETA Theater, by Ben Padero, production designer of the acclaimed historical film Heneral Luna.
Eugene Domingo essays this calmness and resoluteness with a nuanced portrayal that brings a chill down one's spine. It also triggers Sherry Lara's Thelma into a state of agitation which she deftly expresses in many layers of complex feelings from anger and childish tantrums to pleas for rationality. Just as Jessie is determined to end this life, Thelma is determined to cling to it because it's all she knows — she never really wanted much and could be content with whatever life presented to her even if it meant lying to herself and others. "It's a metaphor for the clash of ideas," says Lee. "The New Age ideas of Jessie versus the traditional way of thinking of Thelma."
Inevitably, past incidents which were hardly or never talked about come to the surface. Like did Thelma ever really love her husband? In an act of desperation, Thelma offers to tell the truth about many things if this will make Jessie happy. But will it keep her from committing the act she is threatening to do? "What indeed is the proper response to an act this radical and violent?," asks Lomongo. "Maybe there isn't any, except to listen."
In any case, Lee enjoins us to "look at the play beyond the obvious and the literal. Let it be about conversations that we've had or should have had with our loved ones." PETA wants to encourage these conversations and bring to light the sensitive subjects of suicide and mental health by having answer back sessions after each show, with the cast and creative team as well as professionals in the field of psychiatry. This also calls our attention to the prevailing stigma attached to mental illness in the Philippines where there is a lot of ignorance and misunderstanding. These are topics that definitely need to be talked about to be better understood, according to the director: "Through conversation comes clarity. We need clarity in our feelings and thoughts to steer us away from darkness."
* * *
Night, Mother runs from Feb 2 to March 18 at the PETA Theater Center located at 5 Eymard Drive, New Manila, Quezon City. For tickets call PETA at 725-6244 or 0927-6035913 www.petatheater.com or Ticketworld at 891-9999 (www.ticketworld.com.ph). Follow the authors on Instagram @ rickytchitov; Twitter @RickyToledo23; and on Facebook - Ricky Toledo Chito Vijandre.