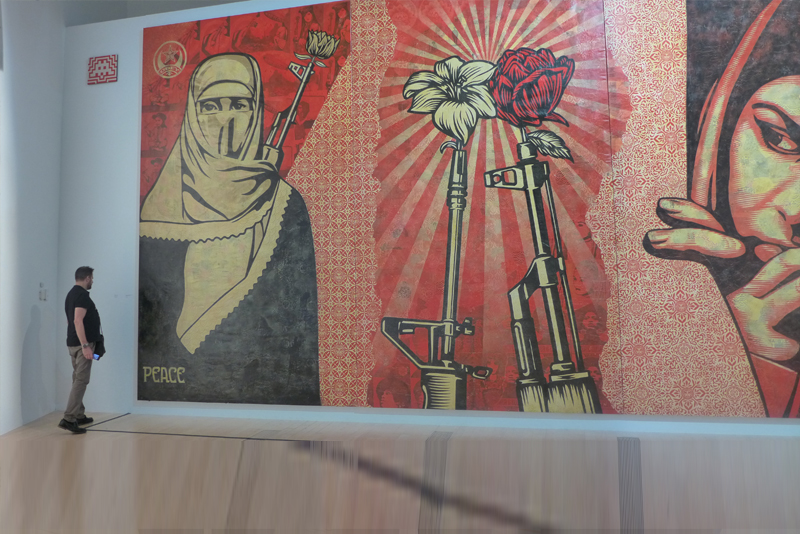 ArtScience Museum presents "Art from the Streets," an overview of graffiti art's birth in Philadelphia to its modern shift to gallery walls. From early NY pioneers like Futura (whose graffiti murals were used as backdrops for The Clash's American tour in 1982), to Space Invader, OBEY (aka Shepard Fairey) and Banksy, the show, curated by Magda Danysz, features over 200 pieces of street art. If you didn't appreciate street art before, this exhibit will convert you. (www.marinabaysands.com/artsciencemuseum)
Singapore's Physical Graffiti
The earth without 'Art' is just 'Eh.'— Banksy
Street art may seem incom-patible with Singapore, a place that will readily take a cane to spray-painters. But look closer, and forms of public art are all around — albeit in neighborhood-friendly versions. It's not exactly "Anarchy in the SG," but during Singapore Art Week (SAW) from Jan. 17-28, art erupts all over these reclaimed city streets, and it shows how the city-state manages to reinvent itself over and over again.
Singapore Tourism Board (STB) invited media to a week of art events, and the mix was as eclectic as the cultural blend of its 5.61 million Chinese, Malay, Indian, Muslim and Eurasian inhabitants.
Stationed in Little India at the boutique hotel Wanderlust — a former school transformed by designers into a loft-friendly hipster hangout — we ventured into Singapore's art and food enclaves (the food angle will come later). Here's what we found.
***
To learn more about Singapore Art Week and other tourism events, visit Singapore Tourism Board at www.stb.gov.sg. Locally visit their office at 6788 Ayala Avenue 1226 or call 813-4968. See more photos and videos at #singaporeartweek2018, #SAW18 and #passionmadepossible.