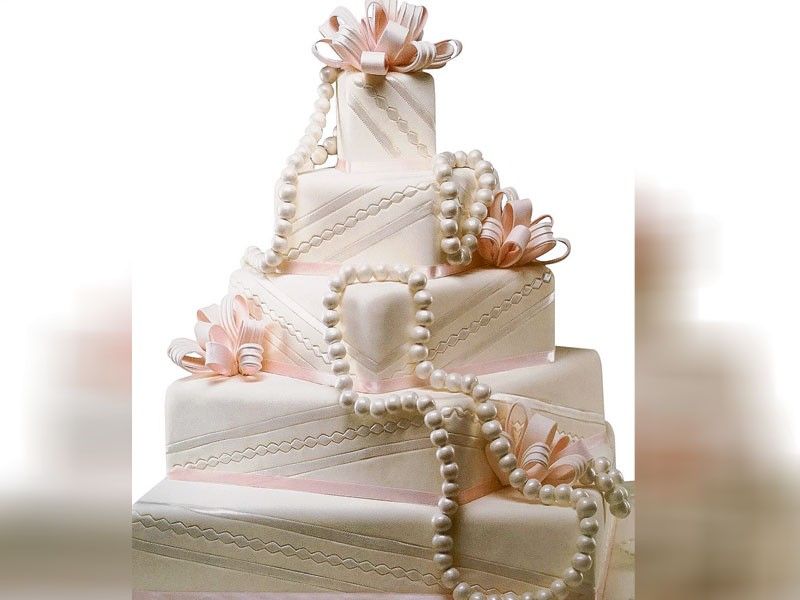 Kit and Fernando Zobel's cake during their 1994 wedding was dreamy, wispy, a picture of sublime elegance.
Photo courtesy of Caked in Sugar
More than a slice of sweet love
The wedding cake, according to ancient tradition, symbolizes good fortune and prosperity. Its sweetness is a precursor to the sweet life the groom and the bride will claim as husband and wife. More than an added attraction to the reception, the wedding cake tells of a tale that makes up the story of the couple.
For sisters Penk Ching and Shen Chen Ratilla of Pastry Bin, every wedding cake that comes out of their kitchen is a confectionery delight that is treated with reverence.
Penk and Shen, who started baking cookies and fruitcakes in 1984, have lost count of their many celebrated cakes in the Philippine wedding scene. But always, they break into a sweet smile every time they remember how the five-tiered wedding cake they made for Kit Silverio and Fernando Zobel de Ayala in 1994 earned oohs and ahhs from those who saw it.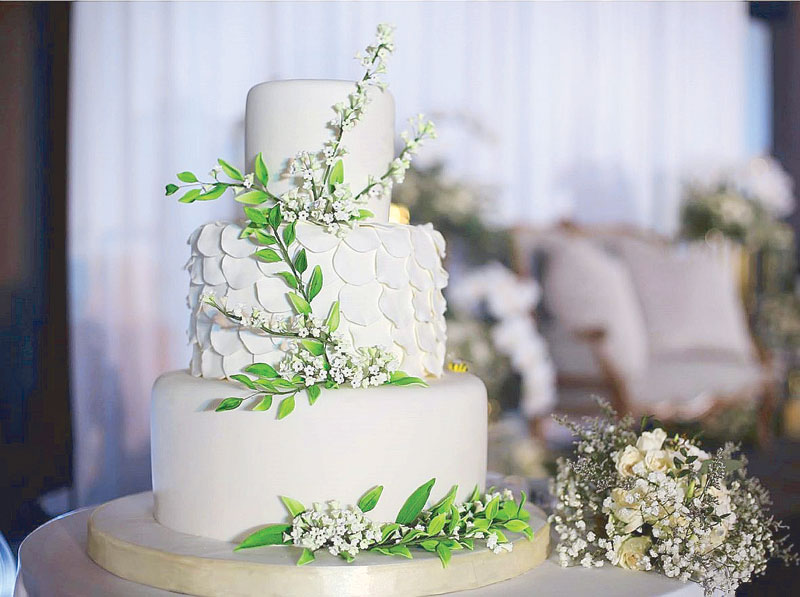 For Nathan Go and Fergie Panganiban's wedding cake, Penk and Shen used small flowers to give a touch of softness. Photo by Myio Okamoto
"The cake we made for Kit (who prefers to be called Catherine now) and Fernando Zobel de Ayala always brings us sweet memories. Modesty aside, we earned praises because of that wedding cake. And orders from brides came one after the other after that," Penk says.
The Silverio-Zobel wedding cake was dreamy, wispy, a picture of sublime elegance. From sugar, the sisters created baby pink bows that they used as decoration, cutting across the off-white fondant sheen. Gum paste was "pearlized" and transformed into "South Sea pearls" for the classic touch. The five-layer cake became a conversation piece.
Pastry Bin's cakes have become the preferred "sweet guest" at high-caliber wedding receptions in the Philippines. At Malacañang receptions for daughters of Presidents, Penk and Shen's cakes were shared at the Lopez-Ejercito, Arroyo-Montenegro and Arroyo-Manotok weddings.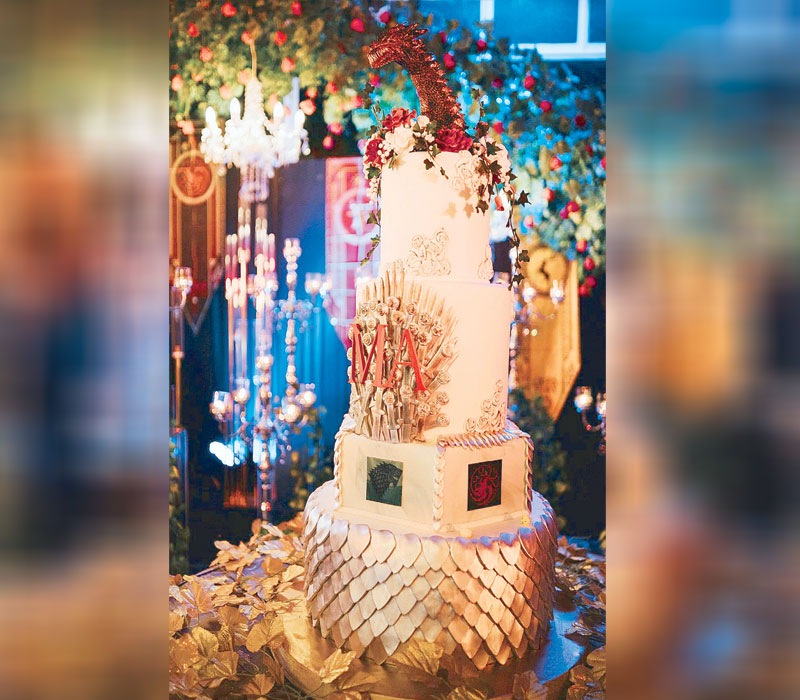 Miguel Wieneke and Angela Camins wedding cake was a collaboration between Pastry Bin and Joanne Wieneke. Photo by David Garmsen
"It's always a partnership between Penk and me every time we bake a cake. We brainstorm for new ideas, we discuss and think of concepts. We know that what worked before might not work now, so we have to think out of the box and keep ourselves updated," says Shen.
"We travel together, visit museums, flea markets — anywhere to get inspiration," says Penk.
And always, always, the two make an elegant creation whether it is a simple cake or an elaborate one.
Another memorable cake they made was for the wedding of Jerika Ejercito and Miquel Aguilar. "It was a tall naked cake decorated with sugar flowers and fresh fruits. The base was decorated with fresh hydrangeas and fruits," Penk recalls.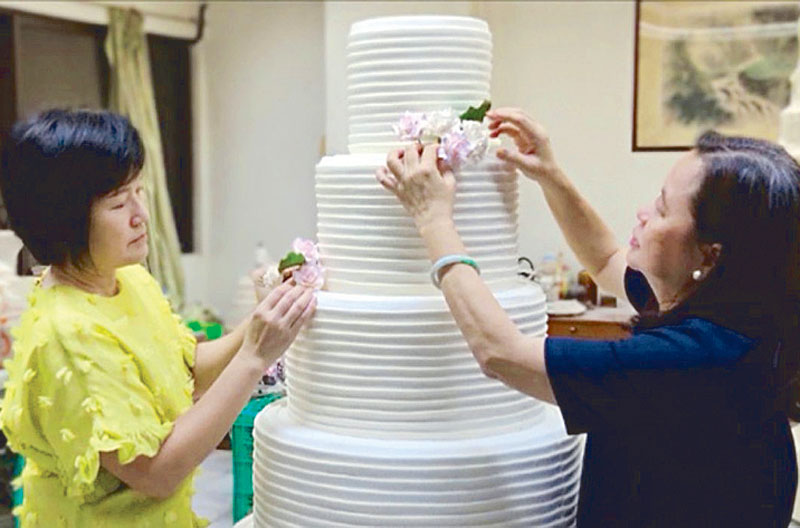 Pastry Bin's Shen Chen Ratilla (left) and Penk Ching.
The sisters admit that there's pressure in their kitchen every time they bake. But the challenge is well accepted when they remind themselves that it is a blessing to be part of a love story.
"I believe that establishing a connection with the customers is very important. That's the reason why I personally meet with the couple. I sit down with them, get to know them better, find out what their idea of a dream wedding looks like. From there, Shen and I brainstorm. Most brides these days are well prepared as they come to the meeting with pegs of their dream cakes," Penk says.
The sisters know, too, that there are some couples who, after the traditional slicing of the cake, "don't want to destroy the beauty of their wedding cake." So, Penk and Shen bake separate cakes for the couple to serve their guests. (And every Pastry Bin cake has the presence of two nondescript yellow gum paste bumble bees, the signature of the brand, perhaps symbolic of the sweet honey produced by the bees and the hardworking nature of Penk and Shen.)
There are hurdles, too, but nothing that the sisters cannot overcome.
"Once, during a meeting, a bride wanted to have her dream cake done. The mother-in-law, who would pay for the cake, had her own cake design in mind. I had to stand in between and help the bride because she was the bride. I listened to both of them and tried to come up with something that was win-win for both parties," recalls Penk.
"We had a bride who decided on the cake design and finalized the cake contract months before the wedding date. However, the bride and the coordinators forgot to inform us that they changed their reception venue. It was a nightmare when we delivered the cake to the wrong venue. But the cake made it on time just the same to the real reception place," Shen adds.
When the couple starts to slice through the sophisticated sheen of a Pastry Bin cake — a carrot walnut, banana walnut or apple walnut in flavor — Penk and Shen, whether or not they are present at the reception, whisper a prayer. In every sugar flower that adorns the cake is the sisters' excellent artistry. In every bite of the cake is the sisters' plea to the Divine Cakemaker to bless the union of the couple.
Now, that's what makes a Pastry Bin wedding cake a memorable labor of love — for sweet, sweet love.
(E-mail me at bumbaki@yahoo.com. I'm also on Instagram @bumtenorio and Twitter @bum_tenorio. Have a blessed Sunday!)