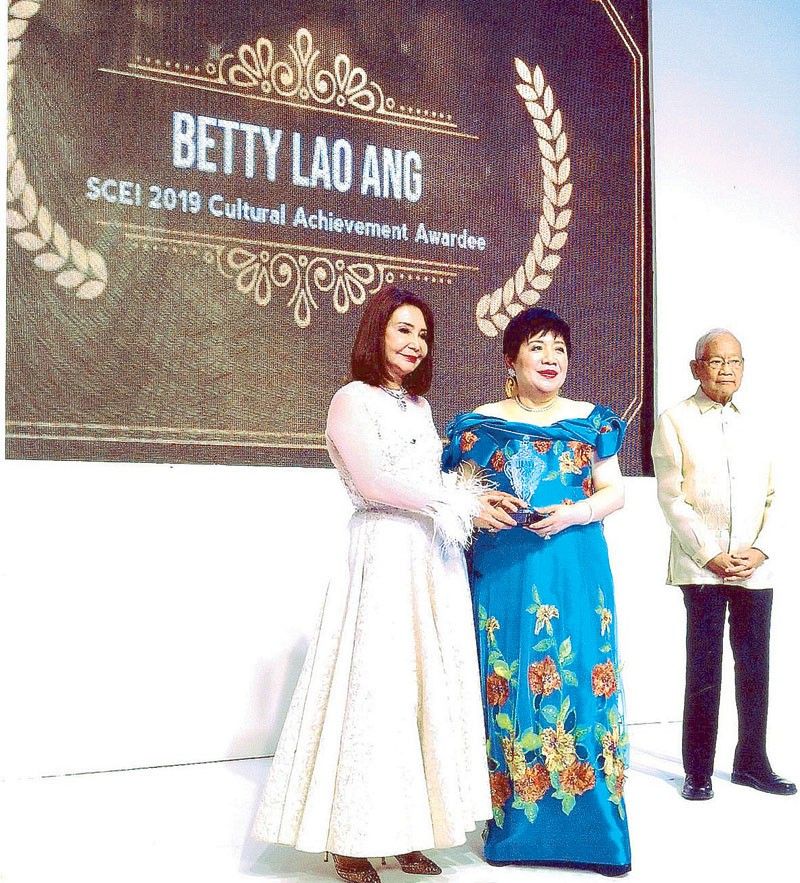 Society for Cultural Enrichment Inc. (SCEI) chairman and president Angola Consul Helen Ong presents Tanzania Consul Betty Chua with the SCEI 2019 Cultural Achievement Award. With them in photo is SCEI vice chairman Dr. Jimmy Laya.
"No person will make a great business who wants to do it all himself or get all the credit." — Andrew Carnegie
The APEC Business Advisory Council (ABAC) and other members of the business community gathered for an elegant dinner hosted by former ambassador Francis Chua and wife, Tanzania Consul Betty Chua held at their elegant residence.
Chilean Ambassador Jose Miguel Capdevila, ABAC members headed by Tomas Alcantara and Joanne de Asis, ABAC staffer Patrick Chua and Geneva Guyano were present at the gathering.
Aside from the exquisite cuisine, guests enjoyed the stimulating conversations, engaging camaraderie and viewing the marvelous collection of paintings.
Thank you for a wonderful evening, Ambassador Francis and Consul Betty!
Wonderful friendships
The gracious and pleasant Minerva Tanseco always spends quality time with people closest to her heart.
Minerva and her good friends recently met with Dr. Elenita Binay over lunch at China Blue by Jereme Leung restaurant in Conrad Manila, Pasay City for some catching up.
Meanwhile, Minerva hosted an intimate lunch at Inagiku restaurant in Makati Shangri-La, Manila in Makati City for the hardworking, Taiwan-based couple Reiner and Maria Allgeier.
What a wonderful way to celebrate friendship!
GREETINGS
Happy birthday to our celebrators today, STAR's Pepper Teehankee and The E-Hotels Resorts & Residences Suites Group chairman Dr. Elton See Tan.
Advance birthday greetings to Cinderella's Therese Coronel Santos and W&L Corp. CEO Lilian Sy-Uy, April 15; Geronimo de los Reyes, architect Ramon Antonio, gracious lady Gloria Angara and FLEHD president Dr. Adolfo Bellosillo, April 16; STAR Lifestyle editor Millet Martinez-Mananquil, businessman Charlie Rufino, Katrina Ponce-Enrile and Jewelmer Joaillerie marketing manager Marion Branellec de Guzman, April 17; Lopez Group of Companies chairman emeritus Oscar Lopez and Stephanie Palma Gil, April 19; Marilou Lovina, April 20.
Happy wedding anniversary to Celuch and Bonggoy Manahan, April 18. May you have many cherished years together.
So, how was your week?
(For comments and inquiries, please e-mail me at jjlitton@indanet.com.)