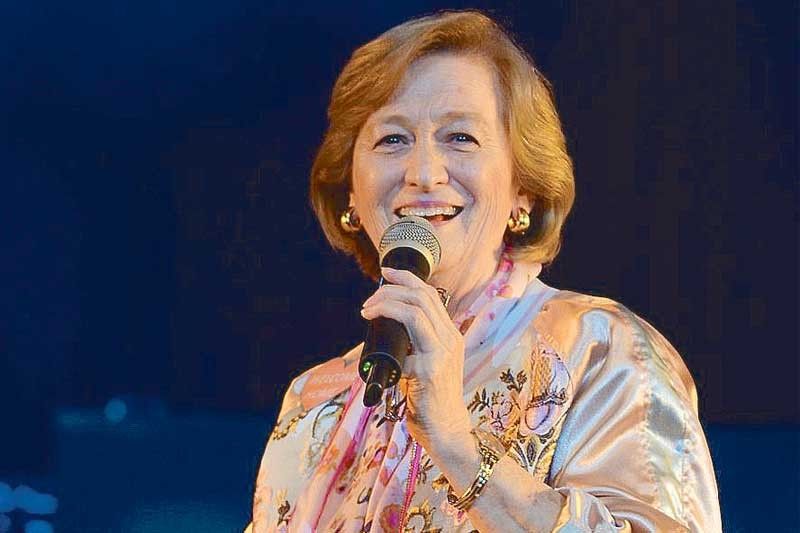 Assumption College San Lorenzo president Carmen 'Pinky' Valdes.
Photo by JUN TAPAN
ACtion: United in Faith to Serve
(Conclusion)
The 2018 Assumption homecoming celebration, hosted by the spirited High School batch of 1993, culminated in a sensational velada program at the Mother Rose Auditorium at the San Lorenzo Makati campus.

Silver jubilarians, the Assumption 2018 homecoming hosts. Grace de Castro, Giselle Tolentino-Eduque, Pam Sanchez-Fianza, Martina Tiangco, Michelle Santos-Lim, Gretz Cacho-Martelino, Margie Jahrling-Sadhwani, Doris Sta. Ines-Salvador, Peaches Atayde-Buencamino, Len Carlos-Ocampo, Mars Magpayo-Montaño, Theresa Mejia, Jennie Bautista-Diego, Janlo Nuñez-Cui, Cara Salangsang-Marcelo, Ace Dizon-del Castillo, Elise Tinio, Papat Puno-Prodigalidad, Melissa Henson, Margaux Romero-Atayde, Sandy Henson-de Achaval, Anna Naguiat-Africa, Adiel Santos-Bonifacio, Reg Ilagan, Kat Abad Romero-Salas, Jazy Gongora, Cecille Legaspi-Santiago, Carla Gamboa-Buencamino, Chyll Hidalgo-Ramirez, Jill Reyes, Trixie Flancia-Legaspi, Maia de Claro-Fonacier, Liesl Samson-Suarez, Josette Bello, Tina Jalandoni-Feria, Pie Ramiro, Lui Gutierrez, Malou Fernandez-Tapang, Girlie Pinoy-Urrutia, Riza Mañalac-Vinluan, Ernestine Jalandoni-Abes, Trixie Besa-de Asis, Rhea Henson-Manotok, Shalimar Salvino-Felidia and Jenny Santos-Silayan. Photo by Jun Tapan, choreography by Nancy Crowe and assistant choreographer Monica Abiena
Special guest performers who charmed the audience's hearts were the Pearl jubilarians of 1988, the Super Jades of 1983, the Fervent Rubies of 1978, the Golden Girls of 1968, and, for the first time, the College alumnae, who delivered a smashing dance number.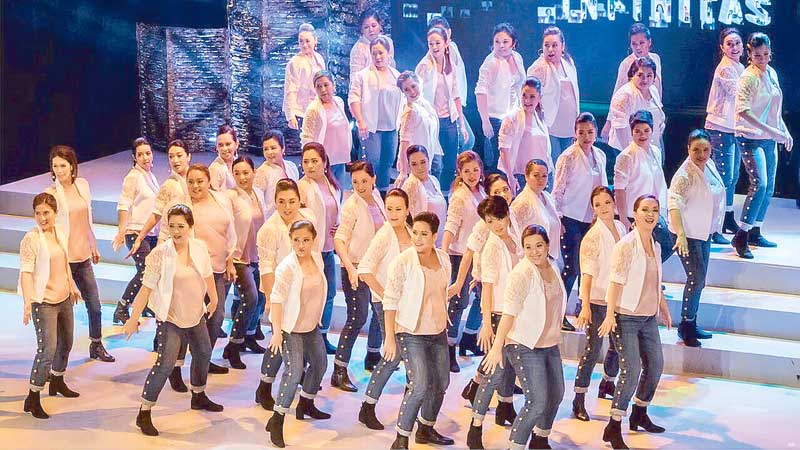 Pearl jubilarians dancing to Calling All Hearts, Boss, Run The World and Finally are Maricel Pascual Cortes, Katrina Alunan Gonzalez, Luli Arroyo Bernas, Georgia Roa Remulla, Joanna Manalo de Guzman, Michelle Baluyut Gonzales, Carla Griño, Babylyn Tiangco, Paula Roman Bautista, Tonette Calderon Villanueva, Frances Justo Corporal, Omi Gozon, Mirella Alegre Batungbacal, Sophia Ojeda Llige, Caren Grey, Jenny Jiao Diaz de Rivera, Micki Poe, Simonette Sawit Rodrigo, Maja Justo Cabreira, Ann Arriola Montoya, Gia Zosa Narciso, Maricar Lopez Tiangco, Mary Faye Rodriguez Garcia, Cathy Yu Matriano, PJ Jose Jayme, Carol Evaristo, Ida Sandico Whitaker, Grissel Gonzalez Gomez, Yvette Rodriguez Schroeder, Mariel Vera Go, Vanessa Figueroa, Cristy Tan Schneck, Karen Camacho Paredes, Andrea Pasion, Kristinna Palomo, Vanessa Balcita Parras, Maita Ladrido, Judith Akol, Cater Buendia Cinco and Marissa Salonga Tionko. Photo by JARIE GARCIA and choreography by Nancy Crowe
It was also a special time for everyone to express how they have been living out their class mottos as women of faith and action.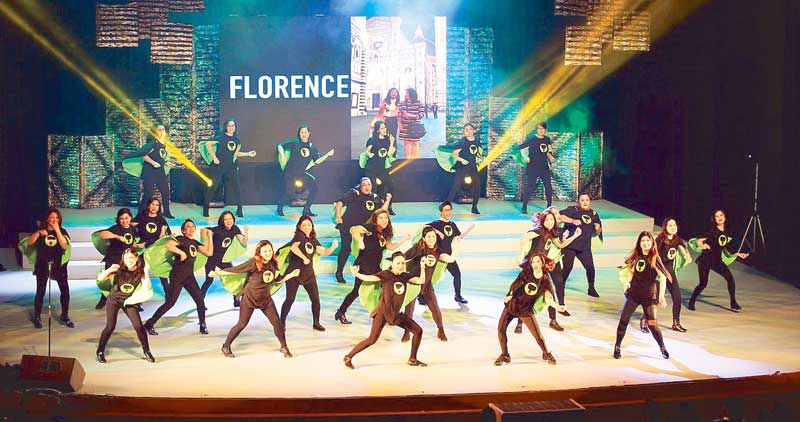 Jade jubilarians dancing to Heroes (We Could Be), Tell Me You Love Me, Live It Up and Made for Now Danced to: Heroes (We Could Be), Tell Me You Love Me, Live It Up and Made for Now are Cathy Pujol Azores, Tweenie Henson Dionisio, Mia Lagdameo Leuenberger, Lori Almario, Kathy Cabiles Tamara, Annie Almeda Colayco, Corcor Dizon Bitong, Mardi Mapa Suplido, Grace Bengzon, Tina Quema, Eileen Azarraga Fabregas, Lyn Dizon Agustin, Virna Villanueva, Anna Periquet, Desiree Catibayan Mendoza, Leah Martelino Huang, Aggie Gayoso Artadi, Ana de Villa Singson, Abby Limqueco Chan, Teen Escalona Garcia, Gina Gamboa Pimentel, Rica Tinsay Lustre, Teresa Paras Goduco, Monique Banzon Daez , Ariane Licaros Dee and Felina Cruz.Photo by BERNIE PARAS GAN, directed by Erwin Flores and choreography by KITTIE BELANO and NEMREL AQUINO
Assumption College San Lorenzo president Carmen "Pinky" Valdes lauded the wonderful Silver jubilarians of batch 1993. "Their theme is spot on. Our action must be committed, consistent and filled with the breath of kindness," she enthused.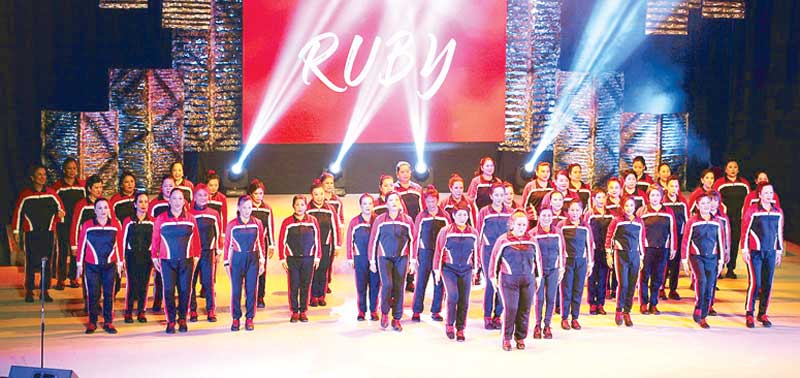 Ruby jubilarians dancing to El Anillo, Run the World, Moves Like Jagger, Gangnam Style, Nobody, Single Ladies, Roar, Bang Bang, Boom Boom Pow, Born This Way and Jai Ho! medley are Gina Bautista-Martin, Kela Yutuc-Santos, Margie Barretto-Llamas, Cherry Ledesma-Olbes, Maristel Angeles, Gigi Alcasid, Chinggay Almeda-Lopez, Marla Teopaco, Bonnet Caguiat-de los Reyes, Betchu Cosio-Pascual, Patty Yaptinchay-Arambulo, Maricel Lawan-Arce Ignacio, Ivy Lim-Avanceña, Barbie Lago-Fernandez, Ami Sevilla-Panganiban, Lisa Zorilla-Cuna, Dorcie Reyes-Guingona, Liza Abejo-Salgado, Mita Geraldez-Soliven, Maryrose Santos-Damaso, Joy Aquino-Manguerra, Gigi Barcelon-Valencia, Chona Gana, Malou Coronel-de Venecia, Patrice Montemayor-Tan, Nenette Luistro-Leyesa, Vicky Salvador, Liz Serra-Santos, Mayette Villanueva-Roy, Marlu Villanueva-Balmaceda, Mandu Lopez-Tan-Canlas, Beng Tesoro, Nanoy Reyes, Vicky Santos-Pajarillaga, Deena Ledesma-Mendiola, Karen Batungbacal-de Venecia, Cecile Lopez-Alcantara, Sella Puno-Mapa, Sheila Syyap-Sarmiento, Amy Soriano-Diano, Josie Garcia-Ang, Cynthia Gatmaitan-Menchaca, Terry Agcaoili-Vistan, Rizha Vergel de Dios-Tantoco, Jiji Sanares, Beth Estella-Pascual and Babita Anido. Photo by BERNIE PARAS-GAN and choreography by GABY ZAMORA
What is the beautiful part about kindness? Pinky said it can be done by anyone, anywhere and we can do it every day. It can be a small act or strong action.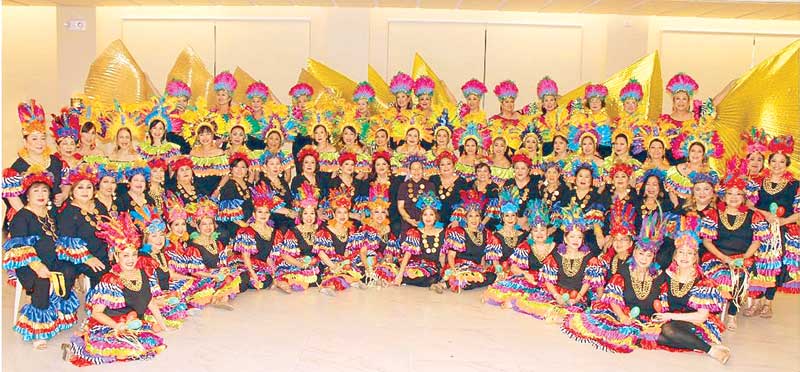 (First row, from left) Tec Syjuco, Ime Sarmiento Barredo, Angie Yaptinchay Tanjuatco, Tessa Marquez Tayag, Xen Jison, Jenny Gonzalez, Suzie Laurel Delgado, Becca Favis Jose, Stella Vibal Lawson, Luci Lizares, Ching Hocson, Peter Villa Cabuang, Irma Sandico Silva, Ladda Suryadhay Baron, Christine Galvez and Mitos Fernandez Schnabel; (second row, from left) Guia Gaskell, Suzette Lacson, Eileen Relova Resurreccion, Marilyn Berkenkotter de Ocampo, Elma Buñi, Nieves Jacinto Santos, Mary Ann Meer Perez, Marianne Montano Santos, Lito Garcia Jones, Nina Fernandez Assad, Fely Reyes Laurel, Sr. Mary Cecilia Claparols r.a., Rosary Ysmael, Ditas Singson, Maricel Lerma Cunanan, Lenggay Lopez Franklin, Darna Marasigan Benavides, Sylvia Jacinto Miguel, Coroy Diaz, Marcia Keesey and Kini Tinio Clemente; (third row, from left) Myra Padilla Sylianteng, Aija Chun Lee, Gigi Gomez Manahan, Marybeth Arroyo Suarez, Sylvia Camara Singson, Bubut Guevarra Acuña, Nina Damaso Wratschko, Tessa Nable Mortensen, Louie Barcelon Locsin, Maritess Aduna Arabit, Cecile Suzara Zulueta, Len Torres Fernandez, Vicky Lopez, Lynn Reyes Oliva, Patty Mina, Phine Puno Obmaces, Rosa Liongson Villacorta, Ging Jison Naguiat, Susie Lim Yap, Cynthia Blanch de Peñalver, Pinky Kahn Saado, Cata Escudero Valdez and Ana Fernandez Rodriguez; (fourth row, from left) Chona Valdes Mercado, Natty Jalandoni Carter, Cita Lerma Juco, Nancy Huang-Santos, Corito Melotindos, Cora Dee Corpuz, Raqui Garcia, Menchu Cabreza Arceo, Agnes Henares-Reyes, Cherry Pelaez Salazar, Sugar Jimenez, Carina Castillo Palma Gil and Dandy Santos Gomez. Photo by FRANCO JOSE LAUREL and choreography by JEREMY VALLEJO
"In this world of complex problems, let us commit ourselves to do at least one act of kindness each day," she concluded.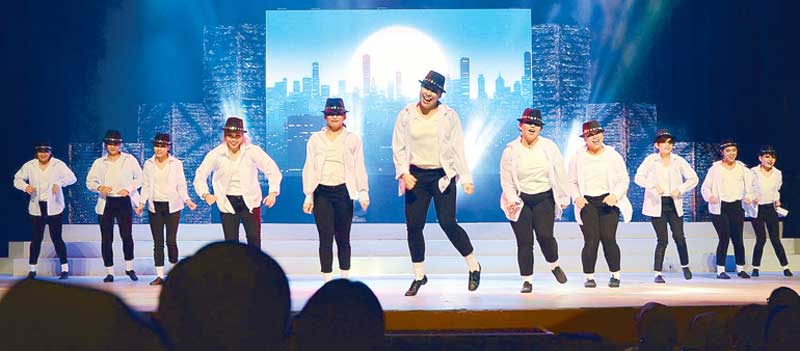 College alumnae dancing to a Michael Jackson medley are (from left) Gladys Lina, Ladee Blanche, Mika Perez, JT Sunga, Pam Evangelista, AC King, Celine Manalo, Leslie Mata, Nikki Cruz, Geraldine Katigbak and Cat Roque. Photo by JUN TAPAN and choreography by SUSAN DECENA
* * *
(Would love to hear from you at miladayjewels@yahoo.com.)