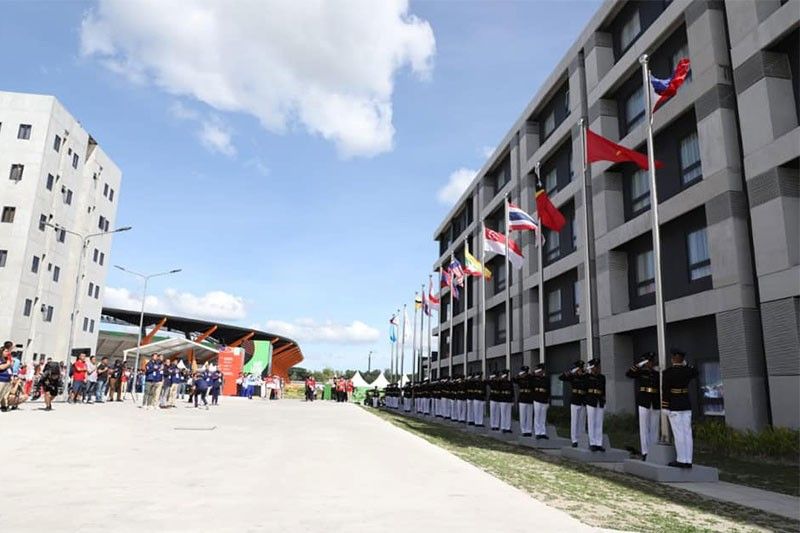 In this Nov. 30, 2019 photo, ASEAN countries raise their flags at the Athlete's Village in New Clark City in Capas, Tarlac as the 30th Southeast Asian Games kick off.
New Clark City Facebook page
Tarlac government not consulted on using New Clark City as quarantine zone
MANILA, Philippines — The Department of Health did not consult the local government of Capas in Tarlac province over its decision to use the Athlete's Village in New Clark City (NCC).
Health Secretary Francisco Duque III earlier announced that the facility originally meant to be used by athletes will be used to quarantine Filipino workers returning from Hubei province in China, the epicenter of the novel coronavirus (2019-nCoV).
Capas Mayor Reynaldo Catacutan has appealed to President Rodrigo Duterte and Duque to consider another facility as quarantine zone for suspected cases of the deadly virus.
"While it is true that I, as a Filipino, am in favor of the repatriation of OFWs from the province of Hubei, China, I feel perturbed by the fact that Department of Health did not at all, in any way, involve the Capas [local government unit] in its last-minute decision for New Clark City Capas to be used as quarantine zone for these Persons under Monitoring," Catacutan said in a statement released Friday.
At least 45 Filipinos in Hubei have requested to be repatriated, according to the Department of Foreign Affairs (DFA).
The DFA has sent a repatriation team in Hubei's Wuhan City to finalize the preparations to bring home Filipinos this weekend.
"They (DFA team) are on the ground and they're taking the risk," Foreign Affairs Undersecrtary Brigido Dulay earlier said.
Upon arrival in the Philippines, the 45 Filipino workers will undergo a mandatory 14-day quarantine per guidelines of the DOH.
As It Happens
LATEST UPDATE: March 28, 2020 - 6:29pm
Follow this page for updates on a mysterious pneumonia outbreak that has struck dozens of people in China.
March 28, 2020 - 6:29pm
Iran announces that 139 more people had died from the novel coronavirus, raising the official death toll to 2,517 in one of the world's worst-affected countries.
Health ministry spokesman Kianoush Jahanpour says in a press conference that 3,076 more cases had been confirmed in the past 24 hours, bringing the total number of infections to 35,408. — AFP
March 28, 2020 - 3:53pm
Actress Iza Calzado tested positive for the coronavirus disease, her manager says.
March 28, 2020 - 1:30pm
Toyota Makati Inc. announces that a team member tested positive for COVID-19.
"The safety and security of our employees, customers, and all of our stakeholders, is paramount to us. Keeping this in mind, and under the guidance and support of the relevant national and local authorities, we are taking immediate and comprehensive actions necessary, including disinfection of the dealership, to prevent any spread of the virus," the company says.
"Furthermore, all employees who have had close contact with the infected member have been quarantined," it adds.
March 28, 2020 - 10:43am
The United States now has more than 100,000 confirmed cases of the new coronavirus, a tracker maintained by Johns Hopkins University shows.
There have been 100,717 cases including 1,544 deaths as of 6:00 pm Eastern time (2200 GMT).
The biggest cluster by far is in New York, home to almost half the cases, overwhelming the hospital system. — AFP
March 28, 2020 - 9:08am
Manila Development Authority General Manager Jojo Garcia has tested positive for the coronavirus disease.
"I wish to inform everyone that I will have to work from home as I have been found positive for COVID-19," Garcia says in a statement.
"I embrace this challenge with full trust and faith in God that I will overcome the same with your prayers," he adds.