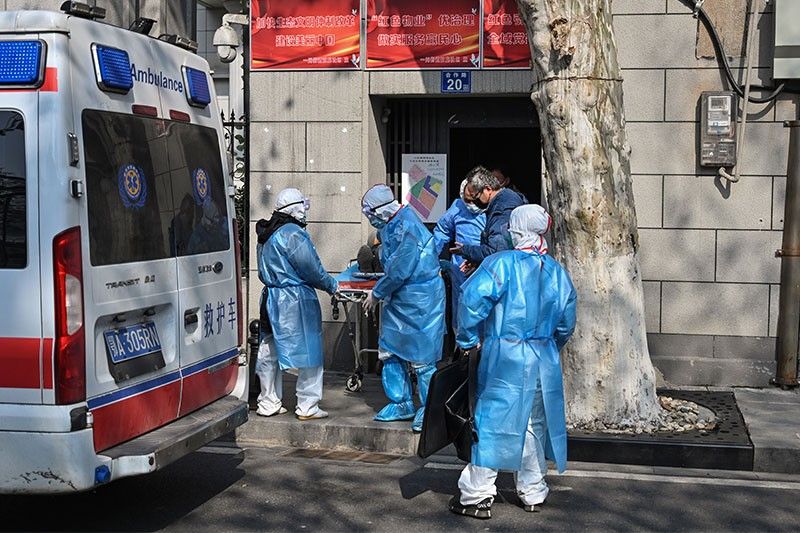 Medical staff in protective clothes are seen carrying a patient from an apartment suspected of having the virus in Wuhan, in Hubei province on January 30, 2020. The World Health Organization, which initially downplayed the severity of a disease that has now killed 170 nationwide, warned all governments to be "on alert" as it weighed whether to declare a global health emergency.
AFP/Hector Retamal
DFA to bring home Filipinos in Hubei starting next week
MANILA, Philippines — The Department of Foreign Affairs is ready to repatriate Filipinos in Wuhan City and the rest of Hubei province amid the novel coronavirus outbreak in China.
The DFA said it will prioritize Filipinos in Hubei province in the first batch of repatriates, which are expected to arrive by next week.
The repatriation of Filipinos in China will be subject to the country's rules on disease containment, including immigration clearances and quarantine process.
"Filipinos who wish to be included in the first batch should contact the Philippine Embassy in Beijing or the nearest Consulate General in their area by [February 3, 2020], Monday," the DFA said in an advisory.
Filipinos repatriated from China will undergo a 14-day mandatory quarantine period upon arriving in the Philippines.
President Rodrigo Duterte, meanwhile, has issued a travel ban to Chinese nationals from Hubei and other parts of the country where the disease has spread.
"It will last until the threat is over given that that the safety of our countrymen is foremost in the President's mind," presidential spokesperson Salvador Panelo said in a statement Friday.
Last week, China shut down public transport and closed a major airport in eight cities around Wuhan City in Hubei, where the virus originated.
The SARS-like virus first emerged in Wuhan, where a seafood market was identified as the center of the outbreak.
The World Health Organization has declared a public health emergency of international concern over the deadly virus as more than 7,700 people have been infected, 170 of which have died.
"Our greatest concern is the potential for the virus to spread to countries with weaker health systems," WHO chief Tedros Adhanom Ghebreyesus said. — with reports from AFP
As It Happens
LATEST UPDATE: February 26, 2021 - 2:05pm
Follow this page for updates on a mysterious pneumonia outbreak that has struck dozens of people in China.
February 26, 2021 - 2:05pm
Japan will end a coronavirus state of emergency early in some regions as the pace of infection slows, reports say, less than five months before the pandemic-postponed Tokyo Olympics.
The emergency measure -- currently in force in 10 regions including Tokyo -- is looser than the strict lockdowns seen elsewhere in the world, and primarily calls for bars and restaurants to close from 8pm.
It is due to end on March 7, but the government will lift the measure this Sunday, just over a week early, in around six prefectures, the reports say. — AFP
February 26, 2021 - 8:45am
Brazil's death toll from Covid-19 surpasses a quarter-million Thursday, a year after the first case was confirmed in the country, which is struggling with vaccine shortages and a devastating second wave.
The new coronavirus has now killed 251,498 people in Brazil, according to health ministry figures — the second-highest toll worldwide, after the United States, where the number passed half a million Monday.
This has been the deadliest week yet of the pandemic in Brazil, with a daily average of 1,149 deaths over the past seven days, according to the ministry's figures. — AFP
February 24, 2021 - 1:05pm
Fashionistas will have to log on to soak up the glamour at Milan Fashion Week, which remains online a year after the coronavirus first swept into northern Italy.
No sharply dressed crowds will attend the extravaganza's opening on Wednesday: it's virtual catwalk shows only, with the likes of Armani and Prada presenting new women's collections for autumn and winter 2021-22. — AFP
February 23, 2021 - 11:31am
Movie theaters in New York City will partially reopen next month, Governor Andrew Cuomo announces, the latest easing of coronavirus restrictions in the Big Apple.
Cuomo says cinemas will be able to operate at 25% capacity, or up to 50 people per screen, from March 5 -- almost exactly a year since they shut. — AFP
February 21, 2021 - 5:39pm
The head of the World Health Organization on Sunday appeals to Tanzania to take "robust action" to combat COVID-19 in the country, where the president has long played down the virus.
President John Magufuli has claimed coronavirus has been has fended off by prayer in Tanzania, and refused to take measures to curb its spread.
But a recent spate of deaths attributed to pneumonia has struck both members of the public and government officials.
And Magufuli on Friday appeared to admit the coronavirus was circulating in his country after months of denial.
WHO director general Tedros Adhanom Ghebreyesus said a number of Tanzanians traveling to neighboring countries and beyond have tested positive for the coronavirus.
"This underscores the need for Tanzania to take robust action both to safeguard their own people and protect populations in these countries and beyond," he said in a statement.
Tedros said he had urged Tanzania in late January to take measures against the pandemic and to prepare for vaccinations.
"Since then I have spoken with several authorities in Tanzania but WHO is yet to receive any information regarding what measures Tanzania is taking to respond to the pandemic. — AFP