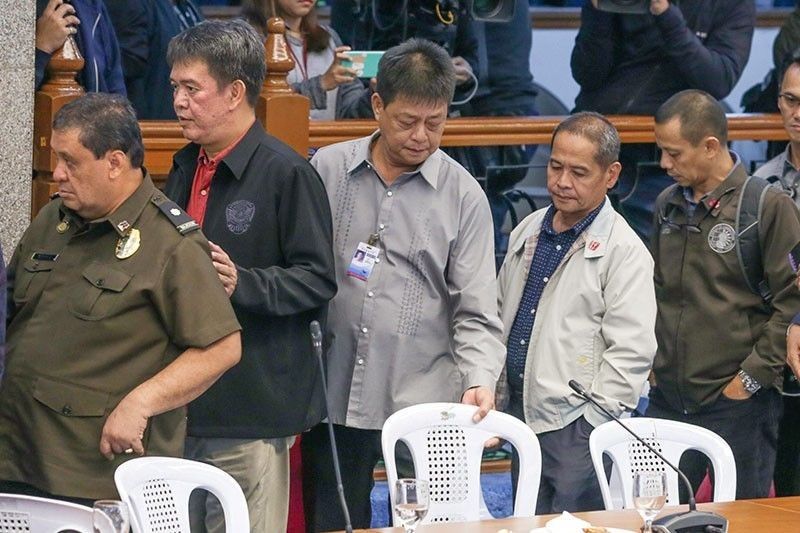 IN CONTEMPT: Bilibid hospital doctor Ursicio Cenas (left photo), Bureau of Corrections legal chief Frederic Santos and documents chief Ramoncito Roque (right photo) are escorted by Senate security officers after they were ordered detained at the Senate for contempt during a hearing last September 12 on prison irregularities.
The STAR/Geremy Pintolo
BuCor officials detained at Senate seek relief from appeals court
MANILA, Philippines — The Bureau of Corrections officers cited in contempt by senators sought relief from the Court of Appeals for their continued detention .
BuCor Records and Documents Section chief Ramoncito Roque, legal officer Fredric Anthony Santos and New Bilibid Prison Hospital medical officer Ursicio Cenas, through their lawyer, filed a petition for habeas corpuse before the appeals court on Wednesday.
They asked the court to direct Senate sergeant-at-arms, Maj. Gen. Rene Samonte Jr. to "produce the body" of the petitioners and summon the respondents—Sen. Richard Gordon and Senate President Tito Sotto— before the court.
During the September 12 Senate inquiry into the Good Conduct and Time Allowance law, Sen. Ronald dela Rosa moved to cite the three in contempt for their statements before the Senate Blue Ribbon Committee.
Sen. Panfilo Lacson also accused them of "lying" to their faces.
"The senators would like to see some measure of forthrightness, truthfulness so that they won't take us for a ride. We're working, and they're strolling. My questions are easy but they're evasive," Gordon, chair of the Blue Ribbon committee, added.
READ: All BuCor officials face ax; 3 execs detained for contempt
Petitioners: We were bullied, called liar to our faces
They narrated that while they were explaining, they could not complete their testimonies as they are "arbitrarily interrupted, their answer peremptorily cut short."
"[T]he Committee and its individual members have a priori prejudged the Petitioners to have been guilty of certain miscreance—that is allegedly 'selling' GCTA to certain inmates of the [NBP] and for receiving bribes...—based upon the testimony of other witnesses...whose testimony had been predetermined by the Committee to be true and accurate," they told the CA.
They maintained that they remained truthful in their testimonies but it was "evident" that the Committee will not accept testimonies that go against the testimony of its own witnesses.
"Petitioners were thus unjustly confronted with the execrable trilemma of self-condemnation, perjury and contempt, effectively denying them their right to due process," they added.
SC: Indefinite detention illegal
The BuCor officials also raised that the duration of their detention remains indefinite.
They have been held at the Senate office since September 12.
The officials also cited the SC ruling on the release of Aegis Juris fratman Arvin Balag, also cited in contempt, that read: "The Court finds that the imprisonment under the inherent power of contempt by the Senate during inquiries in aid of legislation should only last until the termination of the legislative inquiry under which the said power is invoked."
RELATED: SC: Senate's power of detention over persons cited in contempt 'not definite'
They stated: "Based on the foregoing, there is absolutely no factual and legal basis for the Order citing Petitioners in contempt."