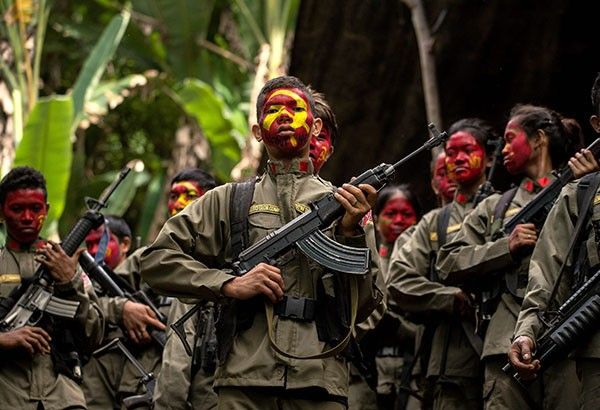 This photo taken on July 30, 2017 shows guerrillas of the New People's Army (NPA) in formation in the Sierra Madre mountain range, located east of Manila.
AFP/Noel Celis
People on DOJ's amended 'terror' list not rebels, NDFP claims
(Philstar.com) - January 18, 2019 - 2:33pm
MANILA, Philippines — The eight people whom the government wants declared as terrorists—down from more than 600—are not connected to communist rebels, the National Democratic Front of the Philippines said.
NDFP Chairperson Fidel Agcaoili said in a statement that the Department of Justice's amended petition is a "legal fiction" that "caps the all-out 'legal offensive'" against the "revolutionary forces" of the Communist Party of the Philippines and New People's Army.
The DOJ, in its amended petition, has implicated the following as alleged communist officers:
Jose Maria Sison, now chief political consultant of the NDFP
Jorge Madlos of the NPA National Operations Command
Jaime Padilla, a supposed leader of the Melito Glor Command
Francisco Fernandez, an alleged secretary of the Negros Region Committee
Cleofe Lagtapon, a Southeast Front head of the same committee
Antonio Cabanatan, secretary of the Mindanao Commission
Leonido Nabong, head of the Western Mindanao Regional Party Military Commission
Myrna Sularte, secretary of the Northeastern Mindanao Regional Committee
The amended petition came after the DOJ suffered a setback before the Manila court as Presiding Judge Marlo Magdoza-Malagar dropped United Nations special rapporteur on the rights of indigenous peoples Victoria Tauli-Corpuz and three others from the "terror list."
The NDFP said that there is no link between the eight individuals and the CPP or NPA.
"Such legal hocus pocus completely disregards accepted international principles and practices on due process, double jeopardy, bill of attainder, freedom of though and the like," the statement further read.
NDFP also said that the petition is merely a "rehash" of pending cases that were either resolved, dismissed with finality, or "trumped up charges" pending before local courts.
It added that the petition would impact "legal democratic organizations and activists" as would the government's continued linking of activists and government critics to the communist rebels.
"There is imminent danger that they will be subjected to the arbitrary measures allowed under the Human Security Act," the NDFP, which negotiates for the CPP-NPA, added.
READ: DOJ pursues CPP terror tag after Sagay massacre
Members of the Alliance of Concerned Teachers have asked the Court of Appeals to stop the police's "profiling" of their members and allies. The Philippine National Police justified their act, claiming CPP founding chairman Jose Ma. Sison identified the ACT as among the "legal democratic forces of the Philippines."
The STAR reported that the Department of Justice has drastically reduced its list of supposed terrorists to eight from 649.
Peace talks between the government and the communist group collapsed in November 2017. The government has since decided that it will conduct "localized" peace talks instead of with the NDFP. — Kristine Joy Patag