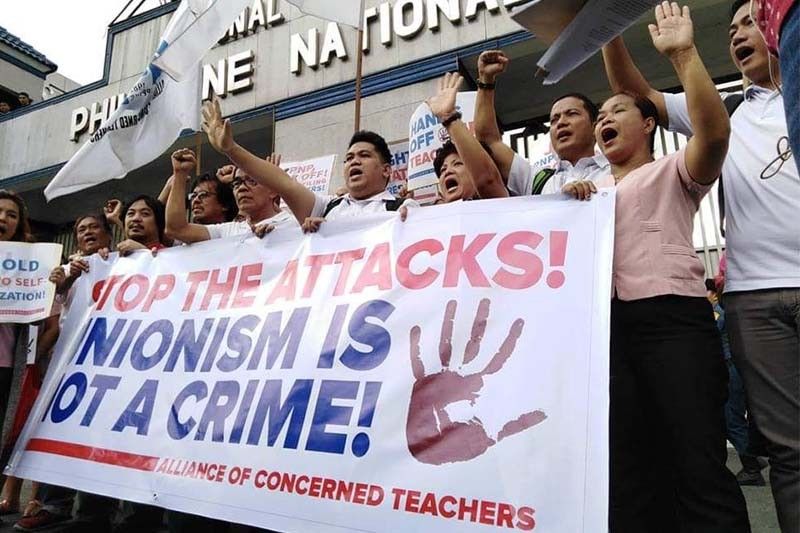 In this photo taken on Jan. 7, 2019, members of the Alliance of Concerned Teachers trooped to the Philippine National Police headquarters in Camp Crame to denounce the profiling of their members.
Alliance of Concerned Teachers-Philippines/Facebook.com
Amid petition, PNP insists 'profiling' of ACT within bounds
(Philstar.com) - January 17, 2019 - 4:50pm
MANILA, Philippines — The Philippine National Police stood by its basis on "intelligence gathering" on members of the Alliance of Concerned Teachers amid a petition urging the court to declare it as unconstitutional.
Chief Superintendent Benigno Durana Jr., PNP spokesman, reiterated that they are mandated to gathering information on perceived "enemies of the state," including organizations identified as its "allies or front organizations."
Members of ACT, through the National Union of Peoples' Lawyers, sought the Court of Appeals to put a stop into the police's profiling of their members.
They asked the court to declare the PNP memorandum directing the "inventory" of their members as unconstitutional as it violates their members' rights enshrined in the Constitution and the Data Privacy Act.
READ: Declare 'profiling' ACT members unconstitutional, court asked
Durana said that they are ready to answer the petition before the court, but he stressed: "Gathering intelligence allows the state to distinguish genuine progressives from unrepentant communist terrorists out to overthrow a duly elected government through violent means; routinely extort, burn and loot assets of businesses that gave livelihood to peace-loving citizens of this country."
The PNP also said that it recognizes ACT as a legitimate organization until "enemies of the state" said that it is "one of their own."
ACT is affiliated with the national democratic activist umbrella group Bagong Alyansang Makabayan, both of which are legal groups. Neither activism nor forming unions and organizations are crimes under Philippine law.
A STAR report said that Durana was referring to a Youtube video of a much younger Jose Maria Sison, founding chairman of the Communist Party of the Philippines, identifying "legal democratic forces of the Philippines" which included ACT. Sison did not refer to ACT and the other organizations he mentioned as a "front organization."
It is unclear when the video was taken, but the video was uploaded on the platform in September 2008.
ACT, according to the petition it filed before the CA, was founded on June 26, 1982 and is the largest and broadest organization of teachers and workers in the education sector.
"Because Sison himself has identified ACT as a front organization of the CPP/NPA/NDF, the burden is now upon members of ACT to dissociate themselves from this terrorist organization and denounce its infiltration, manipulation, and use of the ranks of Filipino educators," Durana added.
Durana also said that the Data Privacy Act does not cover information necessary in order to carry out "the functions of public authority which includes the processing of personal data for the performance by the independent, central monetary authority and law enforcement and regulatory agencies of their constitutionally and statutorily mandated functions."
The National Privacy Commission has earlier urged the PNP to explain their memorandum and the PNP said that they are ready to explain their memorandum to the NPC. — Kristine Joy Patag