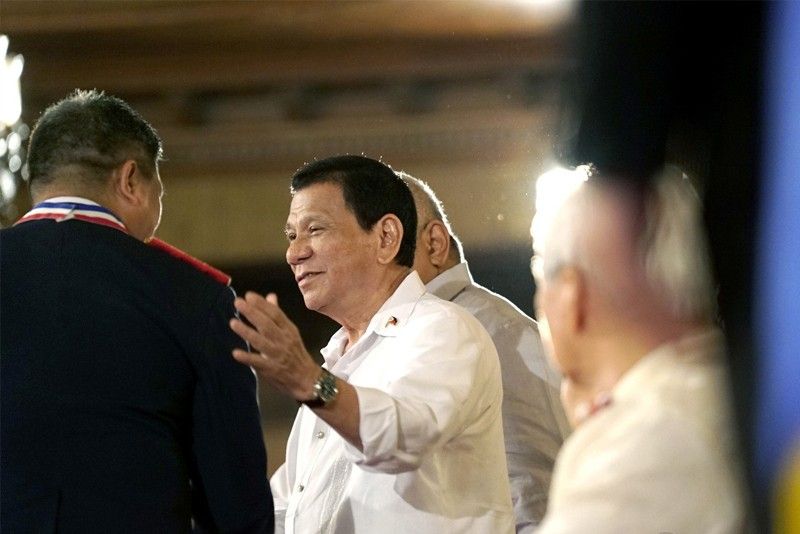 President Rodrigo Duterte leads the 2018 Outstanding Government Workers Awards Rites at the Rizal Hall of Malacañan Palace on September 27, 2018.
Presidential photo/King Rodriguez
Duterte's satisfaction rating rebounds to 'very good' in Q3: survey
MANILA, Philippines — Public satisfaction with President Rodrigo Duterte returned to the "very good" territory in the third quarter, according to a Social Weather Stations survey that also showed a decline in the firebrand leader's rating among the rich and very poor.
Results of a September 15 to 23 poll of 1,500 adults show 70 percent of respondents satisfied, 14 percent undecided, and 16 percent dissatisfied with Duterte.
That yielded a net satisfaction — used by the pollster as a rating of the president's performance — of "very good" +54, up by nine points and one grade from "good" +45 in the second quarter, which was Duterte's lowest rating since becoming president in 2016.
Broken down, satisfaction with Duterte recovered after a double-digit spike in his score in Balance Luzon. His ratings barely moved elsewhere.
Lower ratings among rich, very poor
By socioeconomic classes, Duterte's rating was up by 13 points among those who belong to class D or "the masa," but sharply fell by 25 points among classes ABC and by seven points among class E.
The survey was taken more than a week after the government announced an over nine-year high inflation rate of 6.4 percent in August. In a bid to temper soaring prices, the Bangko Sentral ng Pilipinas has jacked up its policy rate by a cumulative 150 basis points from May to September.
The surge in inflation continues to hurt the poor, who account for nearly a quarter of the country's 105 million population.
Meanwhile, higher input costs brought about by rising commodity prices have hit business confidence in the third quarter, a central bank survey published early this month showed, while rising interest rates make securing bank credit for business expansion plans more expensive.
READ: BSP: Inflation dampens business confidence in Q3 | Fitch unit: Inflation a risk to Philippine consumers
Based on SWS methodology for net satisfaction ratings, a score of 70 and above is considered excellent, 50 to 69 is very good, 30-49 good and 10-29 moderate.