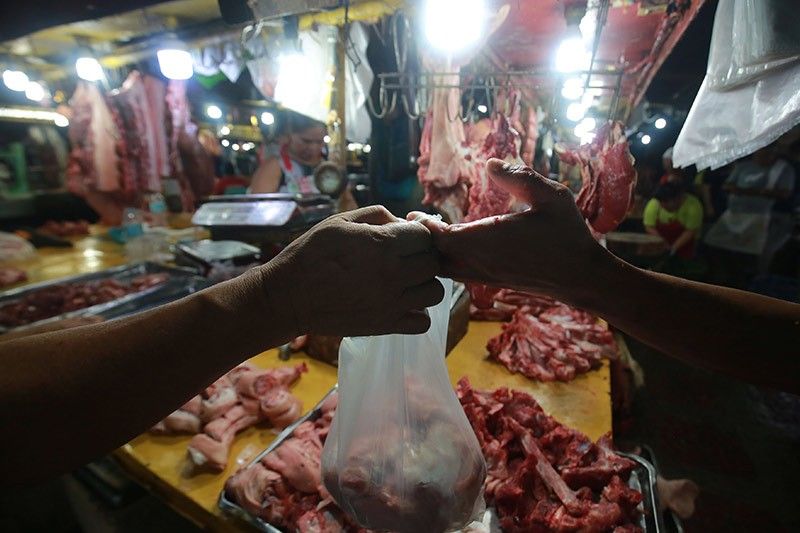 A vendor hands over chopped meat to a customer at Nepa Q Mart market in Kamuning, Quezon City on Tuesday, July 3, 2018.
The STAR/Michael Varcas
Fitch unit: Inflation a risk to Philippine consumers
MANILA, Philippines — Consumption in the Philippines will likely remain rosy on the back of strong economic growth, although rising prices of key consumer items could threaten this outlook, Fitch Solutions said.
Inflation spiked to a fresh five-year high of 5.2 percent in June from May's 4.6 percent, putting the year-to-date figure at 4.3 percent, or above the Bangko Sentral ng Pilipinas' 2-4 percent target range. The BSP has responded by delivering back-to-back rate hikes.
In a research note, the Fitch Group unit said the Philippines remains one of the strongest consumer growth markets in Asia supported by strong economic growth trajectory, high levels of remittance inflows and falling unemployment.
But elevated inflation due to higher excise taxes, rising global oil prices and sustained credit growth poses a "slight risk" to consumption, it warned.
"The Philippine consumer will continue to outperform over 2018 and into 2019, driven by an ongoing boom in the services sector and one of the fastest-growing economies in South East Asia," Fitch Solutions said.
"Inflationary pressure does present a downside risk over 2018 and beyond," it added.
Amid double-digit credit growth that has fueled concern of overheating, the Philippine economy grew 6.8 percent in the first quarter, faster than the preceding three month's 6.5 percent and the 6.4 percent recorded in the comparable period last year.
However, the first quarter economic growth figure fell below the government's target band, which Socioeconomic Planning Secretary Ernesto Pernia attributed to "spoiler" inflation.
Data from the Philippine Statistics Authority show consumer spending, which accounts for about seven-tenths of the Philippine economy, grew at a slower pace of 5.6 percent in the first quarter of 2018 from 5.9 percent a year ago.
To contain inflation, the BSP raised its benchmark rates twice this year. Higher interest rates discourage people from borrowing money and spending, causing a decline in demand which, in turn, tempers inflation and can even slow down the country's economic growth to avoid overheating.
For Fitch Solutions, rising interest rates are unlikely to hurt household consumption.
It also raised its growth forecast for the Philippines to 6.5 percent for 2018 from its previous estimate of 6.3 percent. If realized, this would fall below the 6.7 percent actual expansion rate in 2017
"We do not think that these rate hikes will be enough to dampen aggregate demand and continue to expect an uptake in consumer credit and robust consumer spending," it said.