Gabriela slams Duterte for order to shoot female NPAs in vagina
February 11, 2018 | 6:45pm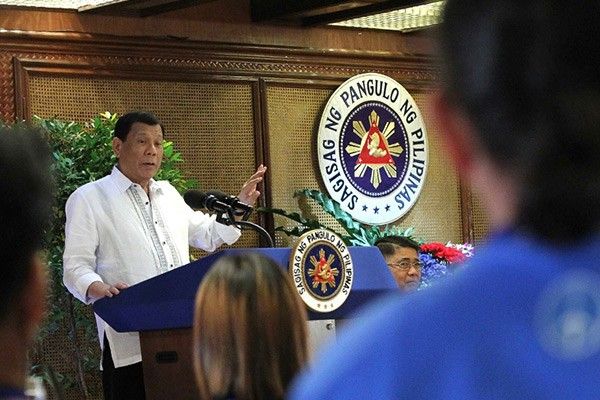 MANILA, Philippines — Gabriela Women's Party condemned President Rodrigo Duterte's latest order to soldiers to shoot female New People's Army rebels in the vagina.
Gabriela Women's Party called Duterte a "fascist" for this.
"Duterte's latest nasty remark openly encourages violence against women, contributes to the impunity on such, and further presented himself as the epitome of misogyny and fascism terribly rolled in one," Gabriela Rep. Emmi de Jesus said in a release.
"He is dangerously pushing the fascist Armed Forces of the Philippines to commit more bloody human rights violations and grave abuses of international humanitarian law, and takes state terrorism against women and the people to a whole new level," she added.
The group was reacting to Duterte's anti-women remarks before former rebels last February 7. He delivered the speech in Visayan language.
In the translated transcript of the Presidential Communications Operations Office, Duterte was questioning why women join the NPA movement. He then ordered government troops to shoot their vagina saying it would be useless.
The president clarified that these women would not be killed.
"Bring that. Tell the soldiers 'There's a new order coming from mayor We won't kill you. We will just shoot your — so that...' If there are no — it would be useless," the translated transcript of the speech read.
Meanwhile, De Jesus also countered that Roque's statement that "
feminists are sometimes OA
" or overreacting, saying "speaking up for women's rights will never be too much under a regime that brazenly degrades and disrespects women."
De Jesus said women from various sectors would join protests to denounce Duterte's "macho-fascist" leadership. These protests are the One Billion Rising Event slated on February 14 and International Women's Day on March 8.
"We cannot just take these vile remarks sitting down," De Jesus said.
The solon added that the huge protest also opposes the anti-poor and tyrannical policies of the Duterte administration. — Rosette Adel