Are Heaven Peralejo and Marco Gallo dating for real?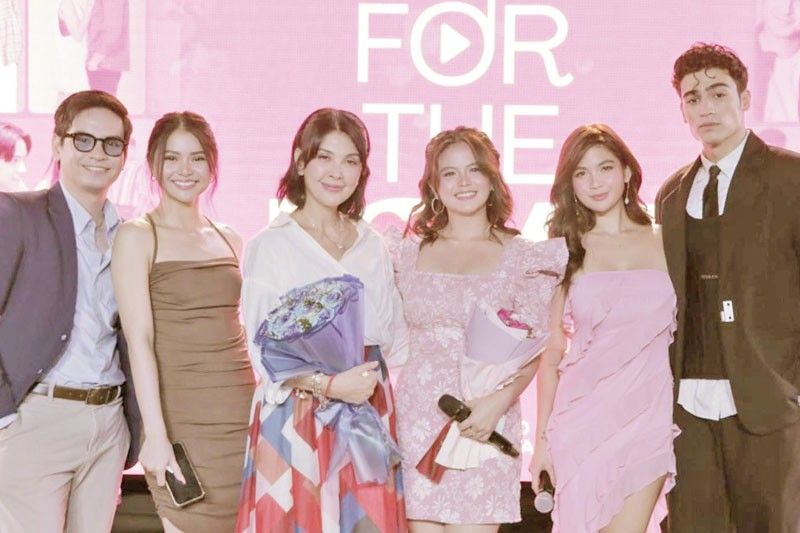 MANILA, Philippines — Amid Marco Gallo and Heaven Peralejo's obvious chemistry on screen and their sweet postings for each other on social media, the former maintained that they don't want to put a label on the kind of relationship that they have now.
"Just like that time I explicitly said that we're in this situation, where we do not like to put a label (on) it. Just because you put labels, everything follows. There's expectation. There are responsibilities. And what we have within is… See, I can't even call it a friendship. You know, it's something. It is something," remarked Marco during the recent press conference of TV5's For the Love.
The two topbill the first of the 13 episodes of the romance drama anthology, For the Love, hosted by Pops Fernandez, which premieres today (July 29) at 3:20 p.m. on TV5. Aside from being the story narrator, Pops will also perform some of the Original Pilipino Music (OPM) love songs as soundtrack per episode.
"I think if we have to say something… we will say it," declared Heaven. "We are both open. So, you know, what you see is what you get."
"It's not about putting a label (on) it or anything. I think we are just, you know, enjoying each other's company and we are taking our time," she furthered. "I think like ampangit din naman na naging kami because of all the parang pressure (around us) and because parang alam mo yung na-i-in love na lahat. Of course, we really want to be super sure and we are still getting to know each other."
Marco chimed in, "That isn't really our priority to rush into anything. 'Cause, you know, we don't wanna waste it."
Heaven further explained, "I think ayoko lang din maging kami because we are in a love team. I want us to be together, if in time maging kami, because we decided to (be together) and we love each other."
Among the list of the craziest gestures Marco did for his The Rain in España co-star was when he came rushing, despite heavy rains, just to see her and deliver her food.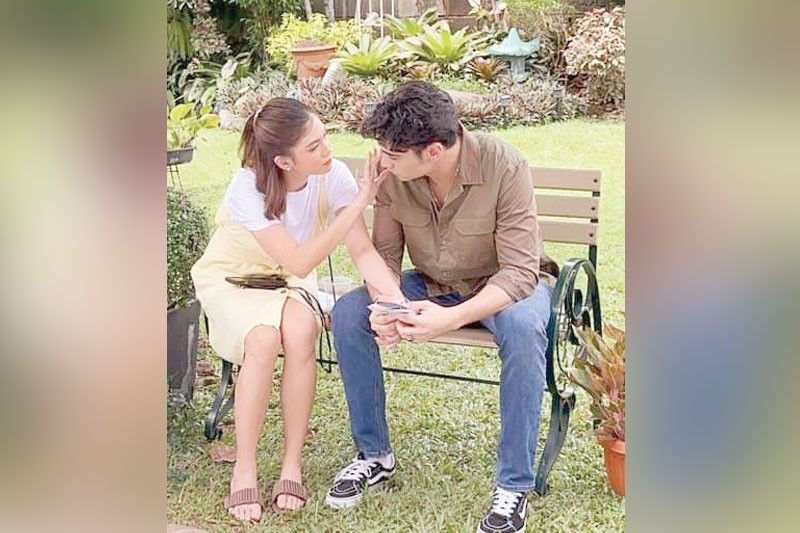 Marco recalled, "So, basically when we have work or when we decide to hang out, usually, it's a rush hour and the Grab doesn't work. So, even if it's raining, I'll go take Angkas and get there, wherever we need to go, all drenched, wet."
"I did it still. This time, Angkas and Grab weren't available. And so, I begged the Lalamove guy. I booked the truck and hopped into the truck (so) I could see her."
Heaven said she appreciated Marco's gesture. "He was all drenched that time. He brought food. He likes to cook and hindi ako masyadong kumakain or nag-o-order. So, sometimes, he would visit me wherever I am, on set or in my mom's house, and offer food, then leave. I appreciate those moments."
Moreover, the biggest sacrifice Heaven did for love involved money. She lent almost half a million to an ex-boyfriend who didn't pay her back. "That's how I love. All-out… 'God bless' (to him) and let's say, for charity na lang."
"Si Marco hindi ako pinagbabayad niya, so I'm thankful," she added.
When queried if Marco is courting her, she replied, "I don't think so. He is just thoughtful."
On the other hand, Marco said his greatest sacrifice for love was time. "I think in the past, I started realizing that I don't like dating just for playing around. If I date, I want it for marriage. I'm not saying that I wanna marry soon. I'm just saying I wanna achieve goals with one person."
"I don't wanna keep switching from left to right. And I was with this person that I spent three years with (non-showbiz former girlfriend), the thing that hurt the most was the time wasted. But I mean, it wasn't really wasted but at the same time, it's still three years, you know."
The loveteam lauded the storyline of their For the Love episode, titled Kahit Kailan, based on South Border's hit track.
The pilot episode is about multi-verses, shared Heaven. "And sa iba pong multi-verses, we will still choose each other. I think the challenge was we portrayed different persons per sequence but the love is there."
"I think she really said everything," interjected Marco. "It's nice to imagine that two people are destined to be together. I mean every single multi-verse and just to see it and to tape it, I think it was fun and definitely kaabang-abang (worth watching out for)."
The actor dedicated John Mayer's XO as his theme song for Heaven. The latter first mentioned South Border's Kahit Kailan as her song for him, but Marco asked him to say her real answer and she said, "Labyrinth by Taylor Swift."
Both weren't able to get a ticket for Taylor's concert abroad, but they were able to buy one for Coldplay's music event in January.
Meanwhile, different love teams will be featured in the upcoming For the Love episodes, including Aubrey Caraan and Jairus Aquino, Krissha Viaje and Wilbert Ross, Bea Binene and Gab Lagman, to name a few.
Some of the directors who will helm the other episodes include JP Laxamana, Rod Marmol, Joel Ferrer and Dustin Celestino.