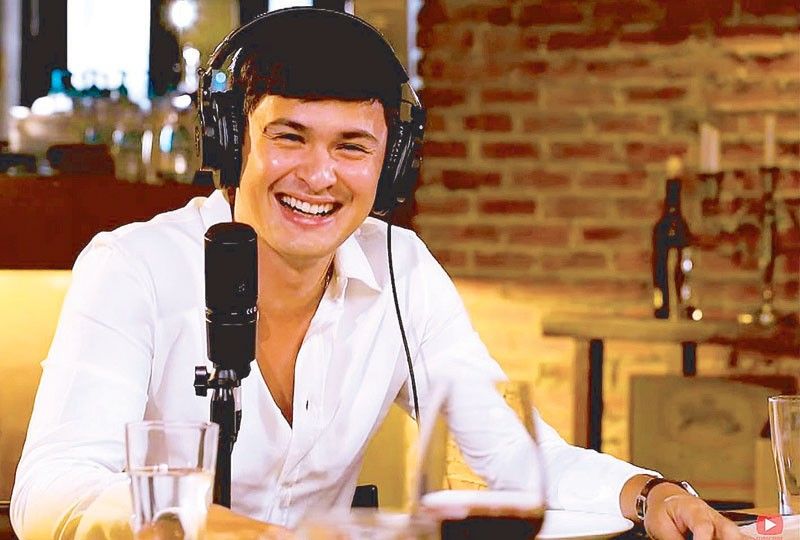 'So, yun ang goal natin with Matt Runs podcast is we break away from that bubble we're living in, that bubble of having x amount of followers, x amount of likes, x amount of comments. Let's break that bubble sometimes and realize na hala may ibang tao na may interesting stories and that they will inspire us but (they're) not necessarily in the limelight.'
STAR/ File
Matteo Guidicelli runs the show
Matteo Guidicelli is running the show via a podcast titled Matt Runs, which launched on Spotify last June 11.
There are two million podcasts or 48 million episodes in the whole world, according to Podcasthosting.org. During this pandemic, Filipino audiences were getting introduced to podcasts hosted by local celebs. The actor-athlete pointed out that podcasting is still a relatively new horizon in the country that he is more than happy to explore.
"I really like starting conversations with people, so why not put up a podcast?" Matteo told The STAR in a recent one-on-one interview. "Podcasting is fairly new in the Philippines, but very big in America and out there."
He continued, "So sabi ko, why don't we try it and see where it goes? So, I came out with the title Matt Runs. Why Matt Runs? Because everybody knows Matteo's an athlete, triathlete, always running, being active, and this time, it's Matteo's conversations running with somebody else, having a running conversation on the table, so to speak."
"So, yun, we sit down, we have unlimited talks or conversations that run forever. Or, until my producer tells me to stop talking na hahaha!"
Matteo himself enjoys listening to podcasts, with the show of comedian Joe Rogan as his favorite. "We may not get him, you may find him boring but he's so insightful and there are so many things he can pick out from different people, from the richest person to a nobody. He just talks to the person casually."
Asked what made him think the Pinoy audience is ready for podcasting, he said, "I'm not really sure... Baka nga di ready hahaha! Tingnan natin. But I've always wanted to… my dream was to have my own TV show and talk to people. I guess everything happens in God's time. This is what's happening. So, we're materializing it and will see where it brings us."
Meanwhile, Matteo's line-up of guests are a mixed bunch, not confined to showbiz, with topics running the gamut, from love, passion, love of country, fitness, lifestyle, to investing, money and business.
"It's very broad. We have very different guests from showbiz to business to ordinary people because I believe everybody has a story to tell. Everybody (on the show) has an interesting story that a lot of people should know about. And I think that story can also inspire us."
And he's digging deep into these conversations. "(I'm) just trying to learn about life and about an individual. If I find somebody interesting, I'd like to learn more about him. And I hope he also learns with me," he said.
"So, yung goal natin dito is we break away from that bubble we're living in, that bubble of having x amount of followers, x amount of likes, x amount of comments. Let's break that bubble sometimes and realize na hala may ibang tao na may interesting stories and that they will inspire us but (they're) not necessarily in the limelight."
His first guest is TV journalist Dyan Castillejo. "We all know who Dyan Castillejo is. Yes, she's doing Miss Universe, she's a sportswoman, never gets old, always fit, but did we know about her relationship with her only son? How is she as a mom? She is a personal tennis coach to her son, so how pushy or intense can she be (laughs)?"
Another guest is the new Armed Forces of the Philippines chief of staff Cirilito Sobejana. "Gen. Sobejana is a Medal of Valor awardee (Note: There are only 41 Medal of Valor recipients since 1935.) He's such an incredible person that I get speechless sometimes, no most of the time, when he's in front of me."
Matteo, who is an Army reservist with the rank of second lieutenant, said Matt Runs also features soldiers and their extraordinary stories.
"Maraming mga kwento sa Armed Forces na sobrang interesting na hindi alam ng tao, alam mo yun? Maraming mga war stories. Minsan ina-idolize natin palagi yung mga American army, na, 'Wow ganito, Afghanistan,' pero maraming kwento mga Philippine Army and Armed Forces in Mindanao, sa Marawi na hindi natin alam. So I'd like to make this platform an opportunity for people to learn things like that."
Other guests include fitness experts and even religious personalities.
In his podcast's description, Matteo shared his wife Sarah Geronimo's cute observation about her husband seemingly being "Mr. Congeniality."
"My wife tells me 'Love, friend mo ang lahat noh?'," he wrote.
This proved to be helpful in looking for guests for Matt Runs. He recalled to The STAR his usual pitch to friends: "I'm very blessed and very fortunate that people are nice to me. Along the way, I was able to meet a lot of incredible people and they've become my friends.
"So, I call them up and say, hey, you want to sit down with me and talk. Why, dude, what's happening? I have a podcast. What do you want to talk about? I want to talk about you. Me? I'm not interesting, I'm not sikat, nobody knows me, I'm not showbiz. I'm kinda like, dude, you're interesting. You're a super successful businessman who started from nothing, you can inspire a lot of people to do the same. He's like, I can try man but I'm boring. So, ang daming kwento na ganyan," he narrated.
"So far yes naman lahat... Ah meron pala hindi, pero di ko na siya babanggitin kasi I don't really like him hahaha," Matteo joked.
Meanwhile, when asked to differentiate his experiences between hosting for a live show and a podcast, he said, "(In Matt Runs), I try to keep the conversations running as organic and as real as possible… as organic and real as they get because there are no cuts here, no edit out, walang script.
"Sometimes, in TV shows, there are scripts, may timeline na sinusundan. Ito tuloy-tuloy lang. They can run from 20 minutes to two hours, it really depends. Kapag wala na akong tanong, eh di tapos na, hahaha!"
He added that it has been a humbling experience talking to various people for his podcast.
"Like I said, majority of us feel like we're inside this bubble, na we feel like ito na yung mundo, ito na, ito na, pero sa totoo lang, there are so many people out there living out their own lives. And sometimes, it's humbling to know that opportunities are limitless, marami pa ang mangyayari sa buhay, so marami pa tayong matutunan ba. Sometimes, we're at home, we're sad, (thinking) wala na akong pag-asa, wala akong mapupuntahan, pero sa totoo lang marami pa."
His podcast is co-produced by G Productions, the production company he established with his wife of a little over a year this pandemic, and Viva, his talent management agency. Sarah's Tala film concert was also a G production. He said, "Marami pang projects in the future. Sana, they can materialize for myself and for Sarah. We have exciting things coming up."
He also welcomes the possibility of co-hosting a podcast with his wife in the future.
"I think that will come. I think that's a very insightful and interesting topic (marriage), especially that I'm in that state, I'm a married man and all these things. I think, one day!"
For now, the wifey is giving her full support as the husband runs the show.
"(Sarah's) great! She supports (the podcast), actually for my first episode she's the one pressing the camera hahaha! So, she has a role. She's supportive and she's very good.
"I do actually (consult her on the topics) because something interesting for me might not be interesting for my wife. Or, something interesting for me might not be interesting for her. So we got to have two worlds interested in the same thing."