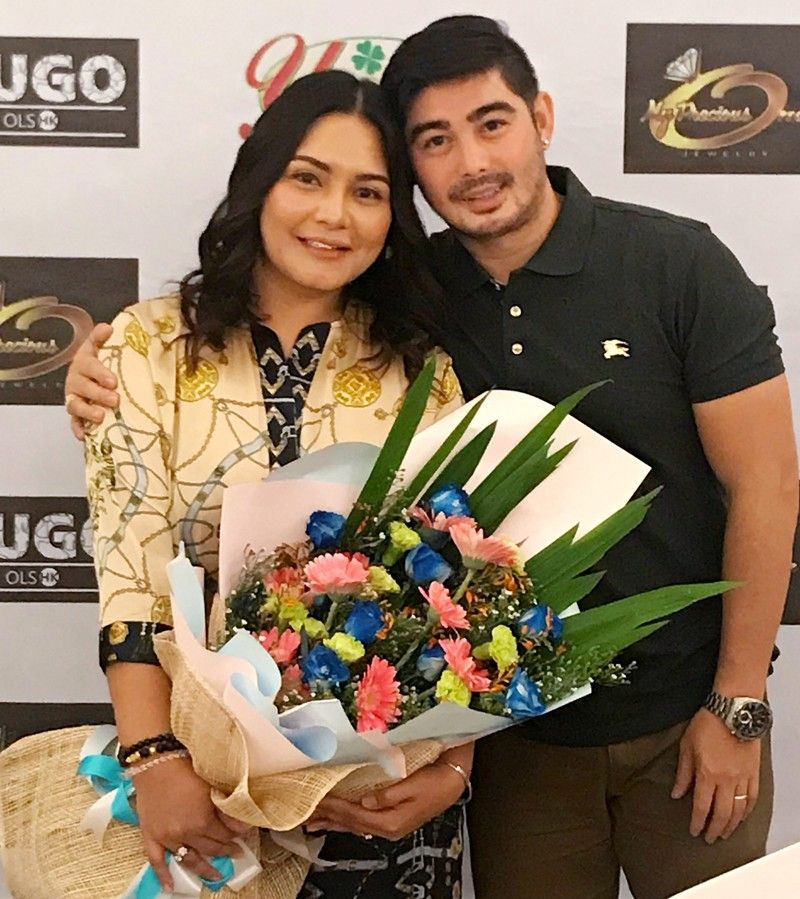 Danilo Barrios and wife Regina Soqueño.
Danilo Barrios: From Streetboy to farm boy
FUNFARE
-
Ricky Lo
(The Philippine Star) - July 10, 2019 - 12:00am
Have you ever wondered whatever happened to Streetboys, the dance group managed by director Chito Roño?
Well, the group has long disbanded and the members have gone different ways, most of them have families of their own.
Still visible on TV as It's Showtime co-hosts are reelected Makati Councilor Jhong Hilario and Vhong Navarro, both of whom star in movies every now and then. Meynard Marcellano is reported to be performing at the Universal Studios in Singapore while two other members have opted to stay in the UK after appearing in the West End production of Miss Saigon.
What about Danilo Barrios, said to be the cutest among the Streetboys?
He's now living in a farm 20 kilometers from Tarlac City with his wife, Regina Soqueño, and their two children aged five (kindergarten) and three (nursery), plus Danilo's 15-year-old daughter with a former girlfriend (not the dancer who is now happily married to a politician in Pampanga).
"Masaya at tahimik," is how Danilo and Regina described their present life far from the maddening crowd. "So different from showbiz," added Danilo. "Less stress, quiet and simple. We own our time, no pressure."
The couple recently met with a handful of movie writers to talk about the thriving family business — actually four businesses: Tatioactive DX Beauty & Wellness Center (in Quezon City), Ysabelle (food supplements, etc.), Hugo (pillows and blankets, etc.) and My Precious One (jewelry).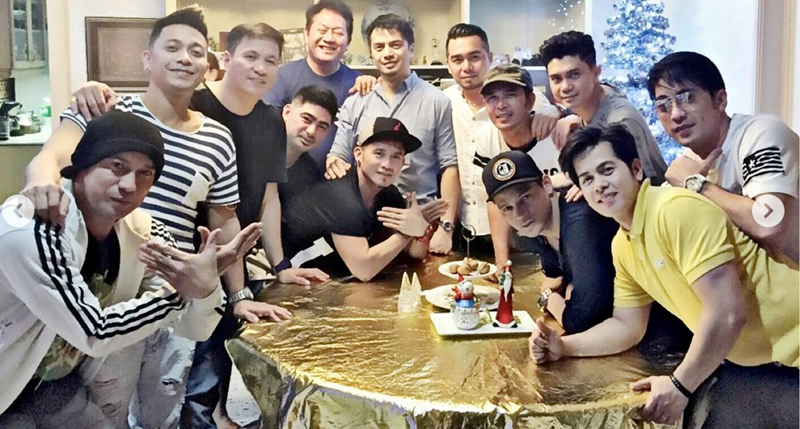 Reunited with fellow Streetboys for the birthday celebration of their manager, director Chito Roño (back row, third from left). Photo from Jhong Hilario's Instagram
"Managing a business is just like being in showbiz," admitted Danilo. "Both are hard, parehong mahirap. The only difference is that in showbiz, you are tied to a schedule. In our own business, sarili namin ang oras."
Married for more than five years, Regina and Danilo were introduced by Regina's friend when she was 16 (a few years younger than Danilo). They lost track of each other and met again through Facebook after a few years.
"At first," confessed Regina, "my parents and my lola were strict; they didn't approve of Danilo kasi daw may anak na. I learned that he was a dancer only much later. But I love him; he's my first love, so we eloped. Danilo is shy, kulang sa kapal ng mukha, so we didn't really have a long courtship. In December, we will celebrate our sixth wedding anniversary. No regrets."
No, said Danilo, he doesn't really miss showbiz, not now anyway.
"I focus on our business(es) and our children, who are fast growing up. What I miss about showbiz is the camaraderie, the friendship. I miss my fellow Streetboys. It's good that we reunite once in a while for special occasions, just like when Kuya Chito celebrated his birthday."
(E-mail reactions at rickylophilstar@gmail.com. For more updates, photos and videos, visit www.philstar.com/funfare or follow me on Instagram @therealrickylo.)