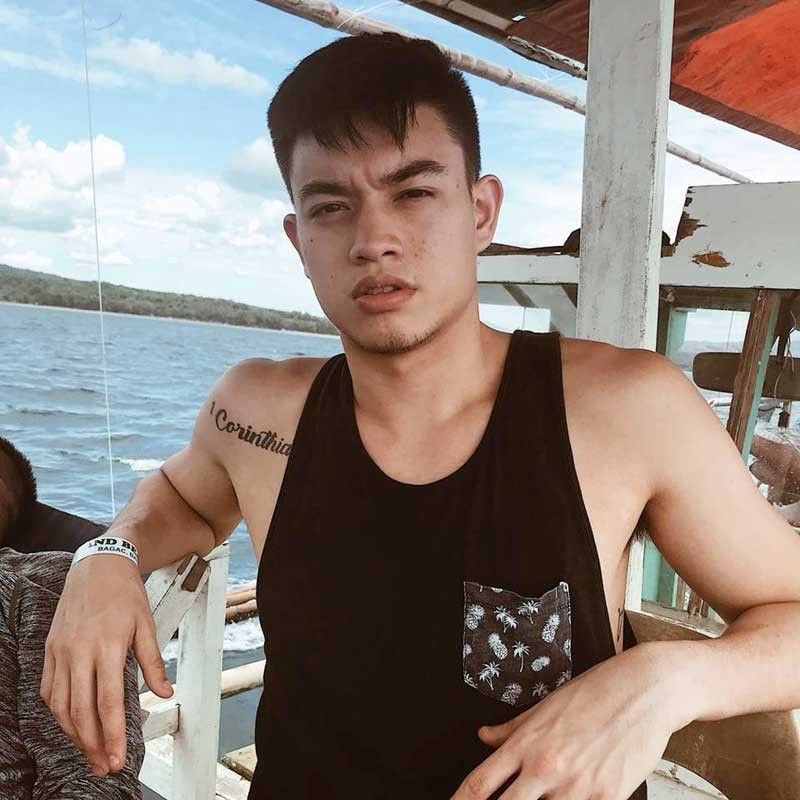 Body Talk with Joshua De Sequera, the towering Middle Blocker of De La Salle–College of Saint Benilde's Blazing Spikers
FUNFARE
-
Ricky Lo
(The Philippine Star) - January 23, 2019 - 12:00am
The National Collegiate Athletic Association (NCAA) Season 94 opened its volleyball series late last year and former Benilde Blazers baller Joshua Raphael Benipayo de Sequera, Josh to his family and friends, was out and set to dominate in a new court — this time, as the towering Middle Blocker of the Blazing Spikers team.
Standing at 6'4" at 21, the bubbly B.S. Hotel, Restaurant & Institution Management student from the De La Salle-College of Saint Benilde (DLS-CSB) was once a member of the varsity teams for football and basketball; a brand ambassador of both an established RTW brand and a diet meal plan; and has since strutted numerous runways for various fashion labels, one of which is in the prestigious fashion and art show which recently celebrated fashion designer Randy Ortiz's 30th year in the industry.
Born on June 28, 1997 (Cancer), Joshua claimed that he came from modest beginnings. Together with his elder brother, they were raised single-handedly by their mother, former Bb. Pilipinas-World and now actress Marina Benipayo, in their old home in Angeles City, Pampanga, where the siblings first discovered their love for sport when they started playing football in their wide backyard.
One summer when he was around 13 years old, the young sportsman had a surprising growth spurt from 5'10" to 6 feet. He said goodbye to football where he was once a striker and goalkeeper, and decided to try his luck in basketball though he wasn't quite familiar with the sport just yet. Joshua instantly fell in love with his new track, and after a few years of playing with the Benilde Blazers team, he decided to explore volleyball.
With expertise and experience in three sports, a few stints in ramp modeling, as brand ambassador, his pending degree in Hotel Management, a family background in show business (his stepfather is actor Ricardo Cepeda to which he has two stepsisters), which have all formed his well-rounded personality, Joshua is often asked what path he would take after graduation.
"I want to be a professional athlete," he said.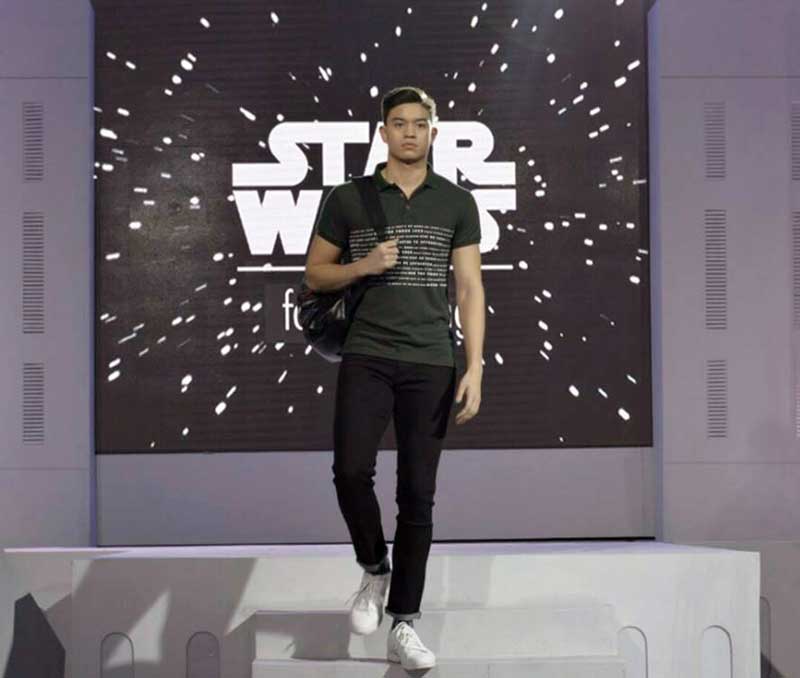 If ever Joshua enters the entertainment industry, to which his mother insists he has what it takes, he thinks he is happy to take the role of the leading man's best friend, for starters. However, he often gets ribbed that he's good at looking bad and that he might be able take on the antagonist, following in the kontrabida footsteps of Ricardo.
For now, Joshua is grateful for the varsity scholarship and benefits Benilde has granted him and wants to focus on the game. "Maybe after that, I could first concentrate on my modeling career, then perhaps the industry," he beamed.
Joshua bikes around the metro to de-stress, spends time with his girlfriend, religiously visits his elder brother, and meets up with his mother to catch up and have dinner.
Asked if he is a Mama's Boy, Joshua laughed, "My mom is a very nice person. I am super close to her and I love her very much, but I cannot consider myself as a Mama's Boy."
Joshua stands 6'4"; weighs 182 lbs.; and wears medium-size shirts and size-12 shoes.
How do you keep yourself in tip-top shape?
"Low-carb diet. Exercise. Most of all, discipline."
How's your diet? What's for breakfast, lunch, dinner?
"Chicken breast. If I am not on a diet, chicken breast na fried! Hahaha! Basta chicken breast! Or wings, another favorite.
"For breakfast, bacon, adobo, tocino — anything, basta with eggs. I always start the day with eggs, either scrambled or sunny side-up. I don't like hard-boiled eggs!
"For lunch, I eat at a carinderia near Benilde's, Angelo King International Center. I am not a fan of pasta, so I usually eat half rice and then dalawang ulam. My favorite top three ulam, in order, are chicken, pork and fish. I usually eat adobo, binagoongan, Bicol Express, tuyo, galunggong, basta anything na available or andun sa carinderia.
"For dinner, I eat somewhere, as long as it's with my girlfriend. Favorite food? Fried fish fillet with fries. Snacks? Salted egg potato chips — favorite ko 'yun!"
How much water do you take per day?
"I am a water person. Now, that we're training, I drink two liters of water a day."
What workout do you do?
"Before, I used to do isolation and compound exercise for multiple muscles. Now, core and for the legs pang-pataas ng talon for the games. I also bike every day so it's for the legs din. I used to balance the upper and the lower but now, as a volleyball player, I just focus on the lower. For the upper, we do push-ups while on training and that's good enough. Kasi it's hard to jump if the upper body is muscled up because it's heavy."
What part of your body needs improvement?
"I think my upper body but for now I cannot do anything about it."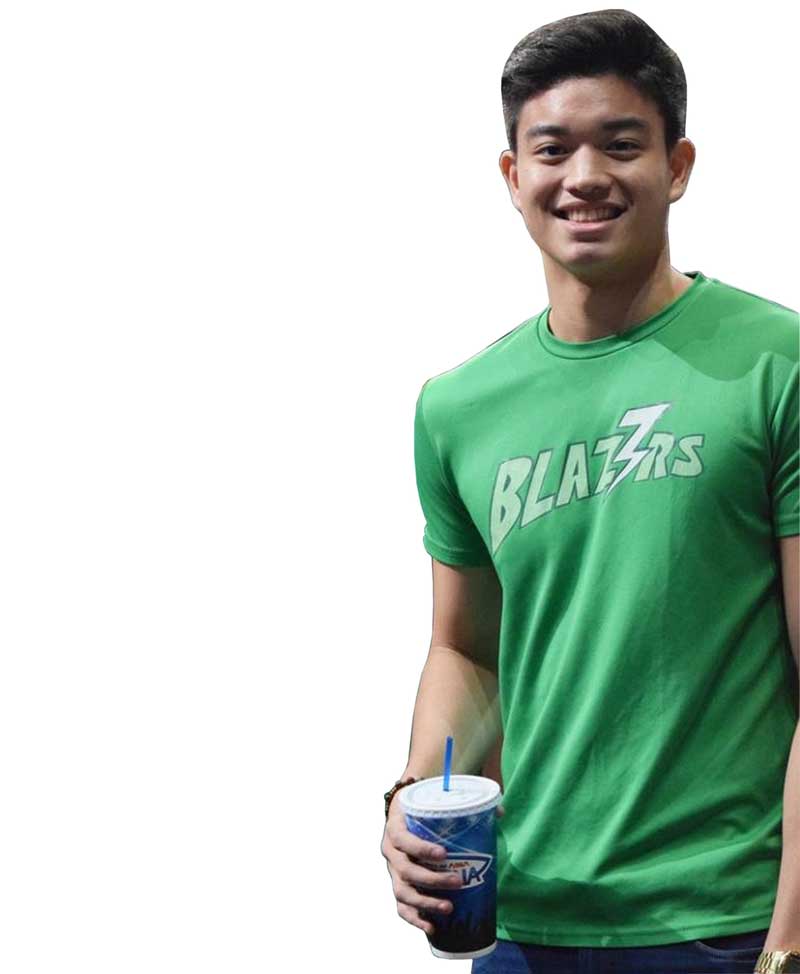 What part of your body is your favorite?
"Arms."
What part of a girl's body do you notice first?
"Face. Sige, siguro 'yung torso na rin! Hahaha!"
What in a girl turns you on?
"Kapag ang ganda ng ngiti ng babae tapos nakatingin sila sa kaluluwa mo."
Like she's seducing you?
"Hahaha! When they stare at me like that, 'yung parang ina-analyze ako. Hahaha!"
What's in a girl that turns you off?
"Poor hygiene. Very flirtatious. I am a pet lover, we have 10 cats at home in Pasig so it's a big turn-off if hindi ka mabait sa animals regardless of how nice you are to people. We have one princess cat at home named Kitty and we feed nine more street cats. Lastly, my mom raised us alone so it's a turn-off kung ang babae walang respeto sa magulang."
How much sleep do you get per night?
"Lately, I can sleep for seven hours. Before, I used to sleep three hours a day, especially when we have a training but I would steal quick naps in my free time."
How many pillows do you sleep with?
"One lang and kailangan super nipis kasi when we were young, we just had one pillow each and we shared a big blanket."
Do you snore?
"Yes."
Do you talk in your sleep?
"Yes."
Do you sleepwalk?
"No, nakakatakot naman 'yan!" (Cringes) "Hahaha!"
Last thing that you do before you go to sleep?
"I check my phone, browse, browse lang and kapag sumakit na 'yung mata, charge it, then sleep!"
First thing that you do as soon as you wake up?
"Wash my face, brush my teeth, pick up my bag, and start to walk for training."
Favorite sleepwear?
"Boxers only."
Do you ever sleep in the nude?
"Ah, yes, when I'm alone."
When did you lose your innocence?
"Teenage years. Hahaha!"
To an older woman, younger woman or a woman your age?
"Same age, but higher batch."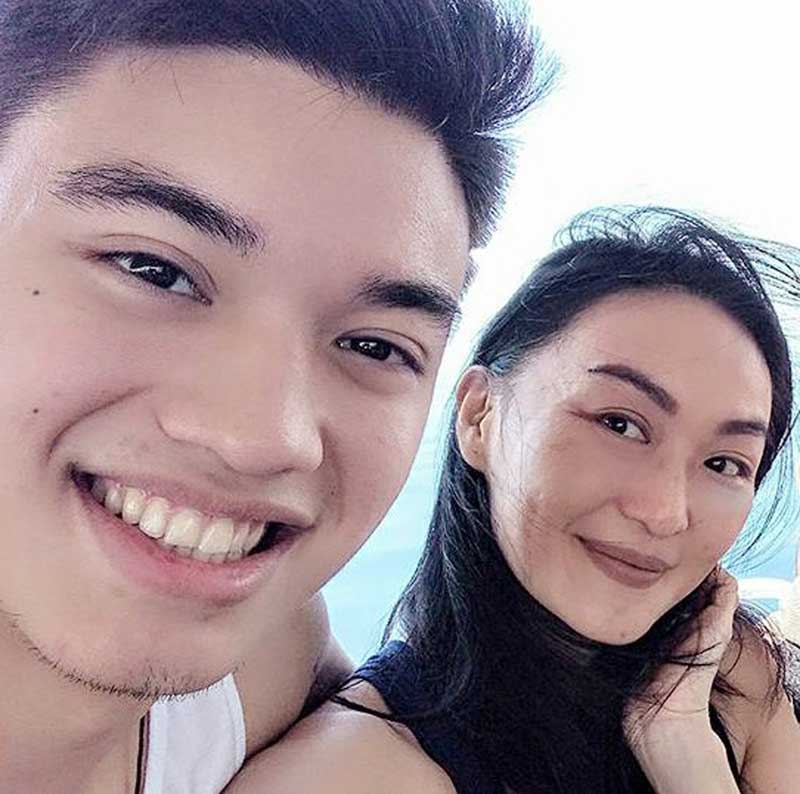 Joshua with mom Marina Benipayo, former Bb. Pilipinas-World and now an actress: Mama's Boy? No, I'm not although I am close to my mom and I love her very much.
Lights on or lights off?
"Lights on."
How's your love life?
"Super solid. Ang saya nang parang after training and after school, you have a go-to person. We have each other to share the happenings of our days."
How's your sex life?
"Doing great! Hahaha!"
And your night life?
"I don't party regularly, occasional lang. On a typical Friday night, I play DotA on the computer until two in the morning, hop by KFC to get fun shots, and then I go home na. That's my ideal Friday night. It is my me time, and my family and girlfriend understand that."
How do you cope with stress?
"I bike around and I go to MOA. I hang out by the seaside, listen to music, and enjoy the breeze. Ang sarap."
Outlook in life?
"Simple life even if ever I get rich or famous, kahit sa mga anak ko dapat simple life pa rin. Never stray. Now, whenever I get paid from modeling, I use the 30 percent to buy whatever I want — my wish list — and the remaining 70 percent goes directly to the bank for my savings."
Three women that you think have nice bodies?
"For Hollywood: Jennifer Lawrence dahil gusto ko 'yung malaman, Jennifer Aniston when she was still in the sitcom Friends, and Sofia Vergara in her 30s. For local: Marian Rivera, Anne Curtis and Solenn Heussaff, of course."
Using only body language, how would you make a girl know that you admire her?
"By looking straight into her eyes, then perhaps followed by a gentle touch, because when you touch a person then it means you like her."
(E-mail reactions at rickylophilstar@gmail.com. For more updates, photos and videos, visit www.philstar.com/funfare or follow me on Instagram @therealrickylo.)