The return of Bon Jovi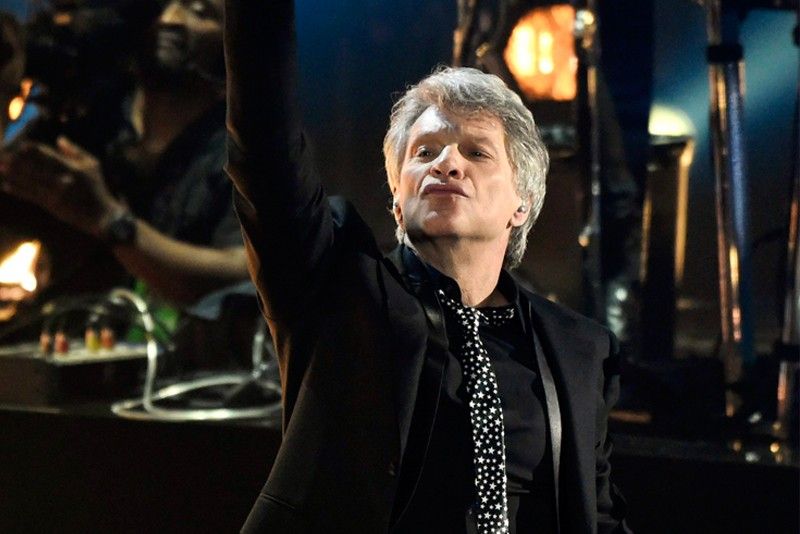 Ours is now a hip-hop world and it has become more and more difficult for rock music to make the charts or to be frank about it, to sell. As of now, Imagine Dragons is the only one left holding the fort. Rock is fast becoming an old man's music and sad to say, it is without the hip retro feel of the jazz or soul standards.
Rock has become music for the memories. Go to a concert by Journey or Aerosmith or Def Leppard and you can count the number of young people who made the effort to watch and enjoy great rock and roll. They do not have the memories that fill the box-office and sell tickets.
But I am happy to say that there are still exceptions to the rule and judging from the No. 1 ranking of the album, This House Is Not For Sale, this week, that exception is Bon Jovi. The famous New Jersey band recently announced a concert ticket redemption promo for the album and the fans showed up in droves.
The gimmick worked tremendously. Lots of albums were sold and tickets were redeemed. So as of this moment, hip-hop music and the ongoing soundtrack streak are both taking a back seat to the 35-year-old rock band's latest album.
Well, Bon Jovi is not just any old band. I see the group as the most pop of the rock bands. This means that Bon Jovi music is very accessible. I say that even those who never liked rock music at all have at one time or another had a Bon Jovi song playing in their heads.
The likes of Livin' On A Prayer, Bed of Roses, Always, Blaze Of Glory from Young Guns soundtrack, Wanted Dead Or Alive, You Give Love A Bad Name, It's My Life, This Ain't A Love Song and Runaway are utterly irresistible. As the cliché goes, these songs are part of the soundtrack of our lives.
The band has had a long, successful career with all the works, big-selling albums, packed arena concerts, even movie roles. Frontman Jon Bon Jovi has ditched his trademark long, wavy locks but he is still one sexy dude. It is sad that he and his best friend and the truly great Bon Jovi guitarist Richie Samborra have parted ways. But as this new album proves, the music remains very much present.
This House Is Not For Sale is Bon Jovi's first without founding member Samborra. I do not know if it was intentional on Jon's part but I noticed that the arrangements are now more keyboard-driven than usual. Is this an indication that he wants to show a new side to the band? One that is without Samborra's vaunted guitar playing?
Aside from that, though the writing, mainly by Jon, remains solid and this time has an interesting spiritual bent. Two of the best cuts are titled God Bless This Mess and All Hail The King. Most noticeable, of course, is Jon's singing, which is as strong and expressive as it has always been.
Also included are the title cut, Living With The Ghost, Knockout, Labor Of Love, Born Again Tomorrow, Roller Coaster, New Year's Day, The Devil's In The Temple, Reunion, Come On Up To Our House, Real Love, We Don't Run and the one I like most of all, Scars On My Guitar, an emotional tribute to a lovingly used instrument.
The Top 20 songs in Billboard's Hot 100 listing this week are: God's Plan by Drake; Psycho by Post Malone featuring Ty Dolla $ign; Perfect by Ed Sheeran; Finesse by Bruno Mars & Cardi B; Havana by Camila Cabello; Look Alive by BlocBoy JB feat. Drake; Meant To Be by Bebe Rexha & Florida Georgia Line; Rockstar by Post Malone feat. 21 Savage; Pray For Me by The Weeknd & Kendrick Lamar; All The Stars by Kendrick Lamar & SZA.
The Middle by Zedd, Maren Morris & Grey; Stir Fry by Migos; Let You Down by NF; New Rules by Dua Lipa; Him & I by G-Eazy & Halsey; Gummo by 6ix9ine; Thunder by Imagine Dragons; I Fall Apart by Post Malone; Love by Kendrick Lamar feat. Zacari; and Mine by Bazzi.
The Top 20 in the Top 200 Albums chart are: This House Is Not For Sale by Bon Jovi; Black Panther: The Album, by Various Artists; Culture II by Migos; DAY69 by 6ix9ine; The Greatest Showman Soundtrack by Hugh Jackman and others; Divide by Ed Sheeran; Stoney by Post Malone; Evolve by Imagine Dragons; DAMN by Kendrick Lamar; Nation Of Two by Vance Joy.
Man Of The Woods by Justin Timberlake; Camila by Camila Cabello; 24K Magic by Bruno Mars; Victory Lap by Nipsey Hussle; American Teen by Khalid; Luv Is Rage 2 by Lil Uzi Vert; Fifty Shades Freed the soundtrack by Various Artists; Life Of A Dark Rose by Lil Skies; The Beautiful And Damned by G-Eazy; and Ctrl by SZA.