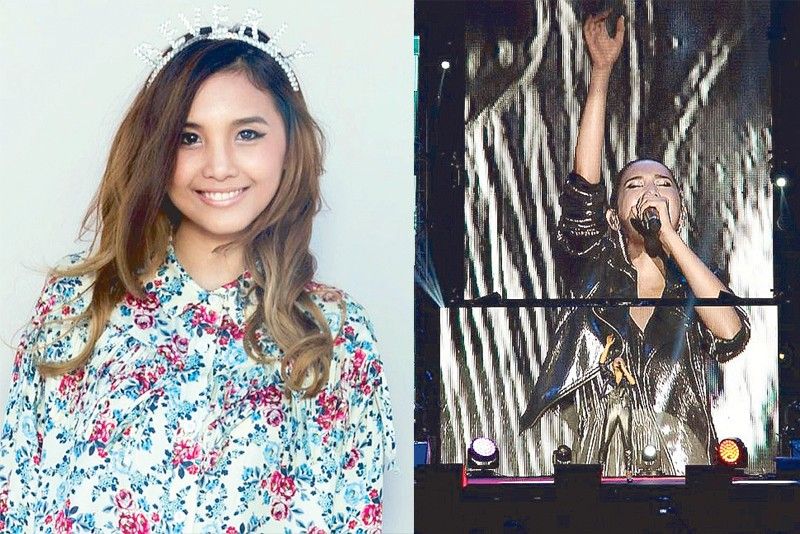 Beverly: When you dream, make it big
Jerry Donato
(The Philippine Star) - February 14, 2018 - 12:00am
MANILA, Philippines — There are dreamers and there are dreamers. But only few make it. What separates the few from the rest is: They dream big.
This is what Beverly, a Filipino talent, has done to make a name for herself in Japan as a pop star.
"Since I'm a probinsyana (someone who grew up in Laguna), I used to feel that big dreams are hard to reach," Beverly said in an exclusive interview with The STAR. "(Before) I wanted to become a singer and record an album."
"I had a realization that you should not limit your dreams. When you dream, make it big," she added. "After all, dreaming is free. If your dream is big, you will push yourself to see its realization."
Prior to finding her recording niche, Beverly trod the usual route by joining the World Championships of Performing Arts (WCOPA, where she won the Best Vocalist Performance), recording songs under GMA Records and working with composer Vehnee Saturno. She received a Best Performance nomination from Awit Awards and secured Harvest of Honors and Best Performance awards from the National Commission for Culture and the Arts and A Song of Praise Music Festival Year 3, respectively.
Lady Luck, however, had something extra special for Beverly and the rest, as they say, is history. According to her, Vehnee asked his business partner in Japan to give Beverly's songs a listen. "And the producer liked them. Then they (the producer's team) went to the Philippines to audition me," she recalled. "That was how it all started."
The succeeding months saw Beverly flying to Japan and signing up with the recording company Avex. She attended singing and dancing workshops. Beverly, the new artist, emerged from there.
"In the Philippines, I would sing ballads," she shared. "When I arrived there, they challenged me to sing different genres. At that time, I could sing them but I wasn't that confident. It was a challenge and from there, I grew as an artist."
That openness has led Beverly to make the Land of the Rising Sun her musical playground, where the artistic soil is fertile and supportive to a non-Japanese like her. Beverly has released an album titled Awesome with songs recorded in Japanese-English. Three of her songs are used as theme songs for TV series — I Need Your Love for action-drama CRISIS; Be The One for Kamen Rider (a show reminiscent of Power Rangers); and A New Day for the romantic-comedy Kuragehime.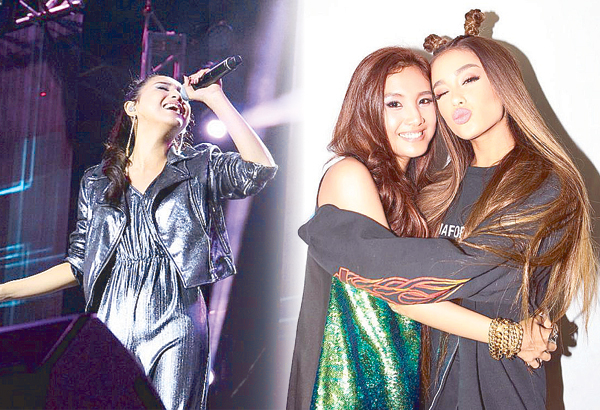 Beverly(left) as a featured artist during the recent Ishin-Denshin Music Festival held at the Mall of Asia Open Grounds – Photos courtesy of Avex Management Inc. With Ariana Grande(right). Beverly front acted the former's Dangerous Woman Tour in 2017
In Japan, the I Need Your Love music video has more than five million views. It topped download platforms like iTunes and the Recochoku new artist ranking for the first half of 2017.
"Last year, I had my one-man live, my first solo show," Beverly recalled. "...this year, I will have another one-man live. I had my one-man live in Tokyo and Osaka. I think we will be able to go around Japan this time. I got warm welcome (from Japanese) in my promotion sorties. They applauded me and their support was wow, to think that I'm not a Japanese, I'm not even half-Japanese. I'm a full(-blooded) Filipino. But their response (was amazing)." That inspires Beverly to be always on her toes. As she tries to make sense of the Japanese admiration, she could only pin it down to one reason: Music is universal.
"I realized it's not about the race or the person, like who he or she really is. It's all about music," she said. "Music is like a universal language. Hindi namin talaga kailangan mag-usap ng directly, but through music we click. At duon nila ako nagustuhan. That's how I got their support." Beverly will agree that the universality of music can be attributed to its melodies and themes.
"I Need Your Love is an upbeat song," she said. "It is a beautiful love story, similar to our hugot songs here, (the voice in the song) likes a guy, but he avoids her. A New Day, (on the other hand), is about universal love, it is not just about romantic love, you know feelings between boyfriends and girlfriends. It also speaks about love for family and friends."
Her singing career in Japan has afforded Beverly opportunies to expand her reach and meet celebrities like Ariana Grande and Japanese Prime Minister Shinzo Abe.
Front acting Ariana's concert Dangerous Woman Tour was surreal, said Beverly. She performed the song You Can Feel the Love Tonight from a Disney collaboration album, plus her songs.
During the 50th anniversary of ASEAN held here, Beverly somehow represented the Philippines and Japan.
"I could also feel the support of Prime Minister Shinzo Abe," she recalled. "I sang a Japanese song. It was the most nerve-wracking performance of my life."
These are just icing on the cake, given Beverly's young and thriving career in Japan. So far, she has made some of the many firsts she can experience as a pop star. Beverly acknowledges the hard work of her management, the support of Filipinos in Japan and those who have helped her along the way — and God, "na nakasulat ang destiny mo. You just have to follow His path or where He is leading you."
Given Japan's share in the global recording market, does Beverly think she is in the right place? "I think I am," she answered, "nasa tamang management po. They are really working hard for my career. We started in Japan and we really want to go Asia, and Hollywood and of course, the Philippines. I'm trying my best and I keep my fingers crossed that I will be able to do all these."