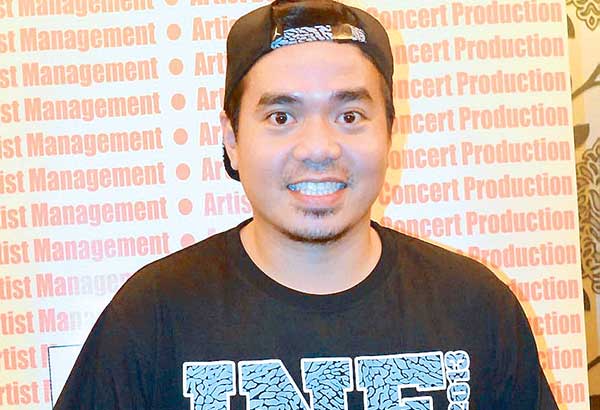 Rapper-songwriter Gloc-9: If there's something I want to say through my songs, it will be the value of life. — Photo by VER PAULINO
Gloc-9 tackles reincarnation in Rotonda
Jerry Donato
(The Philippine Star) - October 19, 2017 - 4:00pm
MANILA, Philippines — "Perhaps, more about life." That was the response media got from Gloc-9 when asked about the commentary his latest album titled Rotonda — and the song of the same title — are making on in a recent presscon. The six-track recording is released by Universal Records.
"If there's something I want to say through my songs, it will be the value of life, the value of time we still have," he said. "If you'll listen to all my songs, the bottom line is about not to waste your life."
This fits the reincarnation theme or the roundabout idea (the context the word rotonda is taking as a repeated sequence or cycle things take or as circular road route) of the album.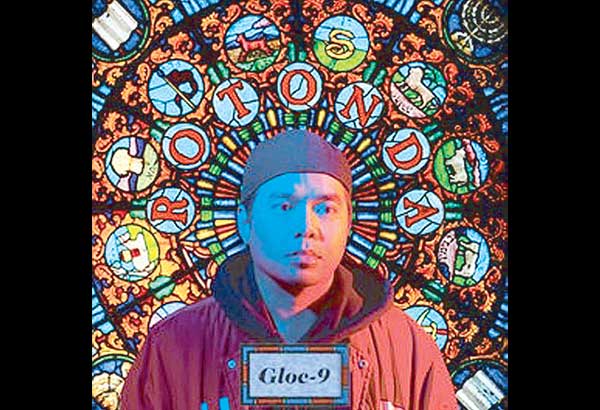 It's a sheer contrast to Gloc-9's previous works that explored such issues as poverty, prostitution, corruption and the plight and rights of Overseas Filipino Workers (OFWs) and the LGBT community. His latest recording venture shows his maturity as an artist and as a person.
"This is so because I have reached this age... So I'm entertaining such thought (reincarnation). I think I wouldn't have thought about it, let's say, when I was 19 or 20 years old. Pero dahil nga siguro na mas nag-mature na nga ako, hindi lang dahil sa trabahong ito, pero dahil sa buhay in general, kaya ito ang kinalabasan ng album."
He also said, "I'm getting older. Lahat tayo ay matatapos din ang kuwento natin. I entertain such idea because I have children. It's a good thing to think that we could return to life and begin anew… of course, it doesn't mean our children will still recognize us. I find it an interesting topic."
In creative processes, artists cannot detach their art from personal narratives. Their sense of self is reflected on their works, and vice versa.
"That's why I keep on telling everyone to listen to my songs every time I have a new album. So, they will know me on a personal level," Gloc-9 shared. "Through my songs, they will get to know me better, the way I have written the songs, the way I tell the stories, makikilala ninyo ako ng mas-personal."
However, it seems clear to Gloc-9 that his rapper persona is just a vessel to tell stories but it's not a platform to teach.
"That's something I try to avoid — to be preachy in my songs," he said. "I'm not a perfect person. Pag gumawa ako ng isang awitin na nagsasabi na ito ay mali… Most likely kasama ako sa mali na yan. So hindi ko ini-exclude ang sarili ko sa mali na yan." Gloc-9's work is no different from professions that require storytelling like news reporting or writing stories. Whether the nature is journalistic or creative, everybody wants to give the public a sense of truth.
"Of all the songs I have written, being the hero is the last thing I want to put across," said Gloc-9 during the interview. Referencing Eminem, he said, "Once I have recorded a song or released it, it's no longer me... It's just something I recorded… I believe once you have recorded a song, it has a life of its own, it's a different entity already."
Gloc-9 shared, "Based on my experience, kung ang intensyon mo sa pagsulat ng kanta ay tama, kahit anong gawin ninyo ay tama pa rin ang bagsak ninyo (if your intention in writing is good, no matter what you do with it, it will only generate good results). Kahit hindi kami nag-usap-usap sa gagawin namin, basta ito lang yung topic natin, hindi ko kayo didiktahan sa gagawin ninyo. Everything fell into place. So I'm fine with it." Gloc-9 was pertaining to Norem, a collaboration with Venzon "Abaddon" Malubay and Sean Patrick "Shanti Dope" Ramos. Their individual, divergent voices are showcased to somehow bring to surface the theme of Rotonda.
"It's the reason why we put the song in the last part," he said of reincarnation as the dominant theme that connects one song to another. "If you listen to the tracks continuously in the CD, you will understand the context of the work we have done."
So the musical experience takes off from listening to Rico J. and Ice Tubig featuring Mike Luis, then to TRPKNNMN, Mamang Poser, Norem and Rotonda.
Rotonda the album also marks Gloc-9's 20 years in the recording industry. That's why some media members couldn't help but ask about his most memorable collaborations. First two on his list are Bagsakan with Parokya ni Edgar and Francis M, and Takipsilim with Regine Velasquez.
"It (Bagsakan) had introduced me to the market I wanted to reach as well as to a bigger market." Takipsilim, on the other hand, was another dream come true for a fan who wished to work with Regine after Gloc-9 was "musically smitten" by her Dadalhin tune. "It only took her 30 minutes to record and I requested if she could put singing parts along with my verses. She gave in and even suggested to do back-up (vocal) parts."
As a songwriter and rapper, Gloc-9 recalled that he was very careful in writing Sirena because he wanted to depict the members of LGBT community correctly.
During the media call, Gloc-9 had also given everyone an idea on what lies ahead of him by saying, "For as long as I have stories to tell, I will continue (writing and performing)."
(Rotonda is available in CD and digital formats. Watch Gloc-9 on Nov. 4, 7 p.m. at Eastwood Central Plaza for Rotonda launch.)