Why Robert Arevalo identifies with Tondo role
MANILA, Philippines - In his mid-70s, Robert Arevalo has so much to be thankful for while summing up five decades in Philippine cinema. At his age now, he considers himself fortunate to be offered substantial roles.
In the '60s, he got the Best Actor trophy for his performance in Daigdig ng mga Api megged by his uncle, National Artist for Film Gerry de Leon.
In his latest film, Hari ng Tondo screened in the latest edition of the Cinemalaya filmfest, he again bagged the Best Actor trophy and the film found easy acceptance in the Toronto filmfest.
For him, it is another cycle in his acting life working with such directors as De Leon, Eddie Romero, Lino Brocka and Elwood Perez, among others.
He says, "At my age now, I consider myself fortunate to be offered meaty roles. I can say that in my lifetime, I had more than my good share of good projects."
For now, he is happy about his latest role in a film that will have him living autumn of a patriarch whose roots happen to be Tondo. He was happy it found a highly appreciative audience in Canada.
Robert recalls: "I was walking in a Toronto street when a couple approached me and asked for my autograph. Of course, I was surprised. Who would know me in Toronto? It turned out they saw Hari ng Tondo and was very pleased with it that they asked me if I could be interviewed. The lady happens to work with the CBC network."
Now that the film is screening in cinemas, he hopes that good Filipino films conceived in the indie spirit would enjoy wide commercial acceptance.
He reflects, "The film was hard to do. The shooting was in the middle of summer and it was always hot on the set. Once again, I experienced how to work really hard not just physically but mentally. To be able to live up to your director at my age is very gratifying to me. The outcome of the film was even more fulfilling."
Since he figures in the film from beginning to end, he realized that part of the success of the film will depend on how he fares as the lead actor. "The pressure is there that the film's success will also depend on me. But I try not to think about this and just concentrate on the work at hand."
Working with direk Carlitos Siguion-Reyna allowed him some good insights on how young directors work.
He continues: "There is really no big difference working on an indie film or a mainstream one. In both, you have to give your best. But I suppose in an indie film, you have to work closely with the director. Carlitos is not a very imposing director. What is clear to me is that he is very meticulous with details. On top of that, he allows you freedom to interpret your role. My instinct is that the first take is usually the good one. If he asks for a second take, that means he is giving you a chance to do better. In acting, there is always room for improvement and an actor should know that. Being asked for a second or third take means the director is giving you another opportunity to do well."
Robert is not from Tondo but he has done two films set in that part of Manila. The first one was banned because of the sex scene and the second one was again banned because of violence.
But playing a character with Tondo roots is not much of a problem. "I grew up in Sampaloc area which is almost like Tondo as a milieu. Of course, I can relate to the role being a grandfather myself but I like the story on which this Tondo film revolves. Here, I show my grandchildren about the tough side of life and the humble roots where I grew up. It's like sharing a part of your life to your loved ones."
Coming from a family of artists, indeed there was no way Robert could escape from the call of theater and film.
He is also the son of film actor, composer and musical scorer Tito Arevalo. Jay Ilagan and Liberty Ilagan are his cousins. Hermogenes Ilagan, the father of zarzuela, happens to be his grandfather. "I have fond memories of my grandfather who used to live in P. Tuazon Street in Sampaloc. I remember being seated on his lap when I was about four or five, and he loved to entertain his brothers and sisters. Ironically, nobody encouraged me to be in showbiz. I took up business in Ateneo hoping to be in the corporate world. But due to confluence of events, I found myself doing one movie after another since 1960."
Robert won several acting honors aside from the trophy he won in 1965 for Sa Daigdig Ng Mga Api, wherein his leading lady Barbara Perez, who happens to be his wife, won Best Actress.
Indeed, he considers himself lucky to be offered good roles in the movies.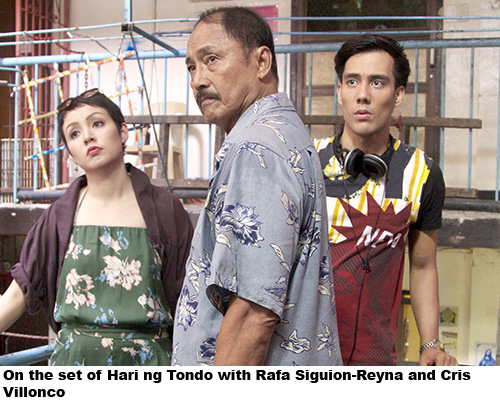 He rues: "I guess part of that luck is being the nephew of Gerry de Leon. But I do have good working relationships with other directors like Eddie Romero who made it a point to get me in all his good projects."
While Hari ng Tondo shows the seedy side of that district in Manila known to everyone, screenwriter Bibeth Orteza says the character of Robert she patterned after the patriarch of Tondo of the gentle times.
For the record, Tondo is the birthplace of the country's foremost revolutionary, Andres Bonifacio, National Artist for Theater Rolando Tinio, Comedy King Dolphy and esteemed writer Bienvenido Santos, among others. The poor but brilliant Emilio Jacinto, the Brains of the Katipunan, was also born in Tondo in 1875. The Katipunan was also born in Tondo on July 7, 1892 when Bonifacio, with friends Ladislao Diwa and Teodoro Plata, founded this secret society on Calle Azcarraga (now Claro M. Recto Avenue).
One gangster film set in Tondo, Chito Roño's Boy Golden — based on the life of Arturo Porcuna — captures a slice of Tondo hard to imagine these days. It featured a piano recital in an old mansion with the local godfathers planning an execution in the middle of a Beethoven sonata.
The late Dolphy once recalled the Tondo where music lessons were common and that students wore white coat and tie during the tutorial sessions. Its famous landfill called Smokey Mountain has since then been immortalized in Brocka films as symbol of decay in Philippine society.
Last seen in Roño's The Healing and in the GMA 7 teleserye Ang Dalawang Mrs. Real, Robert once played the patriarch in Tanghalang Pilipino's production of Mga Ama, Mga Anak.
Cris Villonco, who plays his granddaughter in Hari ng Tondo, says her role is virtual contrast to the stage play. "I was his girlfriend in that CCP play and now in this film, I am suddenly his granddaughter. Isn't that a big adjustment in my role?"
In the 1979 staging of that Nick Joaquin play, the director was Brocka and in the cast were Boots Anson-Roa, Hilda Koronel, Lloyd Samartino, Alicia Alonzo and Ben Rubio as Zacarias Monzon.
Of that 1979 theater production, Robert remembers Brocka as a meticulous director who inspires the best from the cast. "Brocka was a creation of theater and it was only natural that he became known as an actor's director," he recalls. "My role as the son was equally important but I could sense that the role of the patriarch was meaty with all those intense moments on stage, not to mention the kilometric lines Ben (Rubio) had to memorize."
He can't recall the last time he was on stage but one caught up with him playing a lead role in the musical, Oliver at the CCP Main Theater.
But during his college days at the Ateneo, a friend who taught at UP invited him to appear in plays like Medea and The New Yorker from Tondo.
Offhand, he can figure out that he was in Kapinangan directed by Behn Cervantes and he was Tom in Tennessee Williams' The Glass Menagerie staged at the Philamlife Theater. He was also the father in Diary of Anne Frank and he appeared in the musical Bernardo Carpio directed by Behn Cervantes and staged at the Manila Metropolitan Theater.
He had worked with Behn not just in theater but also in film. He played an important role in Behn's debut film, Sakada.
Robert has fond memories of the late director who passed away last year. "Behn is a very capable director and he has a very entertaining way of motivating his actors and staging the blocking."
Like it or not, his experience in theater helped him cope better with his film assignments. "It is only in theater where you land good roles unthinkable in films. Let's face it, theater is more demanding intellectually. Theater helped me acquire a good memory and with it, the discipline.
(Carlitos Siguion-Reyna's Hari ng Tondo also stars Rafa Siguion-Reyna, Cris Villonco, Ciara Sotto, Eric Quizon, Liza Lorena and Rez Cortez, among others, is now open in theaters.)