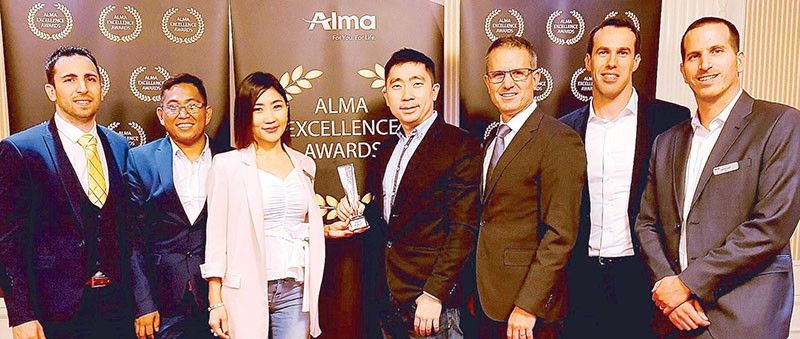 (From left) Alma Lasers regional sales manager-Asia Pacifi c Tal Uzan, DermAsia Corp. professional medical representative Edgar Elot, CEO Nikki Tang and operations manager Charles Mandy with Alma Lasers director sales-Asia Pacifi c Alex Kleiman, VP for global sales Eyal Ben David and CEO Lior Dayan
How beauty empowers a generation
The always inspiring DermAsia Corp. CEO and beautypreneur Nikki Tang accompanied by DermAsia Corp. operations manager Charles Mandy recently attended the Alma Lasers APAC 2018 Sales Meeting and 2017 Excellence Awards held at The Athenee Luxury Hotel in Bangkok, Thailand. DermAsia Corp., a sister company of DMARK , received the prestigious Alma Excellence Award in recognition for its eff orts to distribute in Asia Pacifi c regions the Alma-Q machine, the safest and most precise laser treatment solution available for skin remodeling, pigmented and vascular lesions, and tattoo removal. Known for her pioneering work in lasers in the Philippine beauty industry, the stunning beautypreneur also spoke at the distributors' meeting about how beauty can empower a new generation of customers. Congratulations for this latest achievement, dear Nikki!
Elevating interior design

Philippine Institute of Interior Design College of Fellows officers and advisers (from left) Jiro Estaniel, emeritus and chancellor Johnny Hubilla, Suzette Cocuaco Burser, Professional Regulation Commission (PRC) Board of Interior Design chair Sonia Olivares, Belen Morey, PIID national president Lilia De Jesus, Nicky Magcase, vice chancellor Tony Adriano, guest Mar Alonzo and Arlen de Guzman
The Philippine Institute of Interior Design College of Fellows held a series of successful events. Headed by emeritus and chancellor Johnny Hubilla alongside the seasoned members and advisers, the COF led a number of activities with the aim to elevate and upgrade the interior design industry in the Philippines. Congratulations to the Philippine Institute of Interior Design College of Fellows for a successful string of events!
The perfect wedding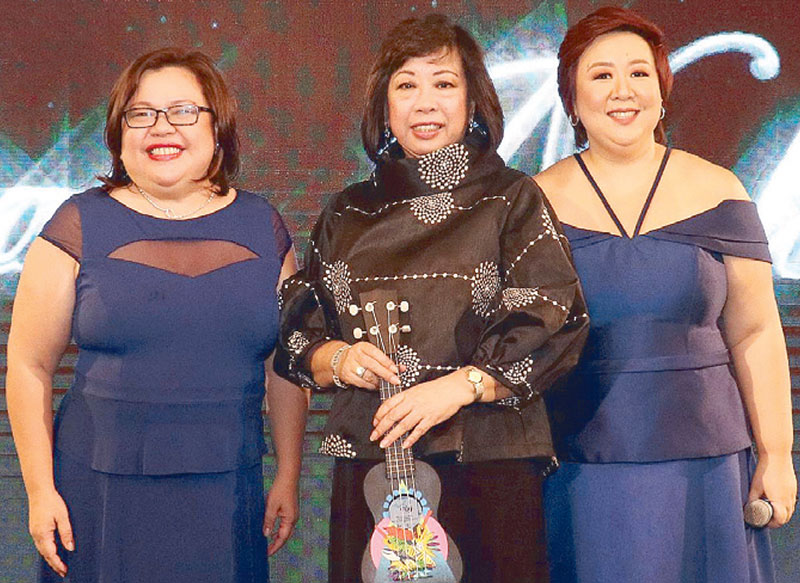 Marco Polo Plaza Cebu director of sales and marketing Lara Constantino-Scarrow, wedding coordinator Rita Neri and Shirley Ong
Wedding suppliers and hopeless romantics recently fl ocked to top-notch fi ve-star hotel Marco Polo Plaza Cebu (MPPC) for four days of wedding industry master classes from none other than the country's top suppliers in the business. Led by MPPC general manager Brian Connelly and director of sales and marketing Lara Constantino-Scarrow, the event was an opportunity for the students to learn from sought-after mentors like wedding coordinator Rita Neri, event stylists Gideon Hermosa, Michael Ruiz and Teddy Manuel, videographer Jason Magbanua and photographer Oly Ruiz, who were gathered by Cebu's Shirley Ong. The students of the GMT Masterclass also enjoyed a Gala Dinner at the Cebu Grand Ballroom, which was adorned with gorgeous Ecuadorian roses and several other beautiful fl owers – a true opulent display of styling skills from the students. Congratulations to Marco Polo Plaza Cebu for a successful series of wedding master classes!