VP Leni and her plans to help MSMEs
November 25, 2021 | 12:00am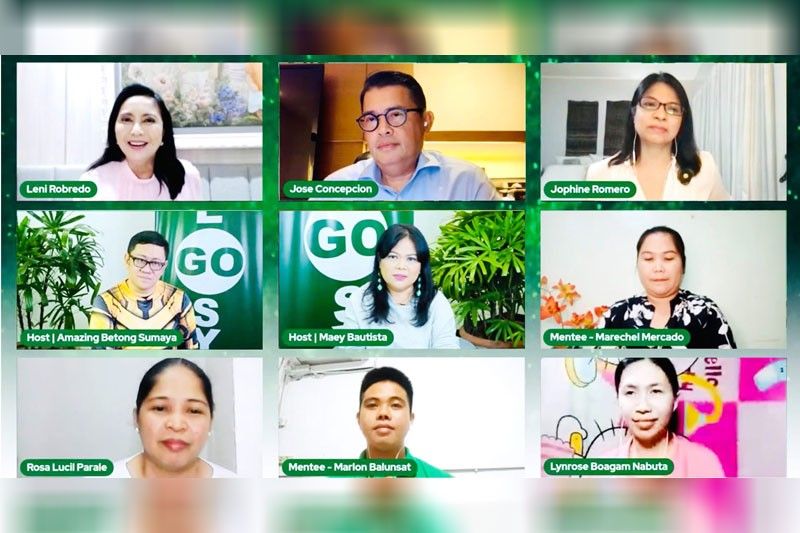 On Go Negosyo's "Kandidatalks" last Monday, Vice President and presidential aspirant Leni Robredo told our audience of more than 366,000 that she plans to give MSMEs better access to credit, integration into public procurement programs, and the resources for infrastructure that will help them adapt to the new normal.
Being the only woman in the 2022 presidential race is significant, considering women make up 90 percent of the country's small entrepreneurs. VP Leni has the unique chance to help and inspire all the nanays out there who turned to entrepreneurship to improve their lives.
I remember VP Leni has long been a supporter of MSMEs. She understands the framework of helping small entrepreneurs, and incorporates these objectives into her projects at the Office of the Vice President (OVP). In fact, she has been part of several Go Negosyo projects, including the Filipina Entrepreneurship Summit, 55 Inspiring Stories of Women Entrepreneurs, and the ASEAN 2017 Prosperity for All Summit. When she ran for vice president, she guested on Go Negosyo's "Meet the Vice Presidentiables" back in 2016.
During the livestream last Monday, she related to us how her office and their projects have benefited from Go Negosyo's Mentor Me programs, specifically the farmer entrepreneurs of Camarines Sur. Likewise, Go Negosyo has been a partner since the time she became vice president, specifically the Angat Buhay summit back in 2016.
She told us that she would allocate P100 billion in a stimulus package for MSMEs as part of the country's COVID recovery plan so that small businesses would not have to let go of their employees. With the pandemic changing how businesses now operate, VP Leni said that MSMEs would need special loans to help fit their businesses with the infrastructure for open spaces and better ventilation to make them ready for the new normal. There will also be a need for incubator programs so they can pursue opportunities for innovation in their businesses.
Along with mentorship, VP Leni also believes that MSMEs will need assistance when it comes to capital. She plans to give MSMEs expanded access to credit by providing direct lending through state-owned banks, and providing tax incentives to social enterprises. She also wants to integrate MSMEs into the public sector procurement system, explaining that the government, being the biggest consumer in the country, should look beyond prices and consider the impact of its procurements.
During the forum, she related to us how the OVP was able to respond so quickly during the pandemic, specifically in helping small entrepreneurs. Her office's quick response was thanks in part to the Angat Buhay program, which she started four years ago. She gave as an example, mobilizing sewing communities so they could produce PPEs, which were in short supply during the early days of the pandemic. The products were then deployed to hospitals, so in a sense, she said, they were able to hit two birds with one stone. And then it just happened: one project led to another. Among them, helping small school-based eateries establish their online presence, and helping public transport workers continue earning a living by linking them with community markets that needed a delivery system for their goods.
VP Leni knows that small enterprises play a big role in our economy and she came prepared with statistics. MSMEs make up 99.5 percent of the 950,000-plus enterprises in the country, and of these, 88.77 percent are microenterprises. They also generate 5.3 million jobs. Sadly, MSMEs often lack the capital and resources necessary to adapt during crises.
A couple of our entrepreneur-mentees at Go Negosyo also got to ask VP Leni their own questions, and it drove home the fact that, when it comes to small entrepreneurs, a little help will go a long way. As VP Leni pointed out, they already have the skills, the sipag and the sigasig.
As I shared during the show, we need to mobilize the MSMEs with mentorship and with access to capital. Unless we help the MSMEs scale up, we cannot expect the Philippines to grow. We also have to give them hope, and that is why we fought hard to save the fourth quarter, even if it meant going into lockdown last August. Without hope, it becomes harder to face challenges. We have to rise together.
It was very interesting to hear what the future holds for our MSMEs under a Robredo presidency. Up next will be the other contenders for the office, and I am sure a lot of our entrepreneurs out there would love to hear their plans as well.