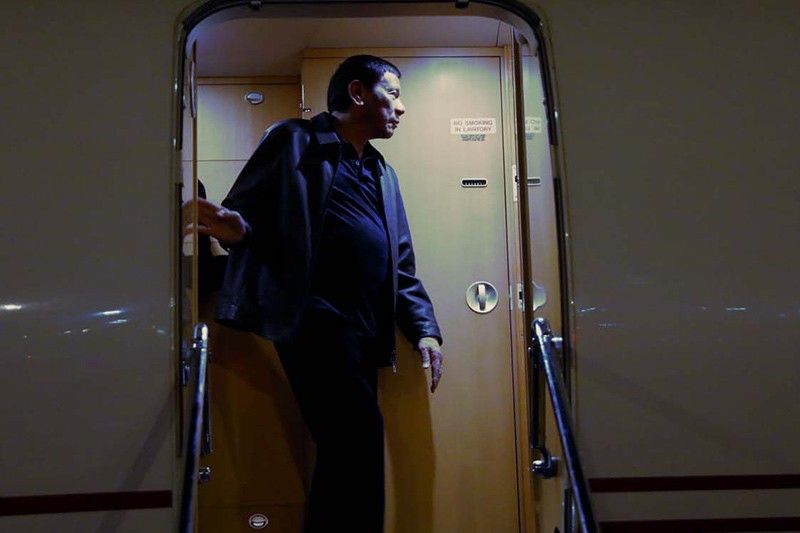 President Rodrigo Duterte boards a plane back to the Philippines at the Guangzhou Baiyun International Airport in Guangdong Province on Aug. 31, 2019 following his official visit to the People's Republic of China.
Toto Lozano/Presidential Photo
Duterte lowers dividend rates of DBP and Lank Bank
MANILA, Philippines — President Rodrigo Duterte lowered the rates of dividends to be remitted by two state-run financial institutions to the national government to support their programs and ensure their financial viability.
The adjustment in the dividend rate of Land Bank of the Philippines and the Development Bank of the Philippines is contained in Executive Order No. 89 signed by Executive Secretary Salvador Medialdea by the authority of Duterte last August 28.
Under the law, all government-owned or controlled corporations are required to declare and remit at least 50% of their annual net earnings as cash, stock or property dividends to the national government.
The president, upon the recommendation of the Finance department, may adjust the percentage of annual net earnings to be declared by a GOCC.
Finance Secretary Carlos Dominguez III has recommended the downward adjustment of the percentage of the selected years' net earnings to be declared by the Land Bank and DBP as dividends to the national government "in the interest of national economy and general welfare."
Instead of remitting 50%, Land Bank will remit zero percent of its net earnings for 2016 and 10% for 2017. The DBP, meanwhile, will remit zero percent of its net earnings in 2017.
DBP seeks to provide banking services to provide the needs of agricultural and industrial enterprises with emphasis on small and medium-scale industries.
Land Bank, meanwhile, aims to provide financial and support services to small Farmers and fishers, micro, small and medium enterprises, countryside financial institutions, local governments and state agencies.