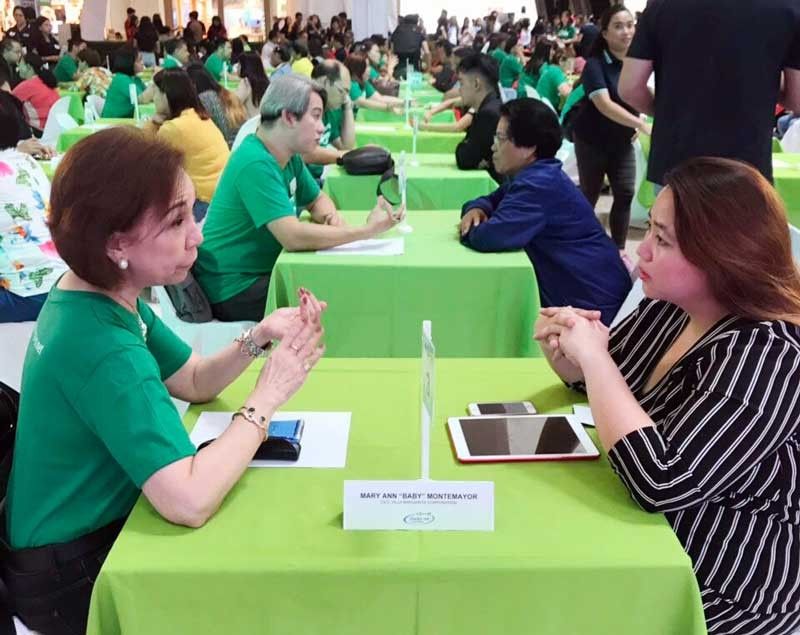 Mentor Baby Montemayor with Nova Mae Jacalan during the free mentorship session in Davao last July 31.
GO NEGOSYO PILIPINAS ANGAT LAHAT!
-
Joey Concepcion
(The Philippine Star) - August 22, 2019 - 12:00am
The week started with the sad news of the passing of a dear friend, Gina Lopez. Gina has been one of the inspiring and passionate people I have met. She was a supporter of Go Negosyo, and last May she even joined us during our tourism summit, proudly sharing her insights on how to improve the tourism industry.
Gina has been an Earth warrior, an advocate of the environment. She would go to different lengths just to fight for her advocacies. Through livelihood projects and other sustainable programs, she also supported indigenous communities in different parts of the country through her Investments in Loving Organizations for Village Economies (ILOVE) Foundation. Recently, through her show G Diaries, she featured one of our programs in Busikong Up, Maguindanao, where we have turned over farm inputs and other technical assistance from our partner Jardine Distribution.
She has inspired and empowered many to do their part for the country. While we have now lost her, I know that her advocacies will remain as her legacy. Thank you, Gina.
* * *
While I was abroad, the Go Negosyo team and our dedicated mentors and partners continued to bring our mentorship program to different areas where many aspiring and existing entrepreneurs need guidance for their businesses.
The sessions have become fruitful as we brought mentorship closer to every Filipino through our one-on-one mentoring programs. This gave our micro and small entrepreneurs a chance to be mentored for free.
This mentorship program is in line with President Duterte's vision to capacitate micro-small businesses in order to boost the Philippine economy. We are proud to say that we have reached a thousand more aspiring and existing micro and small entrepreneurs in seven different cities and provinces, adding to the growing number of MSMEs we have helped in 26 areas since the program's launch. This program has enabled us to extend our advocacy to those who are within the communities, but are untapped by the formal entrepreneurship programs offered. We have met people who are still in the process of deciding what business to pursue, or those who have started their business already, but want to scale up. These are some stories of our mentees during our free one-on-one mentorship: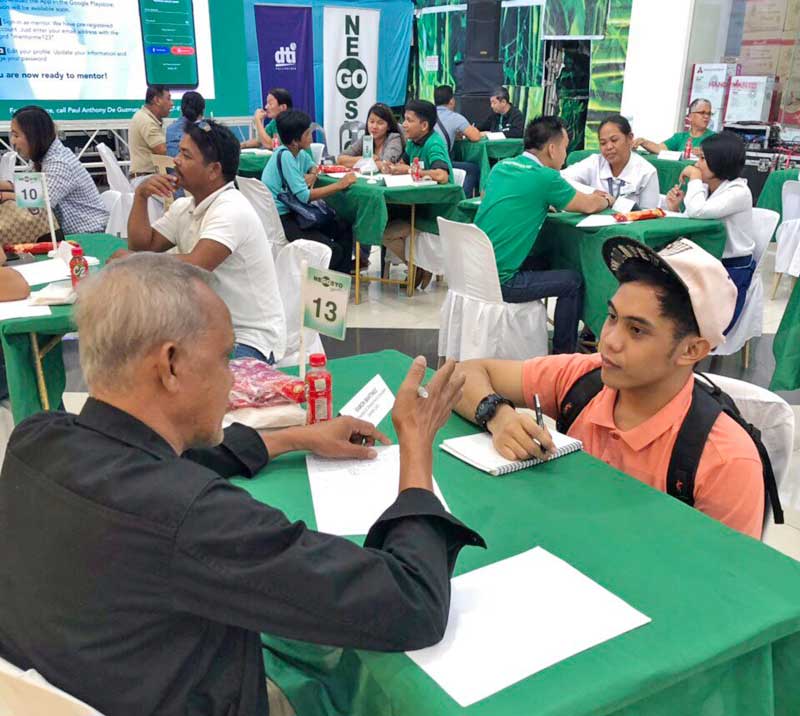 Despite being physically challenged, mentee Ezra Abas wants to start a clothing business. He was mentored by Ramon Martinez during the free mentorship program in Calapan City.
Nova Mae Jacalan, a Davao del Norte aspiring entrepreneur recalled, "This is a blessing because I just quit my job two weeks ago. I heard the event from a friend at work and so I thought of going here. I have many business ideas, but I don't know how to start. The mentors have been blessed and it's nice that they are sharing it to the mentees. After the 30 minutes mentorship, even if it's only 30 minutes, there has been a light at the end of the tunnel."
Ezra Abas is a handicap with big dreams. He joined Go Negosyo's free mentorship last July 22 at the Event Centre of Nuciti Central Mall in Calapan City with hopes of starting his own clothing business bearing his own designs. He plans to build his brand and sell his finished products in digital market platforms such as Lazada and Shopee. He said, "Ngayon ko lang nalaman na may ganitong programa. Ang ganda kasi yung mga mentor ay sumusuporta sa kapwa Pilipino na gusto din mag-negosyo. Gustong-gusto ko po yung experience ko dito. Starting a business should start with the right mindset and a great mentor."
During our rollout in Tacloban, our team met Emelyn Dagumay, who sells online beauty products. In an interview, she shared, "The experience was really good. Una, it's for free so kahit sino pwede makaka-attend. Even it's for free, it's as if you paid for the program. Relevant yung mga tinuro and it has a pure intention of helping. Mas maganda palaguin pa tong program kasi ang daming gustong mag business pero di nila alam paano sila magsisimula."
William Navayra, managing director of Matin-ao Agri Products said, "Overwhelmed at masaya ako na nakaattend ako sa mentoring program na ito, kasi hindi lang idea yung nakuha ko pero mas naging inspired ako magtanim at lumago yung produkto namin. Thankful ako sa aking mentor kasi in-encourage niya talaga ako na kapag nag-tiyaga, walang imposible. I am really thankful for this mentorship program." He was also one of the 500 mentees who was mentored during the leg of Mentor ME On Wheels at Tacloban.
Our goal to bring greater prosperity to our Filipino people has always been at the core of our programs. Mentorship plays an important role in the growth of our MSMEs and the acceleration of the economy.
I extend my gratitude to our dedicated mentors who always join us to share their knowledge and expertise with our MSMEs. Whenever we see the eagerness of many MSMEs, we are more encouraged to extend our help to them and be part of their success. This is our life's mission – to bring prosperity for all.