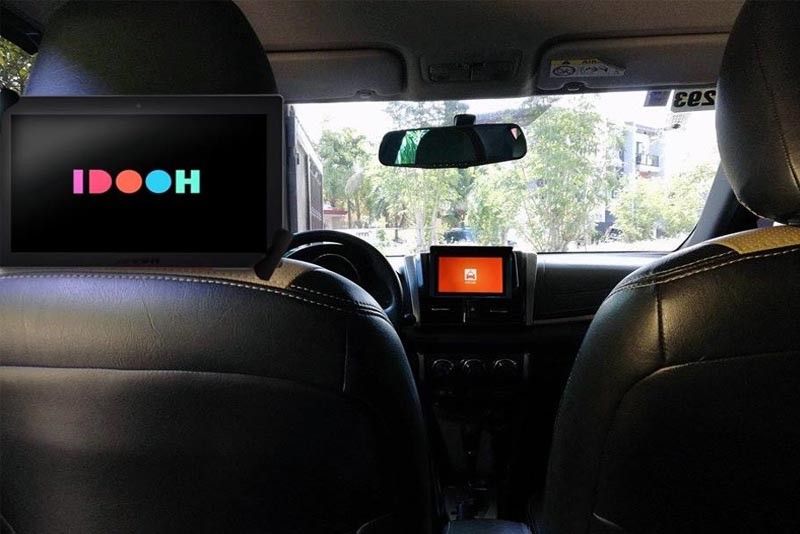 Fully interactive 10-inch IDOOH screen rolls out in Micab taxis to enhance the passenger experience.
IDOOH
Micab taps Singapore-based media tech firm for in-cab advertising
MANILA, Philippines — Media technology company IDOOH International and ad-driven ride-hailing firm Micab Philippines have sealed a Memorandum of Understanding to deploy 5,000 digital media screens in Micab partner taxi fleets by next year.
Cebuano-developed Micab was the fifth Filipino-owned transport network company that was greenlighted to operate by Philippine transport regulators, following Uber's departure from the country in April.
To sustain its operation and offer cheaper rates to commuters, Micab is reportedly tapping alternative revenue sources by displaying advertisements in tablets installed in partner taxis.
In a statement, IDOOH said the 10-inch media tablets will provide "high-quality entertainment, information and full e-commerce ability" for Micab.
The MoU, according to IDOOH, will come into effect with an initial installation of in-taxi screens in 500 cars in Cebu, Davao and Manila by July this year.
That will be followed by an in-ride commercial service offering for consumers and brands to 1,500 vehicles across five cities by December 2018 and another 3,000 cars in 2019, IDOOH added.
"With the rapid growth of the country's ride-hailing market, Micab represents a new wave of technology adoption and business innovation, and we look forward to working with them to transform the in-taxi passenger experience through intuitive media technology," IDOOH Group CEO Mark Forsyth was quoted as saying in a statement.
Micab is IDOOH's second transport partnership in Asia Pacific, following its tie-up with ComfortDelGro's outdoor advertising arm Moove Media last April.
"IDOOH's Asian track record, experience in transport logistics and big data analytics will provide us with the tools necessary to develop new business and advertising revenue models," Micab CEO and co-founder Eddie Ybanez said.