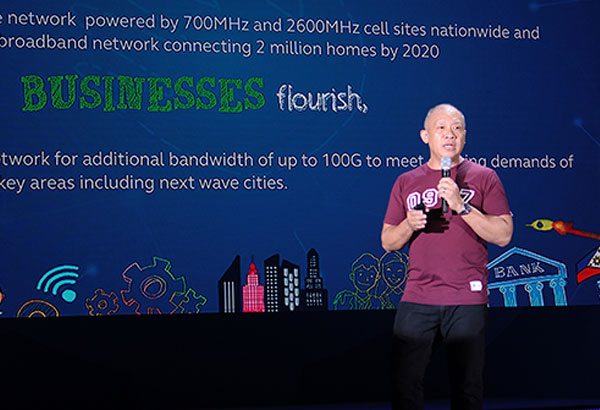 Globe president and chief executive officer Ernest Cu said during the commercial launch of the Southeast Asia-United States (SEA-US) submarine cable system, the telco may increase its capex up to $800 million this year. KAP MACEDA AGUILA/File
Globe eyes higher $800 M capex
MANILA, Philippines - Globe Telecom Inc. may raise capital expenditures up to $800 million this year as it invests to support growing demand for data services.
Globe president and chief executive officer Ernest Cu said during the commercial launch of the Southeast Asia-United States (SEA-US) submarine cable system, the telco may increase its capex up to $800 million this year.
"We will formalize our formal capex number in the third quarter earnings, so, we'll announce it...There's possibility of raising capex number forecast for the rest of the year," he said.
Earlier, Globe announced it is allotting $750 million for capex this year, with the bulk going to data-related projects including the deployment of LTE (Long Term Evolution) for mobile and for the home, modernization of fixed line data infrastructure for corporates, as well as requirements for transmission facilities.
Cu said the additional capex would be used to address the growing demand for data services.
"Everything we do today is geared toward data," he said.
Due to growing demand for data, Globe has invested $80 million in the SEA-US cable system which provides direct links between Davao and the US for faster transmission of data.
Covering 14,500-kilometers (km), the SEA-US international cable system was built by a consortium of seven international telecommunications companies and links five areas and territories including Manado (Indonesia), Davao (Philippines), Piti (Guam), Oahu (Hawaii, US), and Los Angeles (California, US).
The SEA-US cable system uses the latest 100 gigabits per second transmission technology to deliver an additional 20 terabits per second capacity.
The system's additional capacity will cater to the exponential growth of bandwidth between the two continents.
"We are excited about this development because of the immense benefits that the undersea cable system will bring to the Philippines. For one, it will provide support for the expanding business requirement for data in the Mindanao region where the cable landing station is located and in the country as a whole. This will also ease our dependence on international cable systems and ensure the resiliency of the country's internet connectivity," Cu said.
Aside from the SEA-US consortium, Globe is also a member of an international consortium of telecommunications and technology companies operating the 8,900-km Southeast Asia-Japan Cable system linking seven territories that include Brunei, mainland China, Hong Kong, Japan, Singapore, and the Philippines, including the option to link with Thailand.