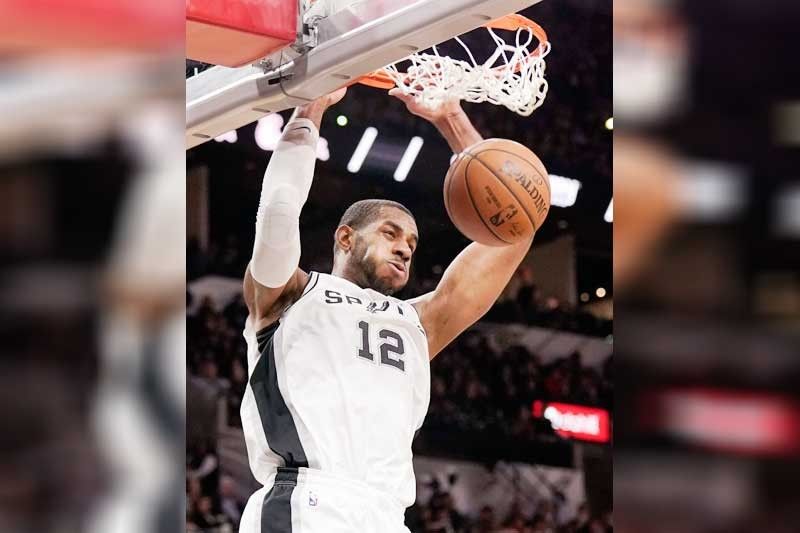 San Antonio Spurs' LaMarcus Aldridge dunks during the second half of the team's NBA game against the Oklahoma City Thunder in San Antonio.
AP
Spurs dismember Thunder in 2 OT
(Associated Press) - January 12, 2019 - 12:00am
Aldridge's 56 Dwarfs Westbrook's Triple D
SAN ANTONIO – LaMarcus Aldridge scored a career-high 56 points and the San Antonio Spurs overcame Russell Westbrook's triple-double with 24 points, 24 rebounds and 13 assists and outlasted the Oklahoma City Thunder for a 154-147 victory in double-overtime on Thursday night.
Aldridge had seven points in the second overtime and Derrick White added four points, a steal and a block of Jerami Grant at the rim with San Antonio up 148-144 with less than 2 minutes remaining. White finished with 23 points and Marco Belinelli made all five of his 3-point attempts while scoring 19 points for the Spurs, who have won seven straight at home.
In Denver, Nikola Jokic had 18 points, 14 rebounds and 10 assists for his 21st career triple-double and the Nuggets extended their home winning streak to 11 with a 121-100 victory over the Los Angeles Clippers.
In Miami, Dwyane Wade scored 19 points, Josh Richardson added 18 and Miami connected on a season-high 18 3-pointers on the way to beating Boston 115-99.
In Sacramento, Buddy Hield scored 18 points, Willie Cauley-Stein had 14 points and 14 rebounds, and the Kings beat the Detroit Pistons 112-102 with Blake Griffin out for rest.