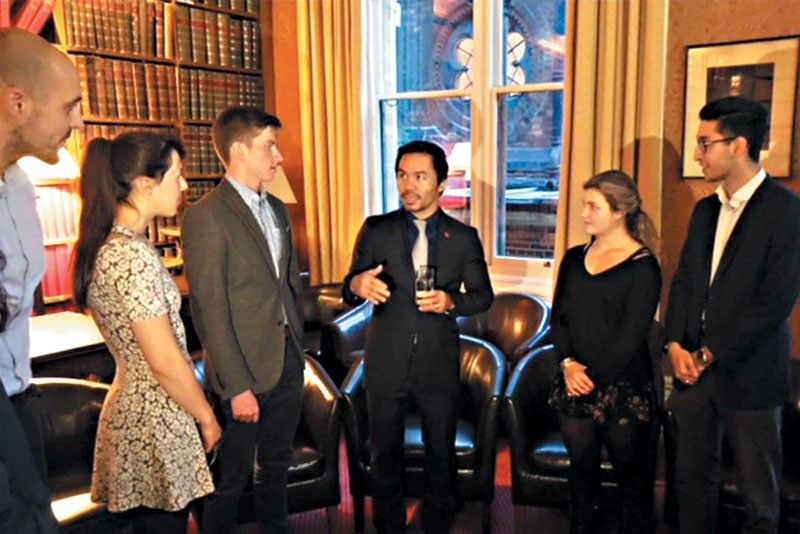 Sen. Manny Pacquiao meets Oxford Union members before delivering a speech at a packed auditorium last Monday.
Manny Pacquiao scores a knockout at Oxford
MANILA, Philippines — WBA welterweight champion Sen. Manny Pacquiao delivered an inspiring speech before the Oxford Union, the university's prestigious debating society, then spoke from the heart in a one-on-one interview on stage at a packed auditorium on the school campus late Monday afternoon.
Pacquiao was invited to join the ranks of several distinguished speakers in the past by Oxford Union president Stephen Horvath and society secretary Tom Brown. The Union was established in 1823 and has welcomed a wide range of guest speakers including Sir Winston Churchill, Robert Kennedy, Ronald Reagan, Jimmy Carter, Bill Clinton, Mother Teresa, Benazir Bhutto, Albert Einstein and Margaret Thatcher. From the sporting world, among the past visitors were George Foreman, David Haye, Vitali Klitschko, Chris Eubank, Boris Becker, Diego Maradona and Roger Bannister.
It appeared that Pacquiao scored a knockout in his visit to the English university, coming across as a sincere and humble person with no pretenses and a genuine desire to uplift humanity. Curiously, the only qualified comments on Pacquiao's visit came from the university's Philippine society. The English newspaper Daily Mail said in an on-line report, that the Philippine society issued a statement that Pacquiao's appearance on campus was no validation of some of his political views.
English sports media picked up quotes from Pacquiao who was asked about his boxing career after delivering his speech. Pacquiao said he's booked to face Adrien Broner in January and the rematch with Floyd Mayweather, Jr. is a possibility for the future. "There is a big possibility because Floyd is coming back to boxing," said Pacquiao, quoted by Sky Sports. "He's fighting in December and I'm fighting in January. So a big possibility that next year, we will discuss a rematch. My thinking is to have a rematch and make (it) clear … who will win because in the last fight we had, it wasn't clear who won because he didn't throw a lot of punches and he won (the decision). I had a shoulder injury but this time, if this rematch happens, there will be no excuses, no alibis."
In his speech, Pacquiao admitted being intimidated in following in the footsteps of previous Union speakers. But he dared to stand before his audience "armed with just the equivalent of a sixth form education, an undisguised respect for what your group and your university represent and a pretty fair left hook … if this give-and-take were a tale of the tape, I would be a respectful underdog but be careful, I'm not that easy to floor."
Pacquiao related how he emerged from a life of poverty to become a world boxing champion and legislator. He called it a lesson in what can be achieved if you ignore the odds against you, if you are determined and never quit. "In crafting effective laws, there is no better guide than the pulse of the masses," he said. "I may not have financial acuity. I may not be historically fluent. I may not even be socially adept. But I am philosophically rooted in my personal adversities which morally bind me to the general struggle of our people. I am a fighter not just because it is my profession. I was a fighter long before I first set foot in a boxing ring. All my life, I have fought to live. Every single day in my youth, I fought for survival."
Pacquiao said his life story is the best illustration that miracles happen and dreams come true. "Being poor does not mean one must die poor," he said. "Hard work and persistence will set you free from the shackles of poverty. But it is faith that will take you to the very top. Never lose faith in what you can do as a human being. Believe in the loyalty of family and believe in the Almighty." He ended his speech with a challenge to the Union, saying "you, with your education, determination and faith, you can change the world."