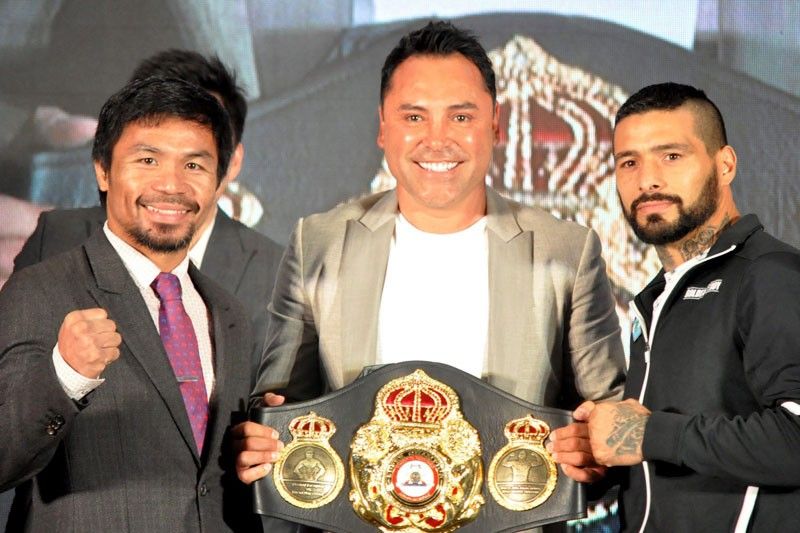 Manny Pacquiao, Oscar dela Hoya and Lucas Matthysse
Abac Cordero
Dela Hoya's prediction: Pacquiao on points; Matthysse by knockout
Abac Cordero
(The Philippine Star) - July 13, 2018 - 12:00am
KUALA LUMPUR – Oscar dela Hoya just can't pick a winner in this fight.
But boxing's Golden Boy, in town for Sunday's title clash between his old tormentor and a boxer that he promotes, shared what's on his mind.
"If Manny Pacquiao wins, he wins by decision. If Lucas Matthysse wins, he wins by knockout," Dela Hoya told Filipino scribes at the 27th floor Club Lounge of Le Meridien Hotel.
Dela Hoya, who retired from the sport after taking a one-sided loss to Pacquiao in 2008, asked about the odds, and was told that it's 2/1 in favor of the Filipino.
But he insisted it's going to be tougher than what the odds say.
"Lucas has a good chin. Lucas hits hard. His right hand is lethal," said Dela Hoya, who is co-promoting Sunday's card with MP Promotions.
Dela Hoya graced Thursday's final press conference but had very little to say. Later on, more relaxed, and on a leather couch, he did a lot of talking.
Again, he warned Pacquiao.
"He has to be careful with Lucas power. If Lucas wins this, it's going to be one of those one-punch knockouts. He's no joke," said Dela Hoya.
Dela Hoya was reminded of Pacquiao's devastating knockout loss to Juan Manuel Marquez in 2012. He said it could happen again.
"It's sometimes hard to recover from a devastating knockout. But Manny has proven that he's back. That he still has it," he told the Filipino reporters.
Now 45 and a lot heavier than his fighting weight, the gold medalist in 1992 Barcelona Olympics can't wait to see the fight happen.
Asked how he would fight Pacquiao if he were Matthysse, Dela Hoya paused for a couple of seconds to find the answer.
"Because of the age difference I would use my energy, my power, my timing. I think Pacquiao is still fast but not as fast anymore," he said.
When he fought Pacquiao 10 years ago, Pacquiao was at his fastest, and it made Dela Hoya feel that he had two or three opponents inside the ring.
Matthysse, he said, should not get frustrated, in case the old, explosive Pacquiao shows up on Sunday at the Axiata Arena.
"Pacquiao can throw so many punches and hit you and you get frustrated. Lucas has to be cool, calm and collected. He has to force it (issue) and show that he's younger and fresher," he said.
Dela Hoya, who described Pacquiao as the toughest boxer he ever shared the ring with, could have gone on and on and on.
As the interview came to a close, the five-division champion faced a hypothetical question from The STAR.
"How about a rematch with Pacquiao?" Dela Hoya was asked.
"No. I'm still in pain. It still hurts," he said.
Related video: