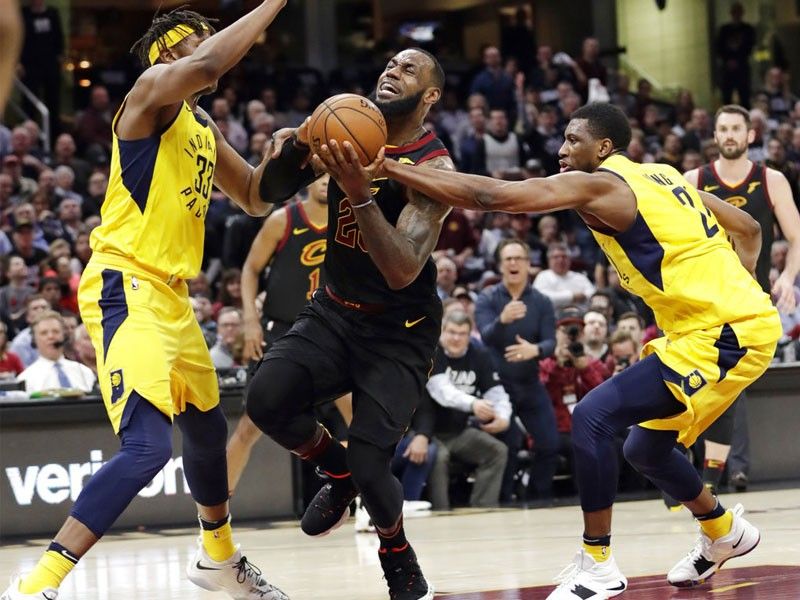 Cleveland Cavaliers' LeBron James, center, drives between Indiana Pacers' Myles Turner, left, and Thaddeus Young during the first half of Game 2 of an NBA basketball first-round playoff series Wednesday, April 18, 2018, in Cleveland.
AP/Tony Dejak
LeBron erupts for 46 point as Cavaliers even series with Pacers
CLEVELAND — LeBron James scored 46 points and added 12 rebounds as the Cleveland Cavaliers bounced back from a poor performance in the opener by holding off the Indiana Pacers, 100-97, on Wednesday night (Thursday Manila time) to even their Eastern Conference series at one game apiece.
Dazzling from the start, James scored the game's first 16 points and had 29 at halftime, dominating the way he has in so many previous postseasons.
But in a season in which nothing has been easy for the Cavs, Cleveland was lucky that Indiana's Victor Oladipo missed a wide-open 3-pointer that would have tied it with 27 seconds left.
Kevin Love scored 15, but Cleveland's All-Star center injured his left hand, the same one he broke earlier this season, with 3:43 left. Love's status could affect the remainder of this series — and perhaps Cleveland's season.
https://sja.sportradar.com/w/Philstar Global/14321521/313100
Kyle Korver added 12 points, all on 3s, and made several hustling plays for the Cavs.
Oladipo scored 22 — he was in early foul trouble — and Myles Turner 18 for the Pacers, who shocked the Cavs with an overpowering win in Game One.
Indiana clawed back from an 18-point deficit and was within 95-92 when Oladipo, who scored 32 in the opener, somehow came free but missed maybe his easiest shot in two games. James grabbed the rebound and made three free throws over the final 22 seconds as the Cavs avoided falling behind 2-0 on the series.
Game Three is Friday night in Indianapolis (Saturday Manila time).
The 33-year-old James was expected to be more aggressive than in Game One, when he was unusually passive, deferred to teammates and suffered the first playoff-opening loss of his career.
But James was his unstoppable self again, and there wasn't a whole lot the Pacers could do about him in the first half.
Cavs coach Tyronn Lue shook up his starting lineup, going with Korver and J.R. Smith over Jeff Green and Rodney Hood. Green didn't score in the opener and Hood only started because Korver was dealing with a sore right foot.
While the changes weren't that surprising, Oladipo leaving after 62 seconds was stunning.
Indiana's lightning-quick guard picked up an offensive foul and then got his second when he knocked over James, who was setting a screen.
With Oladipo off the floor, the Pacers didn't have an offensive answer to James.
Nobody does.
The three-time champion was in attack mode from the start. After not attempting his first shot in the opener until 1:52 remained in the first quarter, he dropped a short jumper just 16 seconds into Game Two.
And he was just getting started.
James made his first five attempts and scored Cleveland's first 16 points, making a pair of 3-pointers and then picking up assists on 3s by Love and Korver. James outscored the Pacers 20-18 in the first 12 minutes.