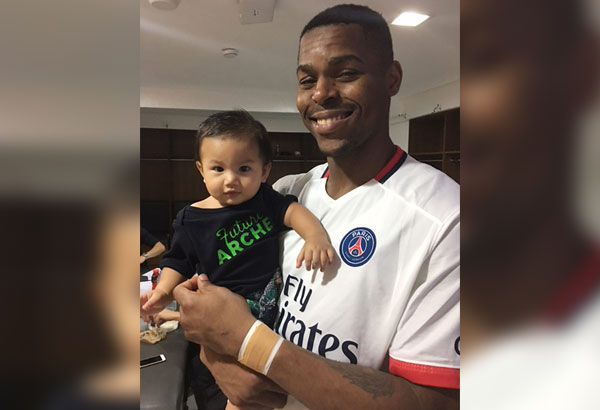 Ben Mbala with 11-month-old fan Jose Ngkaion.
Ben Mbala leaves with heavy heart
MANILA, Philippines — Two-time reigning UAAP MVP Ben Mbala has decided to spare La Salle from fighting to preserve his last year of varsity eligibility and is now playing for Fuerza Regia de Monterrey in the Mexican professional league LNBP (Lia Nacional de Baloncesto Profesional).
Mbala, 22, left Manila last Dec. 16 with a heavy heart. He had just recovered from a bout with dengue after leading La Salle to the UAAP Finals against Ateneo. Mbala, unsure about whether the UAAP Board will allow him to play his last year of eligibility, sought permission from La Salle's benefactor San Miguel Corp. chairman Eduardo Cojuangco, Jr. to explore his options and received his blessings before leaving.
Cojuangco told Mbala that no matter what happens, his scholarship at La Salle will be waiting for him to earn his business management degree. An honor student, the Cameroonian said he hopes to eventually complete his studies and graduate from La Salle. He is about 60 units short of finishing up, roughly 1 1/2 years of classes.
UAAP executive director Rebo Saguisag recently said the rule providing a seven-year eligibility limit from high school graduation will be reimposed next season after a two-year suspension. Unless the rule is repealed, Mbala would not be able to play his last year of UAAP eligibility. La Salle officials argued that reimposing the limit is discriminatory against Mbala because with the K-to-12 system, the rule has become academic.
"They (the UAAP) don't want me to play anymore," said Mbala in tears. "They even questioned my MVP award, saying it is prejudicial to locals. I've spent the best years of my life in the Philippines and they treat me like someone who doesn't deserve to play." Since Mbala took his first MVP trophy last year, no foreign athlete had won the award in 36 years. The only other foreign MVP was FEU's Anthony Williams in 1981. When Mbala bagged back-to-back MVP honors, detractors called for separate categories to distinguish locals from foreigners.
Mbala said Swiss sports agent Stefano Lipps reached out to him by email and offered his services. It was Lipps who arranged Mbala's stint with Fuerza Regia on a tryout basis. Last Wednesday, Mbala made his Mexican debut, collecting 9 points and 5 rebounds in 13.5 minutes off the bench as defending champion Fuerza Regia beat Panteras, 87-69, to raise its record to a league-leading 15-6. Fuerza Regia's coach is Spaniard Paco Olmos who piloted Puerto Rico at the 2014 FIBA World Cup in Spain. Mbala's teammates include 40-year-old NBA veteran 6-9 Andy Panko, 6-7 Jordan Glynn of Stephen F. Austin and 6-6 Juan Toscano of Marquette. He took over from 6-9 Nigerian import Kenny Adeleke who has left the squad.
"From Manila, I went home to Cameroon to visit family," said Mbala. "Then, I flew out to Mexico and in about 24 hours, I played my first game. My team is expecting a lot from me. In the Mexican league, you're allowed three imports. I play power forward and don't mind doing the dirty work inside. My teammates like to work the perimeter so I get a lot of chances to play low. I've been guaranteed a month's salary but I'm basically game-to-game on a tryout basis. I'm treated well and my teammates are really skilled. I already miss the Philippines and I'm hoping to visit when the league ends in three or four months."
Mbala said his choice was the toughest he's had to make after joining La Salle five years ago from Southwestern University in Cebu. Under UAAP rules, Mbala would've served only a year of residence at La Salle to gain eligibility but in an unprecedented move, the UAAP Board came out with a new stipulation requiring two years of residency in the school for a foreign athlete. Even Saguisag, in retrospect, described the move as "foul." And when Mbala played a charity tournament on Sen. Manny Pacquiao's invitation in General Santos City, he was slapped another year of residency. So it took Mbala three years of waiting before finally suiting up for the Archers. And the UAAP Board would've taken away his last year of eligibility next season.
"I feel that this decision is best for the next stage in my career and development," said Mbala.