The vintage advantage
September 11, 2020 | 12:00am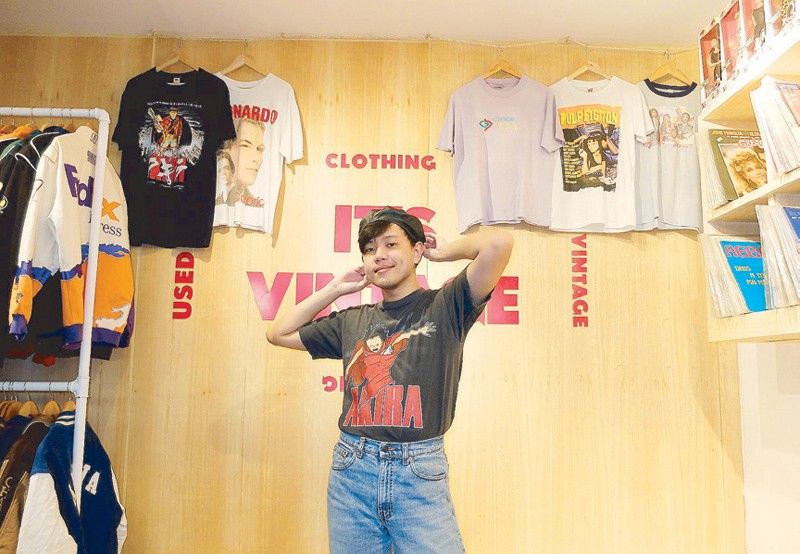 The conversation around vintage fashion has focused, in the past, on the cyclical nature of trends. The discussion generally involved the timelessness of certain eras, why specific looks keep coming back, and how to adapt it to modern sensibilities. But while we may not have been able to predict the prolonged longevity of Birkenstock sandals, what we know is that there is a growing consciousness around the subject of sustainability, and the role that the global fashion industry has in making it a reality. We have in our hands more information about how much waste is incurred in both the fabrication of new clothes and disposal of old ones, and the question posed to us is, "How do we shop smarter?"
Apart from advocating for the return to slow fashion, one of the most affordable and practical solutions has been rediscovering vintage fashion. Currently, we're seeing more and more vintage shops popping up on digital platforms, and more people interested in finding a better home for their vintage pieces. It can be confusing terrain to navigate, and so we sought the help of three style and vintage fashion experts to give us the lowdown on how to score the next great vintage piece.
Fed Pua, it's vintage and factory boy
"Every great piece of clothing has already been made," says Fed Pua, owner of It's Vintage (109 Esteban Street, Legazpi Village, Makati and itsvintagevintage.com), one of the most exquisitely curated vintage shops in Manila. "All major fashion houses and streetwear brands create collections referencing vintage silhouettes and graphics. Wouldn't it be better to purchase the original that's more affordable and kinder to the environment?"
When he started the business, Pua says, "the pieces that were expensive were late '70s-'80s band tees. Today, the pieces going for really high are '90s anime and cartoon tees. It says a lot about who has purchasing power in society at a given time, but I don't think that's indicative of the entire community." He adds that, when discussing the value of vintage pieces, the most important metric is how a garment makes you feel.
"What's great about vintage is that value is really in the eye of the beholder. There are pillars to gauge the monetary value of an item such as rarity, year and condition, but at the end of the day, I'd like to think that we place value on what we feel is valuable." It isn't surprising, then, that Pua isn't the type of collector who leaves most of his precious pieces in the archives. He is a huge proponent of buying what you love so that it can be used, and his greatest advice is "Wear it often, and wear it out."
Pua's favored haunts span the globe: Berberjin in Harajuku, Round Two Vintage in Los Angeles, Procell in New York City, and Dukes Cupboard in London. He notes, though, that no matter where you are, it pays to listen to what you value, and to be decisive when something calls out to you. "I've passed up on so many things that I've seen in stores in the hope of finding them online or at another store, but I rarely see the same piece twice. If you like it, get it."
Shaira Luna, photographer
Shaira Luna is known primarily for her stunning career as one of the top photographers in the country, but anyone paying close enough attention knows her love for all things ukay and vintage. Her YouTube channel and TikTok accounts are chock-full of her colorful hauls and exceptional, unique pieces. "Vintage clothing is delightful because it does so much for the imagination, and allows you to play dress-up and create something every day," Luna says.
Luna started her own collection out of necessity, as she'd look for affordable pieces to use in her earlier shoots. As her interest escalated, she decided to invest her own time in educating herself. "Browsing the vintage section of eBay truly is still one of my favorite pastimes, even if I'm not buying things! I think eBay gave and continues to give me the best education, because that's where I really started hunting for clothes and costumes from specific eras," she shares. "I spent long hours each week going through hundreds of listings and reading their descriptions. I learned to recognize silhouettes, prints, and occasionally even textiles that were popular during each time period. I became familiar with a few names and makers that added value or helped date the garments. The tags and labels on the dresses used different sizing and such beautiful fonts back then."
In terms of physical shopping, Luna's favorite vintage haunts include Australia (specifically Perth, Melbourne and Sydney), particularly for their swap meets and op-shops. Locally, however, she says that real vintage is tougher to find, but "that's what makes it extra fun! Six hours in Makati Square would be an absolute treat for me," she says joyfully. She specifically mentions Glorious Dias on Instagram, noting that their Instagram Story sales have been her haven while travel is still on hold.
Given her wealth of experience in exploring period pieces, Luna is one of the best resources for tips on vintage shopping. Her first is to keep an open mind about fit: "Shoulder pads can be enormous. Things over 40 years old tend to be tiny at the waist, even if the description says it's your size." She also mentions buttons as a practical concern, saying, "Check if the buttons are secure. They had pretty fabulous buttons back then, and if one gets lost, it will be nearly impossible to find anything identical."
But much like Pua, Luna is all about wearing what you invest in. "I want to use my pieces, so I keep them where I can see them, and not in garment bags," she says. "For a while, I only used my vintage dresses for special occasions. I realized that such affairs don't come often, and one shouldn't have to wait forever to experience the thrill of having the pieces on. Most older garments were made to last, so take care, but don't be too precious with them."
Pam Quinones, qurator studio and vestido
"When you find vintage that is also a bargain, you always feel like you won the lottery," says style queen Pam Quiñones, as she reminisced about a Gucci clutch she scored in the early aughts at a second-hand market in Baguio. "The best thing about vintage hunting is that you can always find really special pieces with extraordinary details for a more affordable price, and there's a very slim chance you'll bump into someone wearing the exact same thing."
Quiñones as a vintage shopper and genuine lover of great clothing looks at things from a more technical aspect. "There's vintage and good vintage. Good vintage usually comes from more prominent design houses, especially when pieces are created during the seminal years of a designer. Some say that designers' first and last releases hold the most value." She explains further, saying, "Whether a label is prominent or not, I usually look at the make, construction, sewing details and other elements such as hardware, zippers and labels. All these are clues as to whether it's good vintage or not."
She notes that some of her favorite pieces have come from shops like Espace Kiliwatch in Paris, One Of A Kind in London, and online through Vestiaire Collective. Quiñones also mentions that her fashion rental Vestido (vestidomanila.com) has plans of launching a reselling platform, which will include certified vintage pieces.
Most of her tips are practical, as she notes that care tag instructions must always be followed, and that vintage should be stored in a cool, dry place. But Quiñones also remarks that her most loved vintage pieces are those that require no occasion and can be worn without too much consideration. "If the fit isn't right, have it altered to your size right away. Or else, you'll keep it because you know it's special, but you'll never end up wearing it. What's the point? We need to commit to wearing our prized fashion possessions, especially if they're occupying precious real estate in our closets."