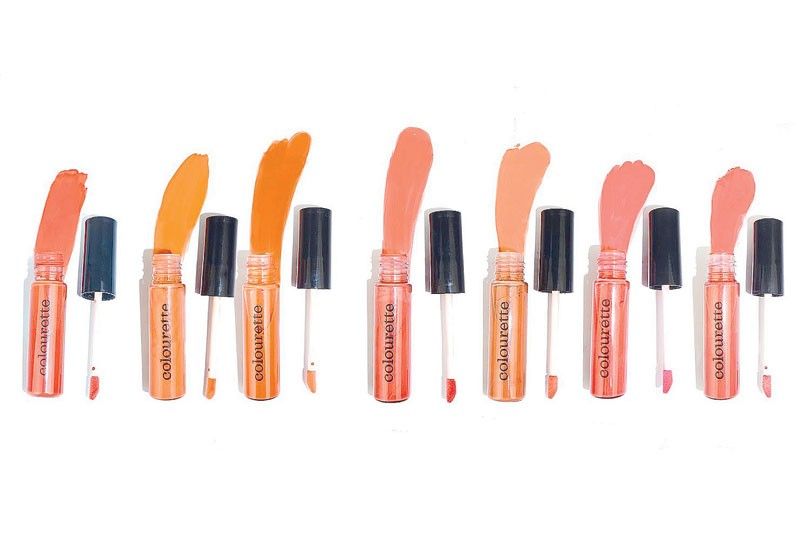 Colourette listened to their consumers' feedback and repackaged their popular Colourtints.
Colourette's Tints Tick All The Boxes
If you've never tried a Colourette tint in your life, now might be the time.
Colourette Cosmetics, for the uninitiated, rose to popularity in 2015 due to their Colourtints. They were unlike the usual water-based variety on the market that one could buy in rollerball packaging, most of which were made to copy a much more popular brand and employed the use of food coloring. The Colourtints are a multi-use tint meant for eyes, cheeks and lips. They're oil-based and extremely potent. Two dots of this product on the skin yields full pigmentation and lasting color on the face, while the oil in its base gives it enough slip to steer clear of the dreaded Queen Amidala look.
The brand is female-owned and -run, as well as formulated and produced locally. In their five-year run, they've extended their product range to other types of products — brows, powders, highlight. But as of late 2019, the brand has narrowed the range back down, focusing on their star tints, and deciding to absolutely perfect each product before expanding once again.
A shiny new look
One gripe that many, including myself, had with the previous Colourtints was the packaging. It looked very similar to a nail polish bottle, which didn't seal properly and meant it didn't travel well. It could be great as an addition to one's vanity, but not the best for on-the-go touch-ups.
What Colourette did quite wisely was tap their community for feedback, and really actually listened. Their 23,000-strong community of what they call "Boss Babes" is made up of highly opinionated consumers who know what they want, and Colourette's business model has involved their direct participation. "Colourette is a people's brand. Unlike celebrity brands that might be fueled more by personalities, I'd like to think that we're fueled by our consumers. They're really involved," says owner and CEO Nina Ellaine Dizon. "We ask them directly how much they're willing to pay, what colors they want, which shades they prefer. If we price something too high, we lose them as consumers, and we end up not serving our purpose." It's a brilliant way to approach the beauty space, which has become so overloaded with products that brands scramble to convince consumers of what they want.
When the brand asked their Boss Babes what their ideal Colourtint packaging would have, in came the sensible suggestions: something much more travel-friendly, a metal ball inside to ensure a smoother emulsification of product, a doe-foot applicator for more precision, a wiper edge to swipe off excess liquid prior to application. The end result was secure and beautiful, to the satisfaction of their customer base. "This is our way of telling our consumers that we're serious, and that we listen. I've reached out to them when we had problems with packaging of other products, to reassure them that we're doing out best, and they feel at ease because they know the owner is listening to them," says Dizon. "If you have a problem with a Maybelline lipstick or a MAC lipstick, you don't expect that the CEO will talk to you."
Actually unique
The notable thing about the repackaging is that it had a direct impact on the actual product's performance. While you could still start off with a light wash and build up accordingly, you could now achieve a really even, fully opaque swipe of color. You could have the look of a liquid lipstick or even a bold liquid shadow, but extremely lightweight and comfortable. Truthfully, there isn't really any comparable formula in the market, especially when stacked against other tints. (Believe me, I've done the legwork.)
It behaves like a pro product in its flexibility, and at an insanely affordable price of P299 a pop. There is a preoccupation among other tints to stay on the sheerer side, whereas the wealth of pigment in a Colourtint makes it more flexible to achieve whatever result you'd like, whatever your skin tone. (If you've got a much deeper complexion, this is one tint that'll show up and show out.) As of June 1, they dropped their final installment of repackaged shades, namely oranges and corals. This rounds out the Colourtint rainbow, which boasts a versatile range of nudes, browns, reds, pinks and mauves alongside their latest release.
Colour me charitable
Perhaps the best thing about this company, however, is its heart. Before the onset of the pandemic, Colourette was set to launch a limited-edition set of minis for April Fool's Day. What they did was pivot the launch to raise funds for frontliners and underserved communities, giving 100 percent of the profits from all the sales of these bundles. The P307,139 raised went to a range of organizations like Kaya Natin! Movement, Caritas Manilas, Golden Gays Manila, and Coalition of Services of the Elderly, to name a few. At a time when many of us are thinking of the best places to put our pesos, and which local brands are worth supporting both for product quality and values, Colourette Cosmetics makes the choice exceptionally easy.