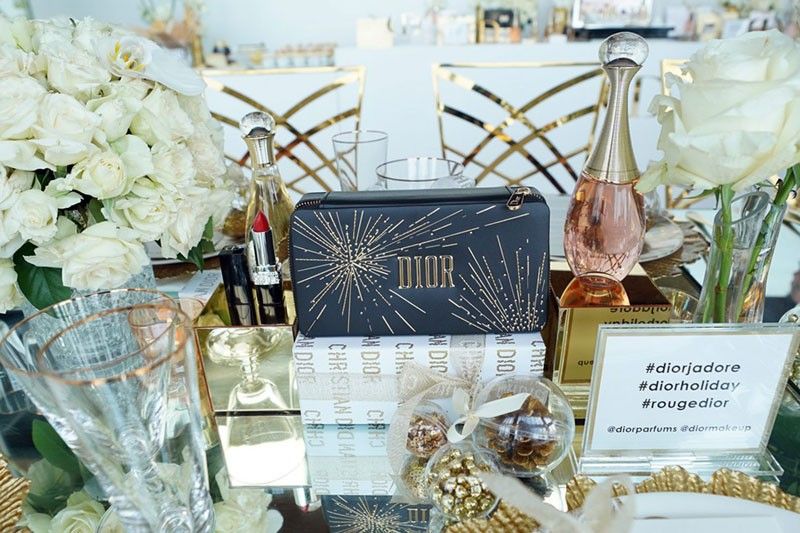 The Rouge Dior "Happy 2020" Collector Couture clutch features six of the brand's most iconic shades.
And now, A Dior beauty suite
MANILA, Philippines — Filipinas adore Dior. The iconic French couturier's beauty expression has experienced high double-digit growth this year, now with three big boutiques carrying makeup, fragrance, and skincare with in-suite facials independent of its fashion arm's arrival in Manila next month. The items leading this expansion? "Miss Dior Cherie fragrance and Dior Lip Glow," answers Christian Dior Parfums brand general manager Lenard Tiongson.
I can totally see why. Now rebranded simply as Miss Dior, its blend of roses and bergamot is a timeless ode to romance as well as an invigorating day-to-night scent in our tropical weather. As for makeup, "no makeup" makeup is still the favored beauty look and Lip Glow was the first product to recreate that healthy, plump, yet bare- and natural-looking rosy lip for every skin tone and is still the brand to do it best; I myself am a fan. But for the holidays, Dior suggests some razzle dazzle to your beauty routine.
And they've spared no expense with the Designer of Dreams' Atelier in Mall of Asia, offering composable gift sets and personalization dressed up in elements of the brand's DNA such as flecks of gold all over, calling to mind their famous J'adore perfume, or the studs in the Rouge Dior "Happy 2020" Collector Couture clutch, which features six of the brand's most iconic shades — an an affirmation for the coming new year.
The gifting suite also sees J'adore expanding into a full bath and body line, punctuated with sensorial pleasures that celebrate its ylang-ylang, rose, and jasmine bouquet as a gently foaming scented bath and shower oil, a beautifying body milk called Lait Sublime, and a shimmering body gel Gelée d'Or. J'adore!
* * *
Dior Boutiques are in SM Makati, Podium, and Ayala Malls Manila Bay and Dior counters are in Rustan's Shangri-La, Rustan's Cebu, SM Mall of Asia, and SM Aura Premier.