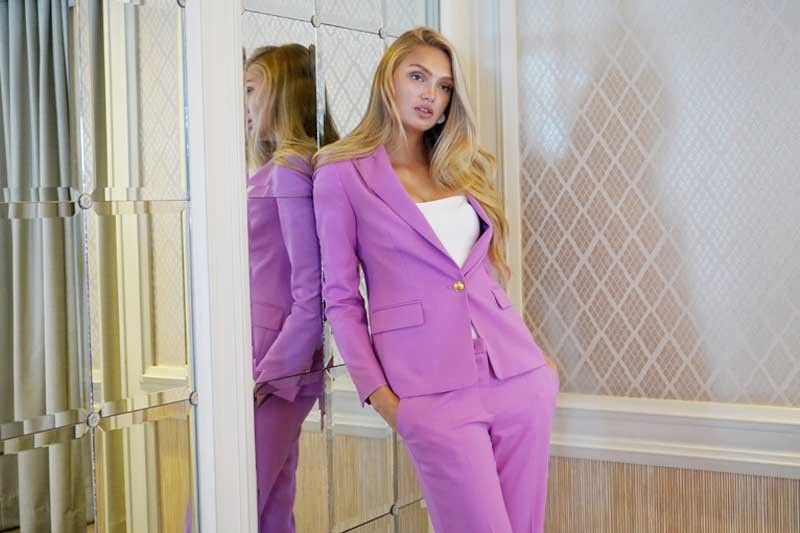 Romee Strijd: "I worked with Penshoppe because this makeup is about popping your natural beauty."
Penshoppe brings back makeup line starting with lipsticks
MANILA, Philippines — Global fashion retail brand Penshoppe extends its hip and youthful aesthetic to cosmetics with the return of its makeup line, now rebranded as Beauty Pop by Penshoppe, fronted by Victoria's Secret Angels Romee Strijd and Lais Ribeiro.
Jeff Bascon, vice president for brand management of Penshoppe's mother company Golden ABC, says, "It took us several tries to perfect the line that we want for our customers. From two years of ideation and a year of product development and formulation, we are proud to offer a line that not only boasts quality but also affordability."
Beauty Pop by Penshoppe retails at P219 each.
Nineties and Aughties kids know all about Penshoppe's tinted lip balms. Now we're all grown up, and it's only apt that Beauty Pop starts off with a lipstick line featuring two matte finishes — HydraMatte and LiteMatte — all formulated in Japan. The milk chocolate scent is definitely nostalgic.
Its diverse shade range of 18 colors, from nudes, pinks and mauves, to plums and wines, corals and reds are made to complement every skin tone.
Just before its launch, YStyle sits down with Romee and Lais for some beauty talk.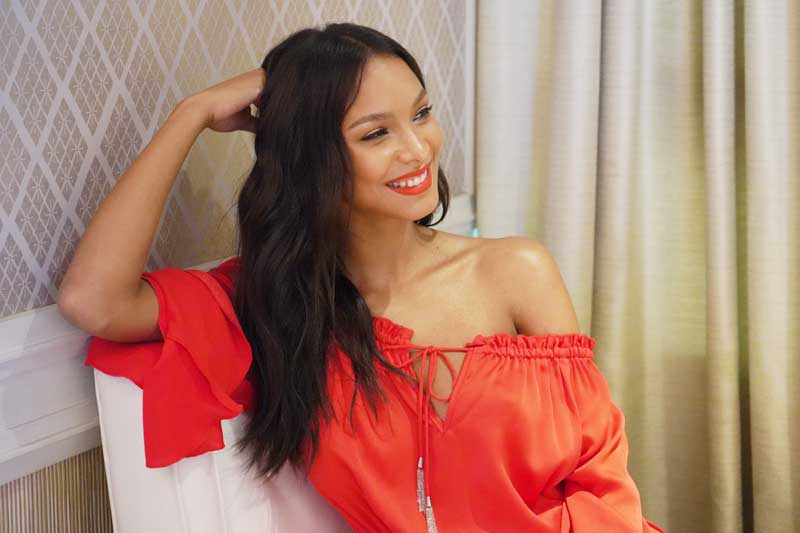 Lais Ribeiro: "Lite Matte is lightweight and velvety in texture, so when you apply it, it's a bright color but you can also blend and blur it. Once you're done, it doesn't move."
YSTYLE: Which Beauty Pop shade is your favorite and why?
ROMEE STRIJD: I'm wearing Hydra Matte in Legally Blonde, a nude that doesn't make you look dead. It's a nude that pops. There's a sheen plus it's moisturizing.
LAIS ROMERO: I picked Wild Child. I like red. I love the name as well; I'm a little wild. I tried it on all day and it didn't move at all. I just retouched once. This is good for going out and events. You can eat without worrying about your lips.
How have you explored your lipsticks?
ROMEE: For the cheeks and lids, I did one with a color that's darker on my lips.
LAIS: The good thing about the Lite Mattes is you can use it as blush and eyeshadow. I use the pinkish nude Prim and Proper for cheeks and lids. Lite Matte is lightweight and velvety in texture, so when you apply it, it's a bright color but you can also blend and blur it. Once you're done, it doesn't move, which is important in makeup.
You guys are always on the hair and makeup chair. Can you reveal any tricks you've learned from the experts you work with?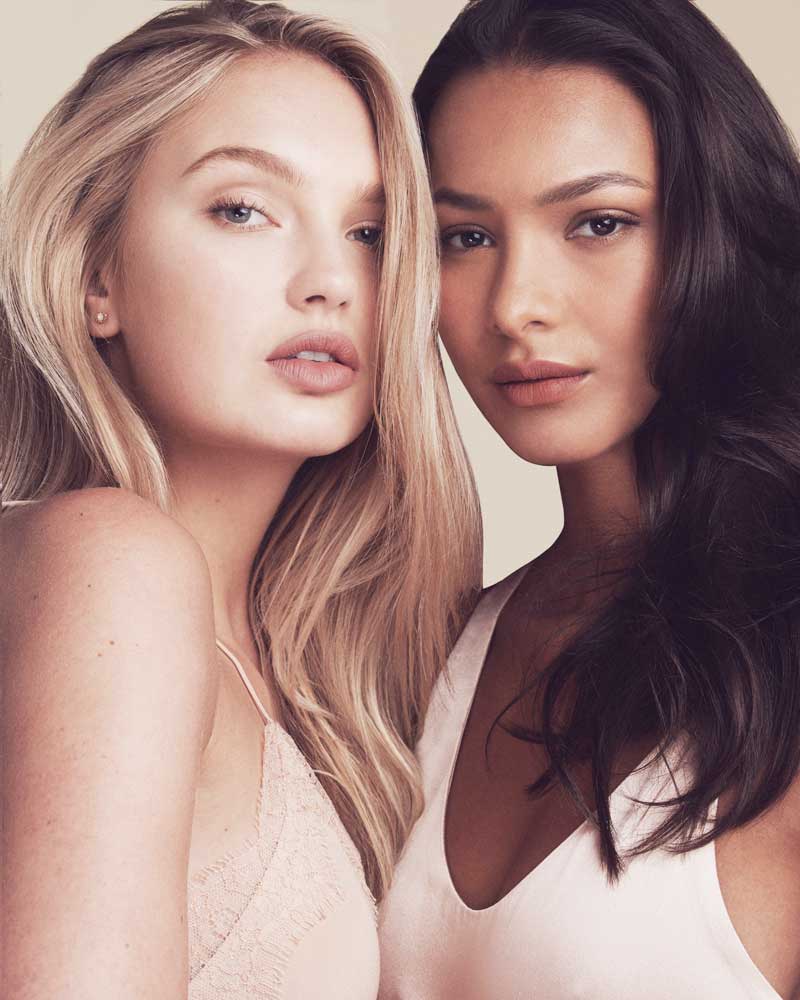 The Beauty Pop by Penshoppe campaign.
ROMEE: That it's really important for me to do my skincare routine even before makeup application. I always cleanse my face, do my moisturizer, and do my oil. I also use face gym tools to tighten my skin. I use jade rollers and a gua sha. It's a natural way to keep everything tight and contoured even without makeup.
LAIS: I learned to contour my lips. I learned a technique that makes it bigger. When you see it, people notice and ask if I did anything to my lips. I start by applying a darker shade a little over the lip line, and then blend it in with my fingers. Then I apply the shade I meant to use over it.
Who are your heroes in the modeling industry and have you met them? Tell us all about your encounters.
ROMEE: I've looked at the VS Shows since I was 10. I looked up to Candice. It was always a dream of mine to become an Angel. Nowadays I am working with them. It's a dream come true.
LAIS: Adriana Lima, of course! She is one of the biggest ever. I met Gisele but never had the opportunity to bond as she's a private person. Both Adriana and Alessandra Ambrosio are so open and friendly. Because they're also from Brazil, it was easier to approach them. I was so impressed because they're big models. To call them my friends, it's pretty awesome.

Beauty Pop by Penshoppe's HydraMatte lipsticks come in nine shades: Girl Next Door, rosy nude; Legally Nude, pinkish nude; Naughty & Nice, hot pink; Mauve It, purplish mauve; Heiress, pink-based red; Very Berry, cranberry red; Party Fever, red violet; Day Dream, cool pink; and Fearless, deep plum.
What have been the biggest challenges of your career so far and how did you overcome them?
ROMEE: All the traveling. Sometimes, I miss my family and friends but it's also the best part about my job because I get to see lots of places and meet so many different people.
LAIS: Being far from my son. In the beginning I had to stay for five years in Brazil and I had to go back and forth. Now he lives with me in New York, but I still travel a lot. Now he's growing, he misses me more than before. He's 11 now, a big boy. I just missed his graduation because I was working.
For you, what does it mean to be a model today?
ROMEE: Being yourself and working with brands you identify with. I worked with Penshoppe because this makeup is about popping your natural beauty. I love that working with Penshoppe feels like being part of a family.
LAIS: I meet so many different people from different cultures. I have this platform to inspire people and do good and give back. That's the beauty in being a model today. You can influence people with the things that you believe and you want them to help you with whatever you believe.

Beauty Pop by Penshoppe's LiteMatte lipsticks come in nine shades: Retro, brick red; Wild Child, electric coral; Queen, blue-based red; So Extra, vibrant plum; Slay, chocolate brown; Smack, true red; Prim & Proper, medium nude; All Dolled Up, nude coral; and Next Move, mauve.
* * *
Beauty Pop by Penshoppe is available online at Penshoppe.com and in Penshoppe SM Cebu, SM Mall of Asia, SM North EDSA, Ayala Cebu, SM Megamall, SM Pampanga, Ayala TriNoma, Filinvest Mall, SM Fairview, UP Town Center, SM Lanang, SM Manila, Eastwood Mall, Ayala Cloverleaf, Glorietta, SM Dasmarinas, SM Iloilo, Robinson's Ermita, SM Seaside Cebu, and CSI La Union.