Ystyle Picks: Panasonic Manila Fashion Festival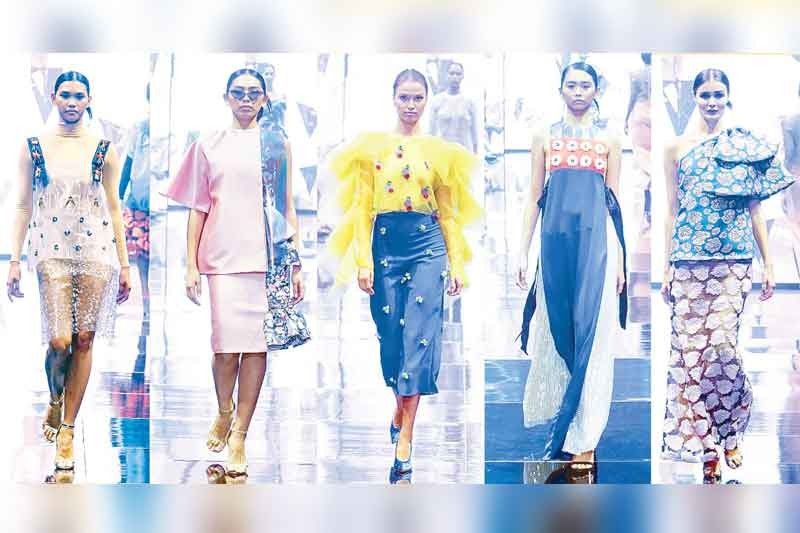 MANILA, Philippines — In the eighth edition of the biannual Manila Fashion Festival, the notable collections from 10 designers are in. YStyle reads the runways (to filth).
METROPOLIS
Martin Bautista
Clear PVC vinyl can also mean couture, says Martin Bautista in his latest outing titled "TERRAbyte." The designer sequels his decadent holiday 2017 collection "Saturn" with a compelling progression of his signature embellished fantasia meted out in his house codes. This season, Bautista's inspiration marries the romance of flou and frou with femmebot futurism. What may sound like an obvious contradiction makes for a compelling case for ease and wearability — and that, if we may say, makes for this collection's biggest triumph.
It's unfettered decadence in a fitted knit top swathed with a sheer floral overlay paired with a shirred tulle skirt. It's "newness" and unseen silhouettes with an operatic cascade of tiered yellow organza paired with a smart, no-nonsense culotte. Bautista makes soft, sculpted armor for his army of holographic muses — none more obvious than in a day-time ensemble of smart separates (cut in sorbet hues, no less) spliced seamlessly with plastic inserts. Martin Bautista goes on to demonstrate that giving your ideas flight (bows, brocades and everything in between) doesn't mean you have to lose sight of the ground. – Martin Yambao
DAY-TIME ELEGANZA
Cheetah Rivera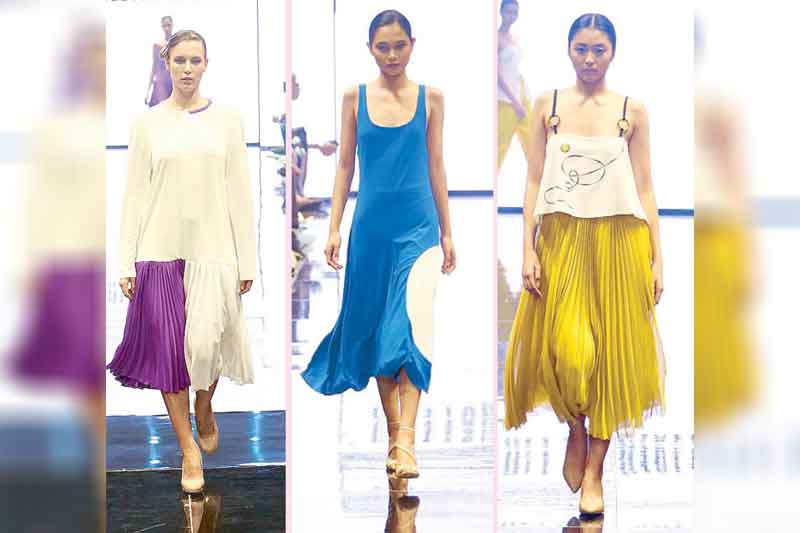 While the rest of the designers from Day 1 of the Panasonic Fashion Festival went full-on glam with their long, fully beaded gowns, designer Cheetah Rivera went the opposite direction and presented a 20-piece collection of easy, flowing and uncomplicated pieces. Inspired by artist Wassily Kandinsky, Rivera injected minimal graphics and subtle prints in jackets and skirts. The colors? A variety of eye-candy hues from turquoise and fuchsia to tangerine and more. – David Milan
SWISH SWISH
Jun Escario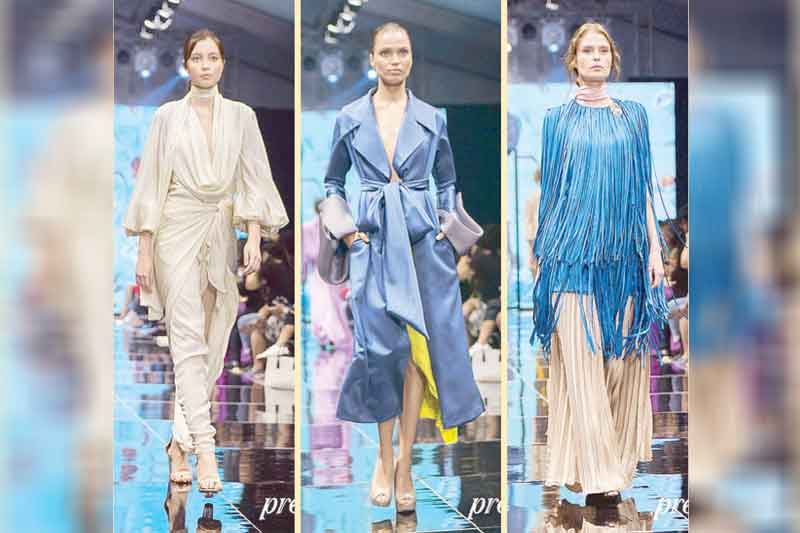 Jun Escario's latest collection is languid, refined and, well, so very pretty. Sure, it's hard not to fall for the sorbet suits, ivory-hued draped dresses and sapphire blue trenchcoats, but don't think we've missed the Cebuano designer's flair for the dramatic. From a lavender cape turning up the volume with exaggerated ruffles and a chic ostrich feather jacket giving us the warm fuzzies to a fringed mini getting twice the swish appeal with a pleated palazzo trouser pairing, statement pieces add a jovial note to his pastel perfect designs. Looks like Escario's found our sartorial soft spot. – MJ Benitez
BAD ROMANCE
Esme Palaganas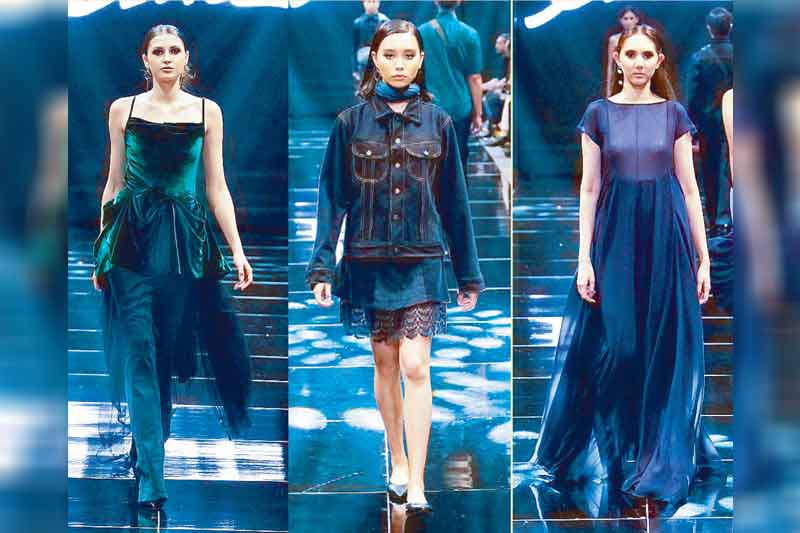 Esme Palaganas' first look set the tone for her collection this season. It was an emerald green draped top with matching trousers and a tulle train. The mood? Dark, romantic, feminine and strong. Palaganas played with textures with her familiar, signature silhouettes. Sheer chiffon toga tops, draped velvet pieces trimmed with lace, and jackets in denim were the standout pieces. – DM
POWER SUIT
Anthony Ramirez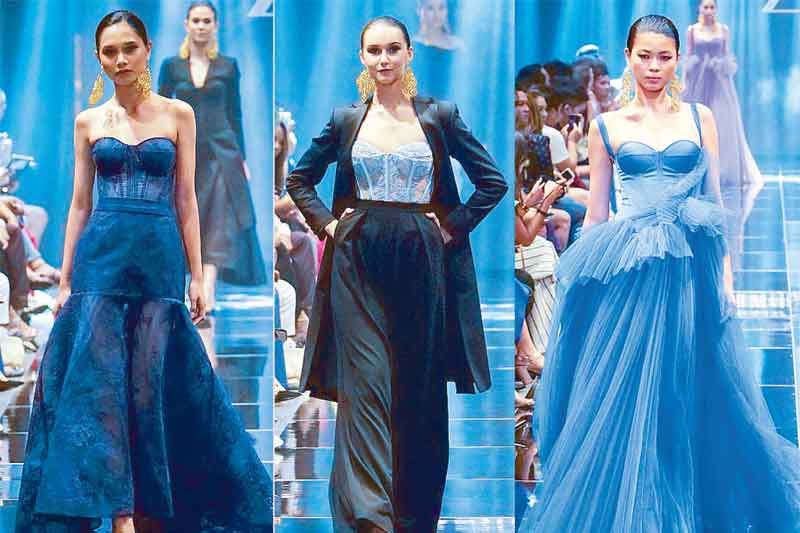 In this year's Manila Fashion Festival, designer Anthony Ramirez looked to dramatic tones and refined structure. Femininity runs freely in his collection but is also accompanied by a certain boldness, as seen in the designer's take on the power suit. Present throughout the lineup were the structured bustiers that were paired with tulle ballgowns, pantsuits and even placed over coats. The color palette was a spectrum of tones ranging from deep midnight blues to electric hues of blue and ultraviolet. It's a collection that's inspired by fashionable socialites, so trust that the collection is perfect for the female form. – Francine Gacrama
PRINTS CHARMING
Sassa Jimenez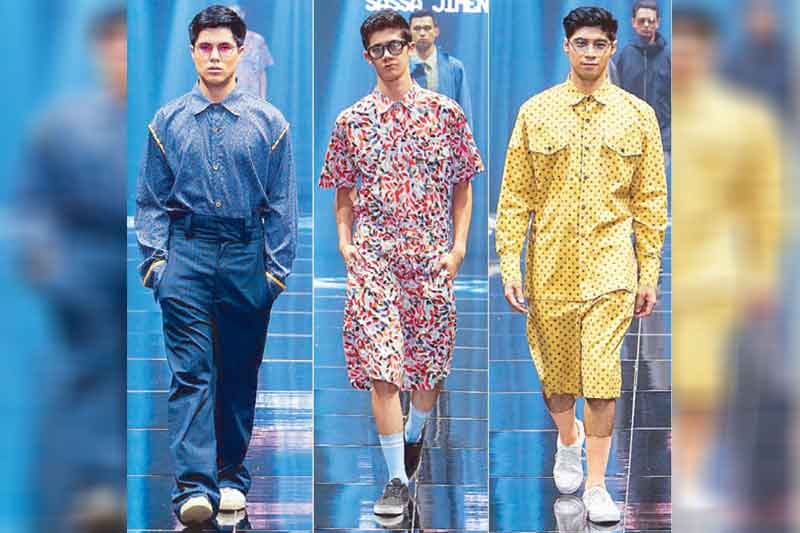 Sassa Jimenez was picked by men's fashion magazine Garage to produce a capsule collection on the merits of being "a designer not closely associated with menswear," describes Garage editor in chief Rey Ilagan, but the Garage x Panasonic Manila Fashion Fest showcase isn't Jimenez's first time designing for dudes. On hiatus until the show is the urban-influenced "Wonderboy," her ready-to-wear menswear line, making a comeback in tailored yet relaxed silhouettes. Ilagan says of the brief, "A summer collection for the modern Filipino millennial reflective of Garage's style." With wide-legged, high-waist trousers in pajama prints and slouchy long-sleeved tops, for taking it slow in city living, Jimenez delivers. – MB
DATE THE NIGHT
Jaz Cerezo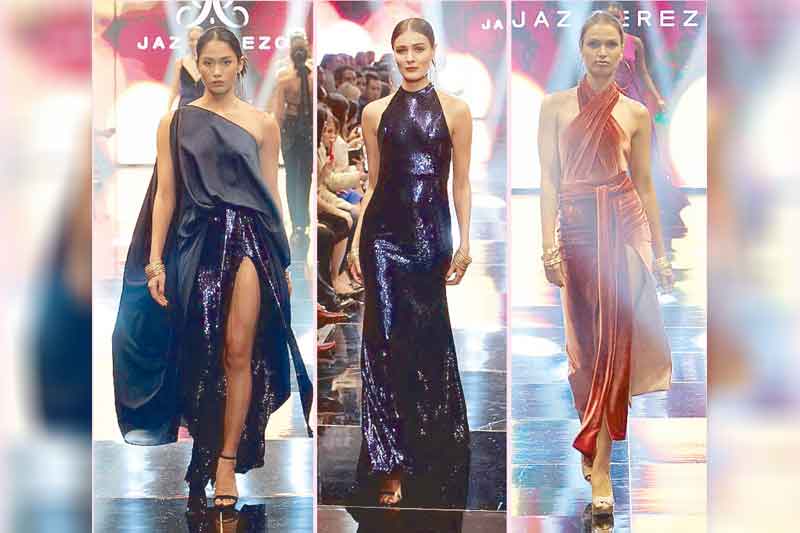 This season, designer Jaz Cerezo basks in the moonshine with an extra-alluring, figure-embracing take on eveningwear. Dubbed "Midnight Sun," the collection is equal parts luscious and luxurious. Observe: while a velvet halter dress gets sultry with an up-to-there slit and a slinky gown gets dressed up in high-shine sequins, a chainmail cowl-neck top glints prettily over a noir cropped top and skirt set. Meanwhile, deep-v and asymmetrical necklines add to the sensuality of fluid silk silhouettes. Sexiness can be empowering, and here, Cerezo lets her designs do all the talking. – MB
REMEMBER THE TIME
Neon Island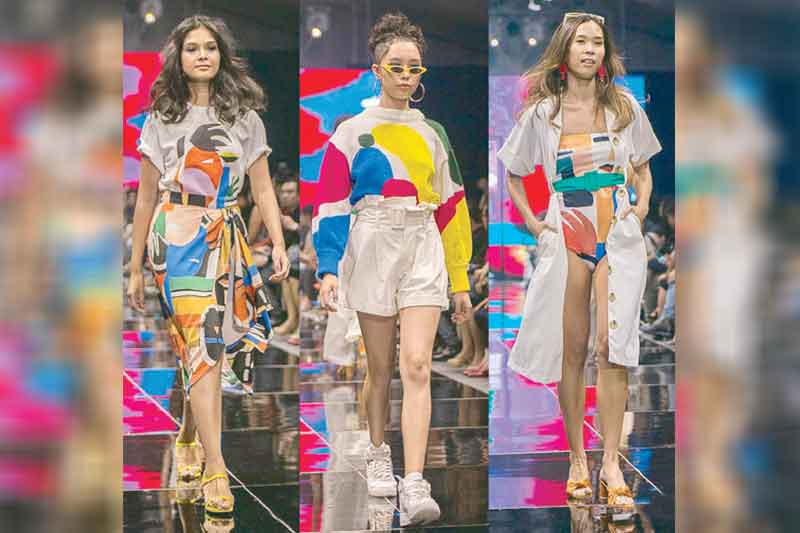 Neon Island celebrates their fifth anniversary as an independent label. And that's no small feat; that's five years of staying on top of a successful business, keeping relevant in a saturated apparel landscape (where every other influencer has a label to call their own), not to mention being consistent with their vintage pop art aesthetic.
For their first-ever presentation, the summer dressing label finds its legs in the bright color smash of their signature hand-drawn prints and their spot-on styling — acid-hued lids paired with cheeky knits, fun drop earrings worn with no-nonsense sneaks. But having parleyed their covetable success from the context of a two-dimensional medium (read: Instragram), they've struggled to say more in the setting of a live runway show. It's the deftness of fit, the integrity of cottons-meant-to-be-crisp, or the engineering of a paper bag waist — but in the grand scheme of things, these are small complaints for a label that brings something more to the local fashion conversation. These are issues that will sort themselves out through tenure and experience; and again, there's a lot to be applauded here. And with enough time, we're confident Neon Island co-designers Chi Gibbs and Aira Medina can take their label there. It's above and beyond from here. – MY
WHITE OUT
Daryl Maat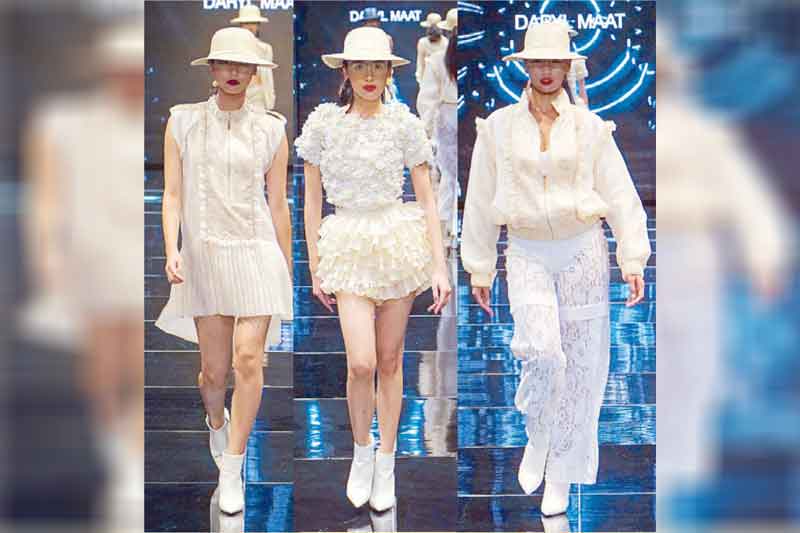 Entitled "Baro," it's unmistakable that the collection by Daryl Maat was inspired by the barong Tagalog. The lineup was formed from the idea of infusing indigenous materials of piña jusi, piña cocoon and banana fiber into modern silhouettes. Taking cues from street and sportswear, a monochromatic hue flooded the runway in the form of tiered mini skirts, palazzo pants, a frilly bomber jacket and intricately designed appliqués on dresses and tube tops. There's a subtle elegance that this traditional textile brings to each and every ensemble, and we like Maat's take on such a classic fabric that's deeply rooted in heritage. – FG
PLANTING A SEED
Maco Custodio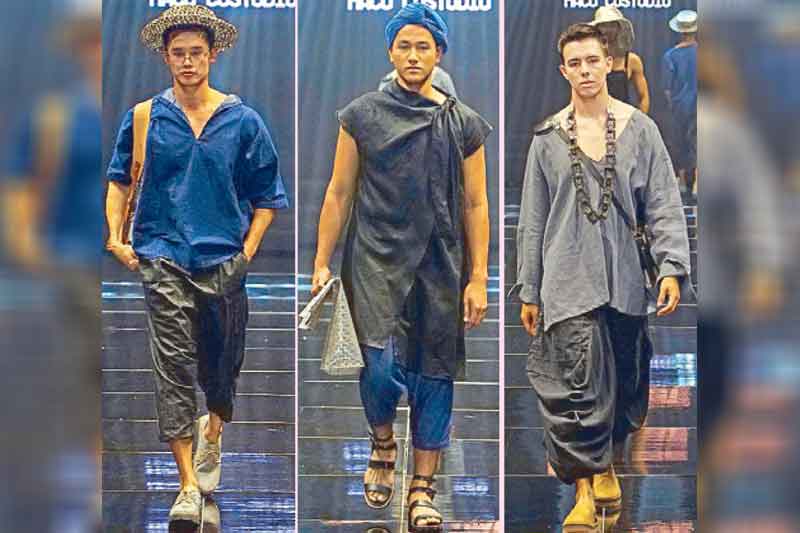 Maco Custodio is no stranger to designing for men as an accessory designer, crafting bespoke shoes and hand-stitched bags, belts, and hats in materials varying from genuine leather to a Gawad Kalinga collaboration made with upcycled, pre-consumer drink packs in aluminum packaging, and his first venture in apparel design possesses similar merits on sustainability. Custodio says of the new brand by.MCO, "It can be seen as an alternative trend against fast fashion. The future of fashion is gender neutral." He assembles a palette of navy, black, and slate in lightweight linen, making its loose, oversized silhouettes flow with every stride. With the exception of harem dungarees, worn with a floppy hat, the rest are Eastern-inspired separates. Tops are tunics, and bottoms are culottes cuffed at the hem. Apart from the bags, the neckpieces stand out in upcycled leather. – MT