Sweet sweet fantasy baby: Randolf by RJ Santos
September 28, 2017 | 4:00pm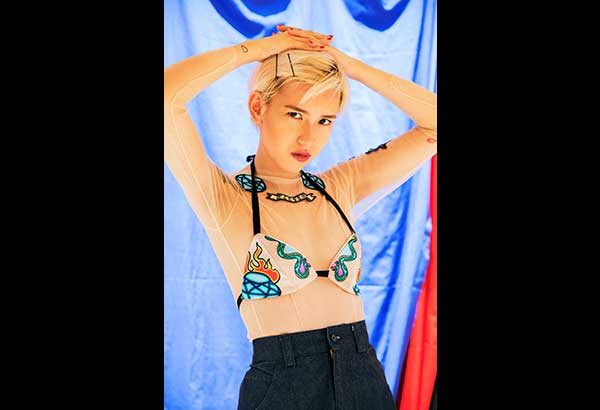 MANILA, Philippines — Young talent RJ Santos started his brand Randolf after graduating in 2013. But after just three collections, he took a pause and said "yes" to an opportunity he couldn't miss. Santos moved to Bangkok to work as a fashion designer for a Thai manufacturing company just last year. He wanted to explore a new territory and see how the fashion and textile industry works abroad. Their progressive approach to design, according to him, is something that made him jump ship. But a few months later, he realized it was something he didn't see himself doing anymore. He packed his bags and went home. Fast forward to today: RJ's comeback collection for Randolf became an entry to the recently concluded Bench Design Awards. He won, of course. He's one of the three winners who will showcase their design in Japan for the Amazon Fashion Week Tokyo next month. In this YStyle exclusive, a first look of the lookbook of the winning collection of Randolf by RJ Santos.
YSTYLE: How did you prepare for this collection as an entry to Bench Design Awards?
RJ SANTOS: I already had the concept for the collection way before I decided to join Bench Design Awards. I was preparing for my next collection when Bench opened the competition, so I just decided to submit the concept that I had, since what they needed was SS 2018, and my concept was for SS 18. So sumakto!
What was your inspiration for this collection?
The collection is called Borders. It is about our family road trips during the '90s and early '00s. We would always accompany my dad on his business trips across northern Luzon. I was particularly inspired by the music my parents listened to when we would go on these road trips — things like Abba and Led Zeppelin. And I would always look out the window and imagine making music videos for these songs. I also arrived at the concept accidentally while driving when Dancing Queen played. It just reminded me of those moments and I saw an image of a girl dancing in a teal room, wearing a pink dress. That's how the collection started.
What were your references when you were conceptualizing this collection?
Abba, Led Zeppelin, AC/DC and The Brady Bunch. My mood board was basically a playlist and it had these bands/artists plus Mariah and Kylie Minogue. In terms of graphics, my references were vintage tattoos, old comic books, and '70s disco elements.
Can you tell us about this season's muse?
This season's muse is more open when it comes to clothing choices. Surrealism is, I think, what best describes this season.
Did you explore any new techniques this season?
I actually had a lot of "experiments" while making the collection. Some of the techniques, I had to redo a lot of times just to achieve its form. I used piña jusi for this collection and had it embroidered with my own graphics. The reason I used jusi was because it had the crispness and transparency that I was looking for.
What would you say is the mood of this collection?
Our spring/summer collection's mood is very dreamy and silly. It's about having fun and poking fun at all the seriousness happening in fashion and pop culture. I'm very much into surrealism at the moment and I think it kind of reflects this collection, in a way. (Laughs)
If this collection had a soundtrack, what would be on it?
Dancing Queen, transitioning to Hot Stuff, then Yoo Hoo by Imperial Teen, Dirty Robot by Lemonheads, then Girls and Boys by Blur, then Rebel Rebel by Bowie, and finally, Freedom by George Michael.
What's your favorite piece from the collection?
The La Pietá purple shirt. I've been wanting to do a full print silk shirt for the longest time, and now I was finally able to do it.
How did you feel when they called your name during Bench Design Awards?
I was shookt! (Laughs) I was making sure in my mind that it was me because I didn't want to be embarrassed. When it finally sunk in, I felt happy, but still shookt. (Laughs) Backstage, I was already having doubts because my rack looked half empty. So I just enjoyed the whole show and made sure that what we presented was what we really wanted to show for Randolf.
What are the top five things you look forward to in Tokyo?
Aside from the show, pop-up and training, which I am very excited for, I look forward to trying new food, seeing Hachiko's statue (at Shibuya Crossing), walking around the streets, experiencing their culture, and hopefully getting to know local artists.
What's next for RJ Santos?
Growth for Randolf.
Photographed by Joseph Pascual
Styled by Vince Crisostomo
Modeled by Una Ilarde