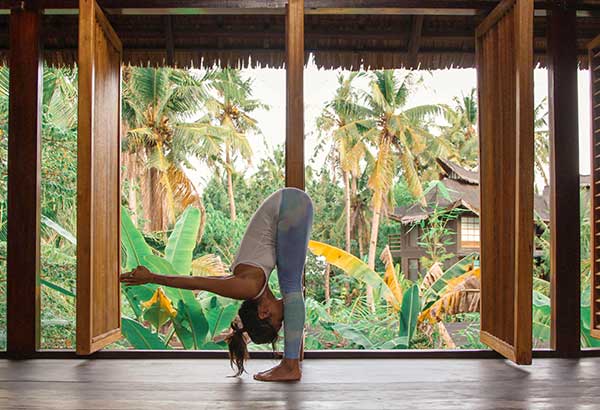 Louise Albano, program director of Lotus Shores, also does most of the morning yoga classes in the dojo.
Over the years I've been traveling solo all over the world, but never really with the intention to be alone. I was always meeting up with people I knew were in the cities I went to, and while I was comfortable with being by myself discovering busy cities with museums and galleries and sights to keep me entertained, going on an island trip was definitely something I had considered should be done with friends and a group of people, not by yourself.
As of late, though, I've been trying to engage myself in things outside my comfort zone, so I wanted to go on an island trip solo to a place I had never been to before. I decided that the best way to ease myself into it was to go on a yoga retreat, which was also something I had never done. I had set my intentions to take time out for myself, for mindfulness and self care that I needed but have never really made time or space for in the past.
The internet led me to a place called Lotus Shores in Siargao that offered a six-day immersion called "Aloha Siargao," created to make things simple for guests who can just start the program at any time. The immersion includes accommodation for six nights, daily morning meditation, yoga classes, three vegan meals a day, two surf lessons, an introduction to organic farming, and new or full intention-setting rituals if you are there for those dates. It seemed like the perfect way for me to disconnect and cleanse my senses, so I booked a flight and headed to Siargao.
I had never been to Siargao before, but I decided to make a conscious decision to really experience the program for all that it was and really engage myself in the activities on site. Lotus Shores' program director Louise Albano insists that they are not a resort, rather a retreat, designed for guests to the commune to look inward rather than outward and experience what is most special about the island. While most people stay in resorts and hostels as a halfway house from the day's activities, Lotus Shores encourages a holistic practice to expand awareness and cultivate a way of life that is inspired by the island lifestyle and opens guests up to the healing energy that Siargao has. To quote Louise, "What is really nourishing is relationships, like yoga is a relationship with one's self and the world that surrounds you, food is a relationship between you and the earth. So this place is really all about reconsidering relationships because everything is related and connected."
I was determined to really internalize the process, and give my hyperactive self a rest. I didn't do any sightseeing or island hopping, didn't drink or go out 'til late, I just wanted to try and remain mindful, to listen to my body and rest when I was tired, to take breaks instead of trying to keep myself constantly occupied. What surprised me is that it wasn't hard at all; that I, an extremely stressful and anxiety-filled person, was able to chill out effortlessly upon arrival at the green mellow sanctuary of Lotus Shores. I never thought I could achieve such a sense of calm, and be able to let go. There was really something magical about the retreat, as well as the energy of the island. I thought I would struggle with an hour of meditation each morning, but surprised myself the first day when Michael (who runs the meditation sessions) said that an hour had already passed when it felt like 10 minutes. I woke up at 4:30 a.m. my last three days to go surfing at sunrise, came back at 7:30 a.m. to go through Louise's epic yoga classes that lasted two and a half hours and still felt great after each session. (Let it be known that the yoga classes at Lotus Shores are probably the best yoga classes I have ever experienced in my life).
Prior to arriving, I had worried most about eating vegan for my entire stay, but the meals created by resident chef Royceleth Lopez tasted amazing and were super filling, even when I had requested that my meals be carb- and sugar-free as well as vegan; I didn't miss any of my usual animal protein and had loads of energy throughout the day.
What makes Lotus Shores stand out though from all the detox programs I've done in different corners of the world is the sense of community and the warmness of the retreat's atmosphere. While I traveled to Siargao alone, I felt at home and comfortable and within days I felt like Louise and the rest of staff were family that had welcomed me into their home. I loved that we had shared the space and experience together, whether it was in our daily yoga practice, or meals we had shared together in conversation. I loved making friends with the other people who were staying at the commune, who were there for the same reasons I was. Oftentimes the spaces we share with people become so sterile and we don't even make contact, so it was such a refreshing change to feel warmth from everyone in the retreat, and as Louise said, seeing enlightenment as a social responsibility.
I dare say that those past six days were absolutely life changing, and I am so pleased to have taken that solo journey and turned it into a mindful and enriching experience amongst others who share that same quest for balance, being aware and open. I think that I would have had a completely different experience had I gone through that trip with other people, and really recommend a solo journey to Lotus Shores to anyone who needs to make some space in their lives for rediscovery and recharging.
* * *
Visit www.lotusshores.com for more about Lotus Shores, and for more updated news on their programs go to https://www.facebook.com/lotusshores/.