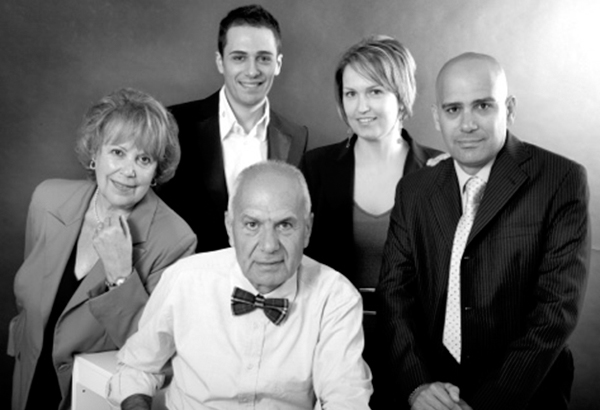 Almost 30 years later, Nomination stays true to its Italian roots and family values led by president and founder Paolo Gensini (seated) with his wife Vittoria Poggini, Alessandro, Monica Tiozzo, Antonio Gensini.
Italian jewelry like no other
If the Composable bracelets by Nomination on the pictures of this page look familiar, you are not mistaken. Only a few months after breaking into the American market in the mid-Nineties, copies of the stainless steel and 18-karat gold modular links with precious stone adornments proliferated the market from mid-range to high street.
But of course they weren't done the way Nomination does each piece. The stones on the fakes, for instance, were simply glued or hammered on — Nomination solders each 18-karat gold piece (an antioxidant keeps gold from melting) and individually handset the stones. The fakes didn't have the spring mechanism inside each modular link or color that is filled with enamel manually and individually. Plus they didn't have that unmistakable shine, thanks to rhodium treatments (six times the usual maximum amount).
Nomination went to court, suing everybody. The company was spending so much on lawyers that its creator and founder Paolo Gensini thought maybe it was all in vain. "Perhaps the people themselves would be able to make the distinction," he said, recalling the story as translated from Italian into English by his son Alessandro, the marketing and communications head of Nomination. Together, they focused their energies and resources on communicating the origins of the brand.
Paolo opened up his heart, revealing that each piece is made in Italy by artisans in workshops within the Tuscan region, completely and only by skilled human hands. That it isn't something you can replicate. That Nomination opts to spend more on the quality of their materials and on their artisans, not on the pricier expense of hiring endorsers and the necessary buzz to go with it. That by choosing the Composable, you are able to make your own bracelet in a design that's modern and timeless and — he assures you — you'll get attached to it. Soon enough, all the copies disappeared.
A Florentine tradition
The story begins in Florence, the birthplace of Dante, Boccaccio, Leonardo da Vinci, Michelangelo, Brunelleschi, Donatello, Botticelli. With the figures here, legends and stories are plentiful — and one and the same. The streets are narrow, medieval and Roman structures loom above. Inside them are the works of the masters and their present-day predecessors, whipping up masterpieces, engaging all senses from the visual arts, to food and wine, to perfume. There is a lot to take in.
And then there's the fashion, the art that you can wear. In the cradle of the Renaissance, its very urban fabric remains mostly unchanged — and probably in leather, as it is home to Gucci, Salvatore Ferragamo and Roberto Cavalli — but second only to pure 24-karat magic upheld by a tradition of goldsmiths, their shops along Palazzo Vecchio seemingly frozen in time. Just off the Il Porcellino — the bronze boar fountain whose famous snout grants wishes and ensures your imminent return — is the Nomination boutique.
"But my father is no goldsmith," clarifies Alessandro. Paolo is the inventor of stainless steel modular links that are patented in his name. Among Italian jewelers, he pioneered the use of stainless steel as jewelry and mixing it with diamonds and gold — those are the building blocks upon which his family business was established in 1987. Alessandro and I are on our way to the jewelry brand's headquarters, unexpectedly located on an idyllic tree-lined part of Florence, Sesto, which is only 20 minutes away from Santa Maria Novella by train. It is where Paolo was born and raised, and where he still lives today.
Nomination exclusively invited YStyle to Florence to give us a private, up-close look into their headquarters as well as their craft shops in Impruneta. But to truly tell the story of the brand, a trip down memory lane is necessary, all the way back to Florence's hottest gelateria in the '80s.
Just like gelato
"The rich, important people wore in-your-face heavy jewels while the middle class were naked of adornment. They didn't accessorize," Paolo shares, an observation made from behind said gelateria, his first venture. Eighties fashion is all about bold and statement-making pieces and no other strata in the world fully took to it as the Florentine elite did, perhaps just as the House of Medici would have it, as they interpreted this in a lot of yellow gold and diamonds worn with pride even before noon.
Paolo was a marine, he sailed the seven seas and moored back home with Nomination's knack for symbolism as a glass craftsman assistant turned metalworker by profession before the short-lived yet seminal opening of the abovementioned gelateria meant to draw foot traffic into his brother's patisserie. Carrying flavors like lemon and strawberry in a market dominated with chocolates and vanillas, he also customized each customer's cone. Paolo attracted people from different walks of life from all over Florence. "It struck me that ice cream was universal: children, teenagers, grown-ups, people of all ages — and walks of life — like it. Whether for three euros or 15 euros, they could have it," he mused, often wondering in what other way he could democratize joy in the way that gelato has.
The daily exchange of hands had Paolo dreaming of bracelets. He would hang around goldsmith shops until a lightbulb moment struck: "I am a craftsman, I created and created and that's how the modular links came up," he says, referring to the building blocks of the Composable bracelet, still made of the highest-quality stainless steel built with a spring mechanism inside which allowed it to be connected to one another. Unlike charm bracelets, the link is the actual bracelet, which you can compose just the way you like it — thus its name.
And so the gelateria had to close and Paolo got to work on the Composable. It is that wunderkind of a jewel that everyone can afford, that everyone can personalize, a piece of jewelry — beyond the binding, dutiful significance of ring bands but something that can also express what its giver and receiver wish to express. Beyond a show of status or wealth, its wearer can show their heart, what they value, what they love.
The first owner of the Composable was a friend of Paolo's who wanted to convey a message of love, so Paolo's first link designs were hearts, "then the letters came along, saying 'love' in different languages, 'amour.' And then I thought of adding more letters so lovers could put their names on it and exchange bracelets as a symbol of their commitment to each other," he explains.
One big happy family
With the help of Paolo's eldest son Antonio, Nomination was officially founded in 1987. This was during the first wave of all things unisex, including jewelry. The Composables, despite its modern, unisex look, weren't an instant hit in heritage-loving Florence. Jewel retailers were uncertain if customers would wear steel — something only found in the kitchen or surgery rooms at the time — until Paolo met an agent who agreed to directly test the market with samples of the Composable in Florence's key department stores.
It was a hit. In the early '90s, a lady from Denmark stumbled upon the bracelets while shopping and expressed great interest in the brand. She happened to be a retailer and exported Nomination to her home country as well as the United Kingdom, one of the brand's strongest markets to this day. Soon her son exported Nomination to the United States.
"Nomination is made of people. It's a family-run business that didn't have a strategy in the beginning. It was people who made a difference, one by one," says Alessandro. Today, Antonio takes over the CEO role and his wife Monica heads human resources. Their mother Vittoria, Paolo's wife ("my first love," Paolo emphasizes, "Nomination is second," his Composable bearing his name and Vittoria's in nautical flags alongside the Nomination logo), is in charge of Italian customer service. The jeweler who first believed in Nomination now works with the brand, and the Danish lady and her son are still Nomination's franchisers.
In the Nomination workshops within the town of Impruneta, craftsmen and their sons have been with the brand for a minimum of almost a decade. I paid them a visit together with Paolo and he knew each one by name, all with stories and a shared common ground. One has been able to build a formidable vintage motorcycle collection, some dating as early as the pre-war era. His son works for Nomination's fashion jewelry line and has invented and patented technology. One of them is a manual press for stones that the brand uses to streamline production, born out of sheer passion. Each craftsman and jeweler specializes in what they do so they create their own tools. For the Composable links, Nomination has patented a tool that makes it easy to manually fold metal into four claws. "Metal prongs mean you can also take the stones out for cleaning," a craftsman explains. Before they are hired, they have to clock in six months of continuous practice.
Something that's truly your own
For the Composables, there are now over 3,000 symbols in 8,000 permutations including zodiac signs, iconic monuments, flags, sports icons — the list goes on. They release new designs every six months in 18 karat gold, silver 925, soldered one by one; the enamel, precious and semi-precious stones, Swarovski (the highest kind of cubic zirconia), and diamonds are all handset into metal prongs individually. In Impruneta, they have been producing 11,000 to 12,000 daily for the holidays. The combinations are limitless.
"It's inevitable to have an emotional connection with your Composable because each link is handpicked either by yourself or someone close to you. There is always a story behind it. Because of its modern design, it can be worn daily so all the more that you become attached," Alessandro says of his Composable, his bearing the Gerard Herbert Holtom peace sign, the taijiitu representing the yin and yang of human life, a lucky clover, and small squares with a small black diamond inside ("Everyone tries to fit in, but to inspire change, you need to be different," he explains).
Back at the Nomination shop in Florence, I was taking my time picking my links when I overhead a Middle Eastern lady's predicament concerning her Extension bracelet, which is second of three DNA collections, a higher end, stretchable counterpart of the Composable that's all the rage in the more-is-more Middle Eastern and Russian markets. She has had it for years, is asking for it to be re-polished, but didn't want to part ways with it.
Bringing people together
Mid-conversation, Paolo rose from his chair and returned with a gold version of one of three DNA collections, My Bonbons, leather bracelets that can be worn with charms. Mine came with a diamond-studded charm. "It's an homage to the other thing that Florence is known for — the leathermakers," he explains, knotting then cutting it to shape. "I like to give presents to people. It's how I communicate the brand. I dine out with my wife and talk to someone and give the present. When I see someone wearing the bracelet, I give them an extra link as a way to start a relationship."
Even outside Nomination, the effect is the same. He says, "It keeps bringing people together through the years."
On my last day in Florence, I took my time sipping my midday macchiato at the centuries-old cafe Gilli's (standing by the counter as the locals do) when a "Brava!" erupts as a glamorous middle-aged lady passes, pointing at the foreboding marble dome of the Duomo hovering above the distance and to its 18-karat quarter of a millimeter rendition on my wrist. A brief conversation devoid of awkwardness ensued as we shared our passion for tropical blooms, prompted by the Phalaenopsis link on my Composable. Indeed, Paolo has succeeded.
* * *
In the Philippines, Nomination is distributed exclusively by The Anthem Group in Glorietta 4, Ayala Center, Makati.
DNA collections
YSTYLE Picks: Holiday line
In the Philippines, Nomination is distributed exclusively by The Anthem Group in Glorietta 4, Ayala Center, Makati.