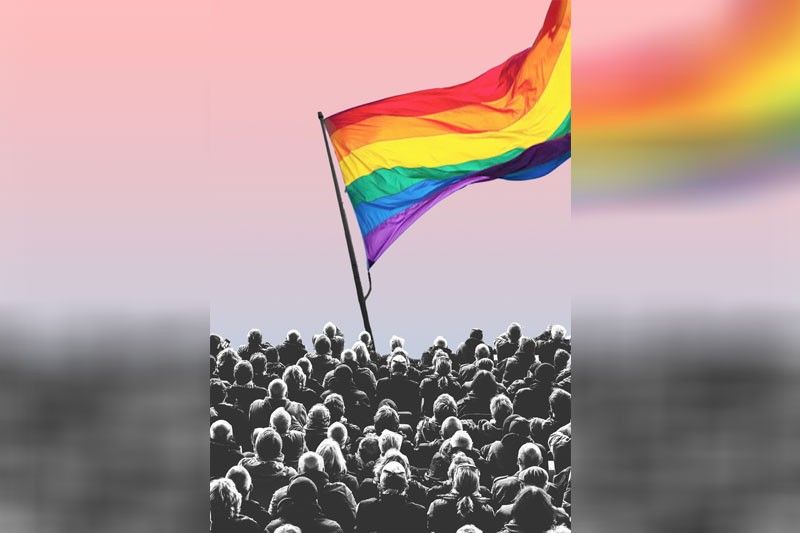 As Pride Month comes to an end, we take a minute to think about what it really means to be an ally to the LGBTQ+ community.
MANILA, Philippines — As more and more people become aware that all people deserve to be equal, more and more people are showing support for the LGBTQ+ community. That's great! Pride Month has never been more alive than it is today. That's great. There are more and more commercials and campaigns that include queer people in the mainstream: gay people getting married, gay people buying houses, gay people having kids, gay people being accepted by their parents in tearjerking ad spots. That's great. But — and there is always a "but" — being an ally in 2018 doesn't just mean waving a rainbow flag and calling it a day. Are they still allies once June is over?
Here's the thing: people, groups, brands, corporations and politicians who try to be inclusive are good and all, but there has to be meaningful support behind it. Because the LGBTQ+ community is still a minority, and it's going to take more work to make everyone truly equal. Are they amplifying LGBTQ+ voices, or are they drowning them out instead? Are they fighting for equal rights, or do they only show support when it's convenient and become silent when issues arise? Are they donating to projects and causes like Pride marches, or are they simply trying to capture the market?
Don't get me wrong — it's nice to see rainbows where they didn't exist before, and it's nice to be represented, but sometimes you just gotta think: are they with me or just trying to sell to me? Being part of the LGBTQ+ spectrum is not a trend to be followed nor is it some bandwagon that people need to jump on. These are identities, struggles, and lives of real people. As more and more companies and politicians "reach out" and get a slice of the gay pie, it's going to take a little more digging to see what they're really getting at.
For example, Primark recently came out (pun intended) with an LGBTQ+ collection in time for Pride, where a portion of the proceeds will go to Stonewall UK, an LGBTQ+ rights charity. Sounds great and all, but Stonewall is not at all affiliated with, and has had issues with, Pride organizations before. Pride organizations in the UK have had to scale down their marches due to lack of funds, and instead of donating to Pride, Primark decides to sell its own merch instead. Here's the kicker: Primark's clothes are made in Turkey, where the LGBTQ+ community is still largely persecuted, and in Myanmar, where being gay is outright illegal.
So what can you do to be a better ally? The first thing anyone can do to really make a difference is listen. Listen to what the LGBTQ+ community actually needs, listen to what their goals are — because that's when you'll know what you're doing is productive. Second: take a stand and stick with it. If you're going to dress up in rainbows and butterflies during Pride Month, don't sit on the sidelines the other 11 months of the year. Nothing is more flaky than deciding to stay silent when the real issues start to come up. For example, in 2016, Target took a stand with a transgender bathroom policy, allowing their guests and employees to enter the bathroom that corresponded with their gender identity. They stuck with this policy even as they faced boycott.
If you must create products and commercials, make sure to include LGBTQ+ community in its creation. It's one way to make sure we're not misrepresented, and it also gives us a platform to shine. Not that you should be giving handouts, but it's important to have a gay perspective on a gay product, duh. Lastly, donate to the local Pride organization or buy their merch. Organizing Pride marches is a lot of hard work, mostly done by volunteers. Mounting these events requires quite a sum, and raising funds is never an easy task. It's the one event each year where we celebrate who we are, and it means a lot to many people.
Being a true ally takes work. It's not just about shouting to the world that you support your queer friends — it means shouting to the world that you support your queer friends and meaning it. Just because you watch RuPaul's Drag Race or speak gay lingo or take your gay friends shopping doesn't automatically make you an ally. And just because queer people are getting more and more attention doesn't mean you can exploit them, or any other minority for that matter. Being an ally means allowing us to be heard; being an ally does not mean joining the conversation only to drown out the people around you. It doesn't have to be some big gesture every time; sometimes the smallest yet meaningful actions can make a big impact. Happy Pride.