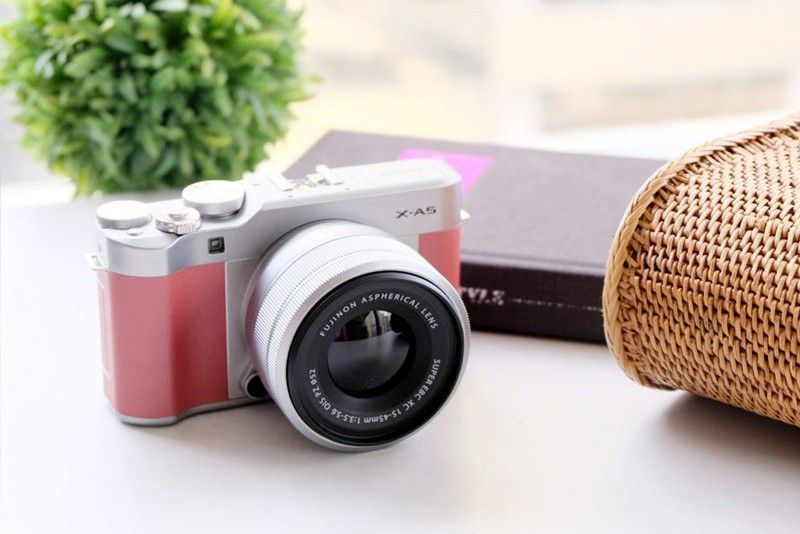 Filming fun under the sun: if you're looking to start a vlog this summer, the Fujifilm X-A5 is worth a look.
Fujifilm's newest mirrorless camera makes it right in time for those summer vlogs.
MANILA, Philippines — Summer is officially here, and you know what that means: it's vacation time. But before you run out of your house and make a beeline for the beach with your friends, you gotta be ready. Swimsuit, check; sunblock, check; bluetooth speakers, check — and most importantly — camera, check. Okay, you might think that your phone's camera will do — and it should, for the most part — but if you want to make those summer memories something you'll watch until the end of the year, you gotta do little better than that.
If you're not sure what kind of camera to bring on a trip, a mirrorless camera should do the trick. It's got the perfect balance between good quality images and a light body. You definitely don't want to be lugging around a heavy DSLR when you're running around the beach with your friends. Fujifilm just came out with the X-A5, which is now their smallest and lightest mirrorless camera. I could go on for days about the specs, but here's the gist: 24.2 megapixel APS-C sensor for mad sharp pics, 4K video recording, bluetooth and WiFi connectivity, the works — everything you pretty much expect from a modern mirrorless camera.
But here's the kicker: if you're planning to start a vlog this summer, the X-A5 is a pretty serious contender. The camera's screen flips 180 degrees, so you can see yourself while filming. Plus, it's got an eye autofocus function, which automatically snaps high-quality selfies by focusing on your eyes. And since you'll probably have a lot of action shots, the X-A5 also has high-speed video capture in HD for those delicious slo-mo clips of your friends jumping off of cliffs or of their sour faces after taking tequila shots. If crisp audio is a must, the camera also has a 2.5mm microphone jack for better sound recording.
The X-A5, which retails for P34,990, comes with a 15-45mm F3.5-5.6 kit lens, which is pretty well rounded for most situations (it's got optical image stabilization too!). But if you want to get a little more specific for those shots, Fujifilm has a pretty good selection of lenses that have gained a pretty good reputation even among professionals. Now, go make that vlog.
* * *
For information, visit fujifilmph.com and follow them on Instagram at @fujifilmlifestyle.