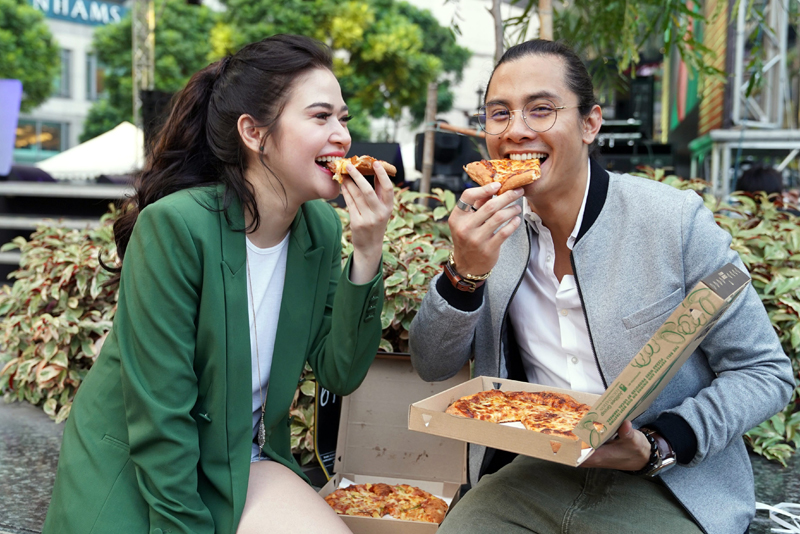 Pie party: Actors Bela Padilla and JC Santos shares a pizza at Greenwich's World Pizza Day celebration.
Greenwich celebrates World Pizza Day in the best possible way: with good music, good friends, and a ton of good food.
MANILA, Philippines — There's something about pizza that brings people together. Maybe it's the communal experience of sharing slices: the scramble to get the best slice, the fight for the last packet of hot sauce, and the line to the sink to get the grease off of our fingers. But even in the chaos, pizza has the ability to unite a group of people together — and that has never been truer than during Greenwich's celebration of World Pizza Day.
Held last Feb. 9, Greenwich transformed the Dolphin Park in Glorietta 4 into a overloaded pizza village. Pizza lovers were able to enjoy performances from local acts such as Hale and Mayonnaise, and got to try activities like the Box Overload Challenge and the Hawaiian Hula Dance Off. Of course, Greenwich favorites such as their signature Lasagna Supreme, and Greenwich Hawaiian and Ultimate Overload pizzas were available for everyone to try out.
Of course, it would not have been a complete Greenwich hangout without Greenwich's new barkada: actors/dancers Ella Cruz and Julian Trono, and actresses Bela Padilla and Yassi Pressman, and actor JC Santos. Like we said, pizza always brings people together.