MANILA, Philippines - The past is back to haunt us yet again — this time in the form of patches. The trend recently popped up in runway shoes abroad and quickly caught on, as all things cute and crafty do. It looks like it's here to stay, but don't ride the basic bandwagon — think before you patch.
Patches began as something to literally patch over a damaged part of a garment, and then became a significant form of decoration and identification in the military. Back in the day — before the industrial revolution — these babies had to be handmade, making them special and one-of-a-kind. Today, patches are made with the help of machines and computers (no, not Skynet). They can be found in all shapes and sizes, but most commonly in an endless array of generic hearts and clovers and the "100" emoji. If you're itching to get patchy with the extra personality, save yourself the trip to Divisoria and cozy up to these patch-makers instead.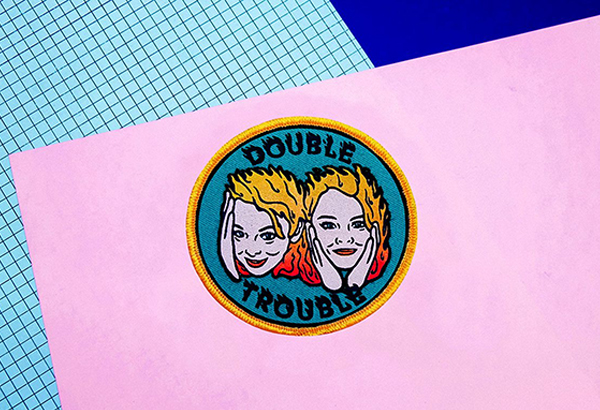 Polly Patch
If you're feeling a bit nostalgic, reminiscing about those Saturday TV series, Polly Patch has got you covered. Patches of Doraemon, Mathilda, Regina George: what more can you ask for? Polly Patch started with a tweet, and today is run by four friends from the UP College of Fine Arts, namely Dyam Gonzales, Camille Tolentino, Pau Tiu and Gino Bueza. For Polly, it's all about "going back to your inner child and not losing it," sharing those experiences and turning them into art and fashion. Apart from patches, they also make stickers and pins, and they're releasing a bi-monthly zine pretty soon.
* * *
Find them on Instagram at @pollypatch, and on pollypatch.storenvy.com.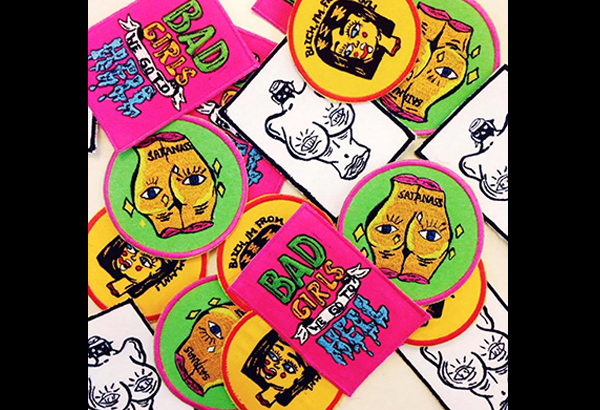 Couch
A brainchild of partners Cao and Chikay, Couch is a fusion of DIY, punk and '90s pop culture. Inspired by "ugly things and ugly words," Couch is definitely not your run-of-the-mill patchmaker. "We're not really fans of 'pretty' things and inspirational quotes," they share. Their products run the gamut from silkscreen merch like totes, pouches and handmade pins to stickers, all for the devious kid in you.
* * *
Find Couch on Instagram at @cooouch.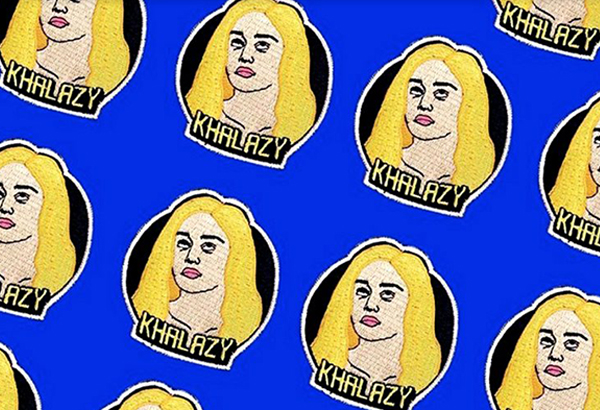 Pundesal
Looking for a pun time? Made by two self-confessed corny kids from Benilde, Pundesal is a stab at poking fun at pop culture. Being graphic designers, Abby Magsanoc and Lance Florentino started out with stickers, and has branched out into patches and even shirts. They developed the idea over coffee — clearly the drink of creative champions — and have been making people either giggle and smirk or shake their heads ever since. They're either a pun-ira ng araw or pun-pasaya, Abby says, but it's always all in the name of good pun. Este, fun.
* * *
Pundesal is on Instagram at @pundesal.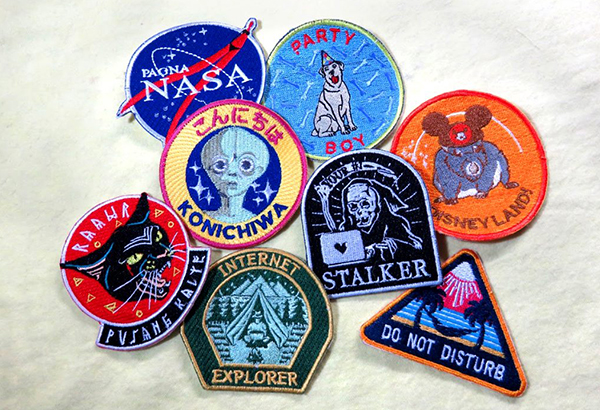 Fine Time Studios
"Fine Time Studios is about giving you a fine time. But seriously, we don't take ourselves too seriously," says Mokay and Troy, the duo behind the studio. Freelancers by day and Fine Time by night, the pair first started making T-shirts, and in January made their way to Recto to have a couple of patches handmade (they've since moved on to digital embroidery to keep up with the demand). Apart from local pop culture, they draw inspiration from Japanese commercials: "Its weirdness has something that we really find amusing." They're not out to change the world, but hey, if it puts a smile on your face, then Fine Time is glad to be of service.
* * *
Look for Fine Time Studios on Instagram at @finetimestudios.
Cool Girls Club
If you wanna be a #girlboss, the first step is to be a #coolgirl. Cool Girls Club, despite the name, is a one-woman show run by graphic designer and illustrator Dans Bermejo. "After I graduated I spent some time trying to figure out my career," Dans shares, "I didn't want to go into corporate just yet and I wanted to pursue something that meant a big deal for me." And so Cool Girls Club was born. According to Dans, the goal is to have a "society where girls can feel free to be themselves and express their uniqueness whichever way they please." And whether that's being classy, sassy, or both, being a cool girl is just about being yourself.
* * *
Be part of the Cool Girls Club on Instagram at @coolgirlsclub_ph.