Five years ago to this day, I felt a lump on my right breast that would later turn out to be a malignant tumor. I remember that day very well, not only because it was Mother's Day but also because it was my daughter's modeling debut at Philippine Fashion Week. I momentarily set aside my worry and kept quiet about my discovery, wanting to focus instead on Riana and her moment to shine on the runway. Days later, I made my way to my breast doctor's clinic for the third time in a period of six months for an unscheduled biopsy; the following week, the diagnosis came. I had breast cancer. I was 46.
I was alone when I found out the result of the pathology test; my husband was already living in Tokyo then, busy with the restaurant and his catering business. I did not think to bring a friend to the clinic because deep down I was hoping it was just a cyst, or something I could chalk up to peri-menopause. I don't remember if I cried but I certainly remember asking myself, how do I tell my husband and kids?
Everything unravelled via Skype; my daughter had just arrived home from school and she was in my room when my husband called. I asked her to leave which is very unusual but I was adamant. Giorgio started talking away about Piadina, our then business in Manila but I just stared blankly at him. He noticed it but pressed on until in the middle of it all, I just blurted out, "I have breast cancer." Silence followed then the bedroom door opened; my daughter had been eavesdropping, sensing that something was wrong when I asked her to leave. Her first words were, "Mama, why didn't you tell me?" Then we hugged and cried while my husband watched from thousands of miles away.
The three of us decided not to tell our son Sebi until Giorgio came back to Manila; we felt it was important for him to hear the news from his father while we were all together. Days leading up to my husband's arrival, I made arrangements for a lumpectomy, not wanting to waste time. Riana and I kept everything as normal as possible at home but when Sebi would act out or bug me about something, she became very protective and took her role of ate to heart, telling her brother with sibling conviction, "Sebi, this is not a good time to stress Mama," without offering an explanation. Just like that, my teenage daughter became an adult right before my eyes.
My husband arrived two days before my surgery and over dinner he told Sebi I had breast cancer. Our son seemed to take the news well but in later conversations he expressed his anger and disbelief to me, wondering, "Why you, mama?" I threw the question back at him and asked, "Why not me?" I went on to explain that breast cancer happens to many women, it does not pick and choose, so rather than focusing on the negative, focus on the positive and be thankful for all the good things. It took some time for him to accept my fate and my explanation but all throughout, he did not let his feelings get in the way of my healing. In the course of adversity, we all found love can overcome just about anything.
I was initially diagnosed with Early Stage 1 breast cancer based on the size of my lump; "No worries, it will be very easy to treat," my breast doctor reassured me just before they wheeled me into the operating room. But it was not to be. She found suspicious lymph nodes during surgery and had to remove several for testing. When the final pathology results came out, I had moved up to Stage 3A, Her2Neu positive and ER PR positive; I was in for aggressive treatment — eight cycles of chemotherapy, 33 sessions of radiation and 18 cycles of Herceptin. Easy to treat, it wasn't.
I cannot begin to tell you the power of the mind and the body alongside an unwavering faith when faced with a daunting challenge such as cancer. Having cried all the tears we could as a family when my final diagnosis was revealed over a telephone call from my breast doctor, I vowed the next day to beat cancer and fight it with the most positive attitude possible. Believe it or not, I had my Eureka moment while watching Transformers with my family; in my mind I thought if they can transform themselves to fight evil and believe they can win, so can I. So from that Sunday onwards, throughout my treatment, I used my mind, my body and my faith to fight and not to let cancer affect our family and those around me negatively particularly my children.
I am glad I made that conscious decision because over the course of my year-long treatment, I spent some of the best days of my life with my children. We watched movies, ate out, hang out, shopped and took out-of-town trips with my husband when he was home with us, living normal, happy lives. Teachers told me that if they did not see me bald while visiting the school and I did not reveal I had breast cancer, they would not have known based on our children's attitude coming to school everyday. Hearing them say that gave me comfort; mission accomplished indeed.
The year went by quickly, I put my breast cancer experience behind me and looked forward to a productive life ahead. I ran a marathon in 2012, a year after my diagnosis to raise funds for I Can Serve, an NGO promoting breast cancer awareness and the importance of early detection. In 2013, we sold our business in Manila and moved to Tokyo after Riana graduated from High School and Sebi from Middle School. The timing was perfect and everything fell into place; we were all starting new chapters in our lives — Riana at university in Milan, Sebi as a freshman at the American School in Japan, me back at my husband's side in Tokyo, organizing trunks shows of Filipino fashion products, writing and working as a fashion consultant on the side.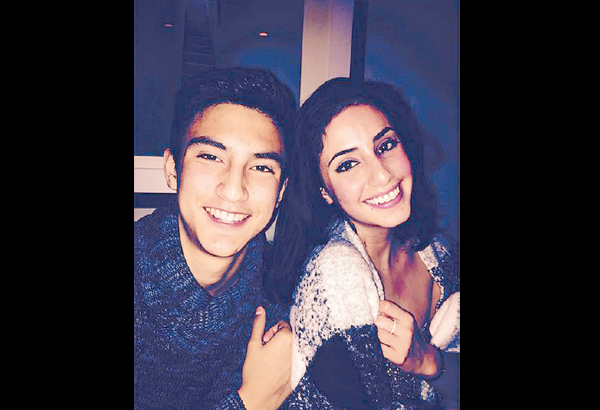 Tetta's children Sebi and Riana: In the course of adversity, we all found love can overcome just about anything.
Then in August of 2015, the breast cancer made a comeback. At 50, I developed a new cancer on the same breast.
A tumor the size of a dot was detected during my annual Pet CT Scan and Breast MRI; I was in New York with Riana when I found out. I had the tests done a week prior in Tokyo and had asked my husband to pick up the results thinking nothing of it; four years on, I was confident the results would be negative.
The call came at 3 a.m., Giorgio tried to be upbeat while breaking the unfortunate news. Still groggy from being woken up in the middle of our sleep, Sebi chimed in and said, "Mama, you can beat this, too, just like the first time," sounding very much like a grownup at 16. Shocked at the turn of events, Riana and I just held hands long after the phone call ended.
I did not want to disrupt our summer plans so I stayed on in New York while Riana did her internship at Coach. Again, I did not want the cancer to take over our lives so I made arrangements to return to Manila for my mastectomy while enjoying New York with Riana and my good friends; what an amazing summer experience it was!
I flew back to Tokyo for a few days to be with Giorgio and Sebi before heading to Manila. I had surgery at the end of August and while recovering and planning for my upcoming treatment, I kept myself busy working on a project for the S/S 2016 Mercedes Benz Tokyo Fashion Week (MBFWT). After a successful Asian Fashion Meets Tokyo presentation at the MBFWT, I began treatment at the end of October in Tokyo – six chemotherapies and 18 cycles of Herceptin. Riana came home for Christmas and Valentine's to be with us and just like in the past, we celebrated life despite cancer.
I finished chemotherapy in February and am well on the way to full recovery. I had the BRCA test done (remember Angelina Jolie?) and the results came back negative. I am relieved for this piece of good news because it means I will not pass on the breast cancer gene to my daughter but as a precaution I have decided to have a mastectomy on my left breast. While it is not standard protocol to have a healthy breast removed since the chance of breast cancer transferring to it is relatively small, I have decided to eliminate as much risk as possible.
So on this Mother's Day, as I prepare for my mastectomy, I will give thanks for another lease on life and its countless blessings particularly my loving husband and our exceptionally wonderful children.
* * *
Follow me on Instagram @tettaortiz.