MANILA, Philippines – Say what you will about the evil trolls lurking on the Internet, it's an indie artist's dream come true. "It's a level playing field. The Internet makes it fair for everyone," says Reese Lansangan. "You can promote with the same aggression as Justin Bieber if you want." On her first solo album, the 25-year-old singer-songwriter pays homage to the online community. "Arigato, Internet" is her love letter to the digital space and the many opportunities it has given her. From old Soundcloud favorites like Creeper to new meme-worthy tunes like On Wednesdays We Wear Pink, the album is the perfect soundtrack to your online escapades.
With her background in songwriting, Reese's solo album is a long time coming. "A lot of people have been asking for an album," she says. For years, Reese has been playing with her friend Vica Hernandez (as Reese and Vica) and they even released an EP last year called "Those Who Wander." But last year, people were requesting her to do more solo shows, so she obliged. And that was the last push she needed to create her album.
This week, we caught up with Reese to talk about her inspiration, her "naughty and nice" list this Christmas and a dash of graphic design geekery.
Young STAR: How is "Arigato, Internet" different from the EP you released with Vica last year?
REESE LANSANGAN: Reese and Vica is kind of this whimsical, storytelling identity, but Reese is just a bit crass and crude. A funnier version, I guess. I would say I grew as a musician in terms of the business side. Now everything is planned, there are sponsors and interns behind it. I've become more ambitious about my product and my music. I want to offer the whole Reese, for them to get a taste of who I am.
Your album cover is quite unique. How important is album art for you?
I came from the business of making things look good. With music, production-wise, it's a new territory for me. Yun yung pinaka-concern ko but one of the first things that I got down was the packaging. Inisip ko na it will be plastic, and it can be DIY-able. It's important to me that may identity ka sa mga gamit mo. From the get-go, I knew what I wanted it to look like. What I wanted it to sound like, parang mas matagal ko syang na-achieve, which is ironic cause it's an album.
They say that you shouldn't judge a book by its cover. Do you want your listeners to judge your music by the album art?
For me, it's hard to translate graphics to music. I just want the promo materials to have that same feel as the music: a bit strange and a bit odd. The photo is set in a familiar place but what's happening is weird. So I guess that is reflective of my music a bit. It's normal pop music, but it talks about odd things. It's not the usual "I love you, do you love me?" music. May hugot parin and kilig, but a lot of it is unusual stuff.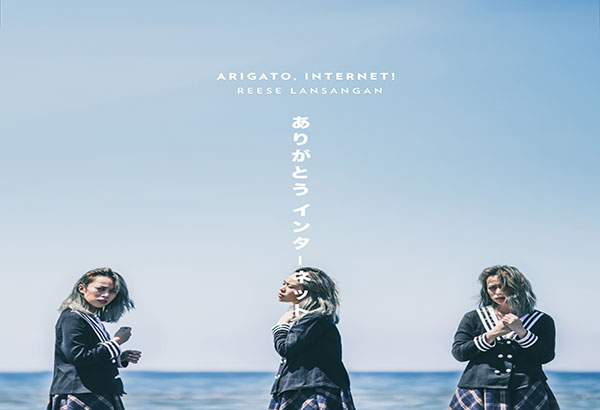 Looking at the tracklist, there's a mix of new songs and old faves like Creeper.
This album is many years in the making so it's a mixture of old and new songs. One of my producers wanted Trophy Boy to be there. Pero napag-iwanan ko na sya eh. I was going to include it as a bonus track pero iba na yung mindset ko. Iba na yung music perspective ko. I wanted to offer something else, so why not just write new music?
What's your favorite thing in the album-making process?
Conceptualizing the whole idea of "Arigato, Internet." I also love how, in time, my Evernote notebook turned into something that resembles an elaborate master plan for world domination.
Who's on your "naughty and nice" list this Christmas?
The people on my naughty list are Troye Sivan, Jensen and the Flips' album and Justin Bieber because we didn't see that amazing comeback happening. Nice would be Carly Rae Jepsen's Run Away With Me, Clara Benin's "Riverchild" EP and the whole entity of "1989." Taylor Swift has had so many positive influences in my work.
* * *
Get first dibs on "Arigato, Internet" at the album launch happening on Dec. 6 at Green Sun, Makati. You can grab a copy of the album in Reese's shows or online at facebook.com/reeselansangan and reeselansangan.